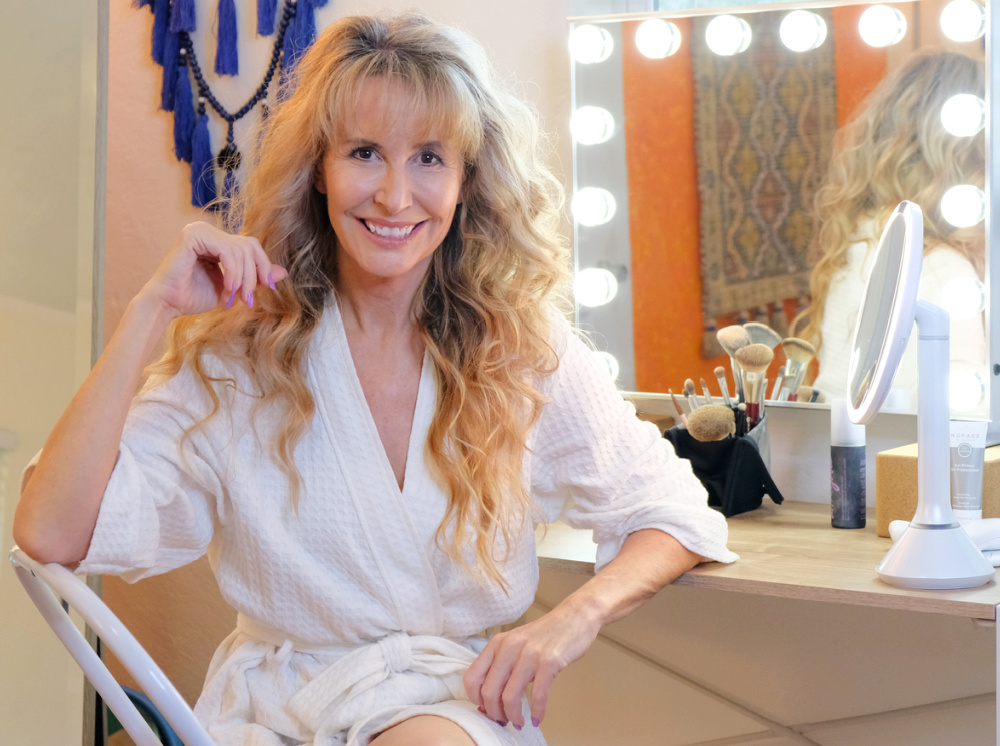 Last year I shared the three cosmetic enhancements I swear by in my fifties, my beauty routine at 58, and my morning and evening skincare routine at 58.
I also compiled a list of gifts for women over 50 that included some of the gadgets I am going to discuss here. 
Two LED light mirrors that have changed my makeup application game – Impressions & SimpleHuman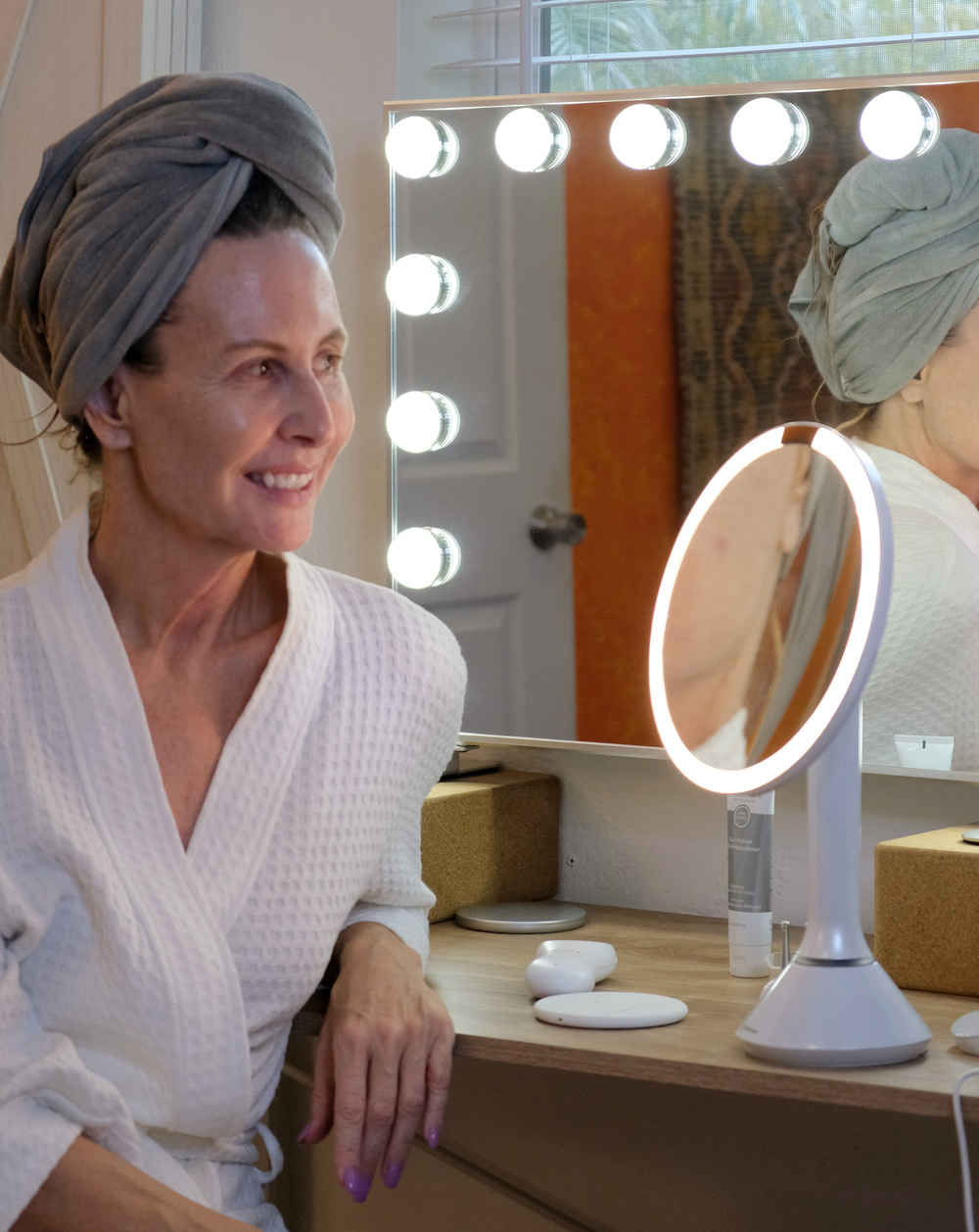 The big game changers for me were frankly, two mirrors that you can see in these pictures. One of them, the bigger one with LED lights, is the Impressions Hollywood Touch Duo Tone Wide Lighted Makeup Mirror with 14 LED Bulbs, with a touch sensor switch.
If you look closely I have it propped up on cork yoga blocks, since my table is pretty low. But if you have a tall vanity, you should be fine. You can also hang it on the wall.
Now that is just not enough for me, because being 58, I need a magnifying mirror to really see detail when I'm applying makeup. After much research, and considering that I use multifocal contacts, I settled on the Simplehuman 5X sensor mirror. I love that it lights up when I get close to it and turns off a little after I move away from it.
If I weren't wearing multifocal contacts, then I would use a 7X or even 10X magnification mirror. There are also these cool glasses called Bunnyeyez, which are pretty cool for makeup application.
Both mirrors are pricey, but I feel that stepping out the door knowing my makeup isn't overdone is worth the investment.
Nebulyft R1 Multipolar RF device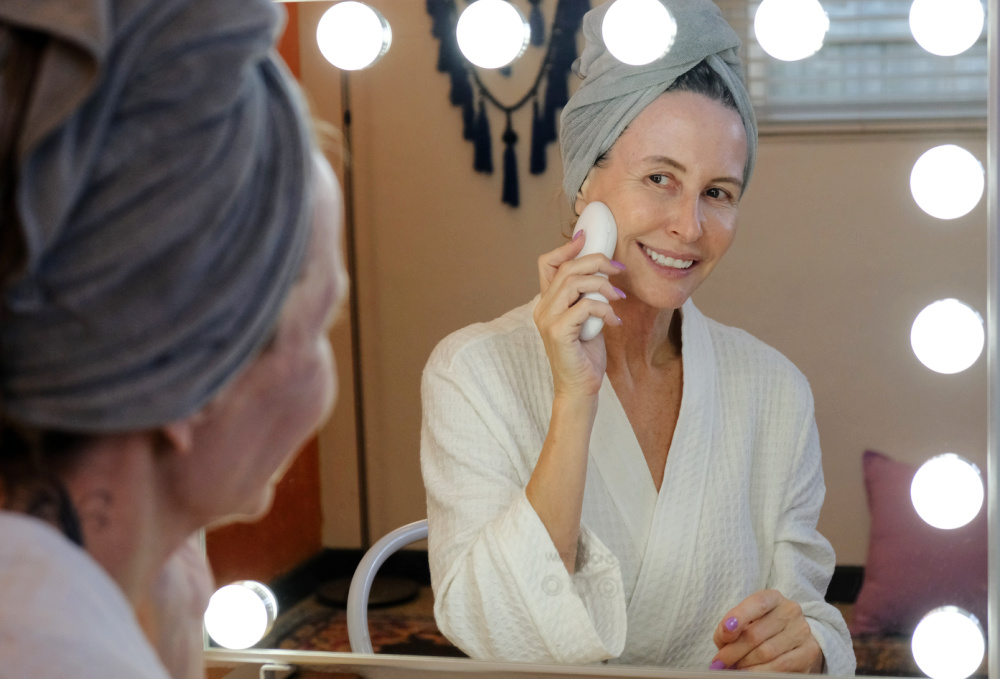 I've been using this for a few months now, and I feel that it helps prep my skin to receive the skincare products I apply after I use the Nebylift device. From their website: This device delivers RF energy with sub-millimeter precision, on the surface as well as deep into the dermis.
The electrode arrays work collectively to generate penetrative electromagnetic fields that tighten the skin and stimulate natural collagen production.
Reducing daily treatment time to as little as 10 minutes, the Nebulyft system allows for a progressively adaptive treatment for different skin types and various facial areas.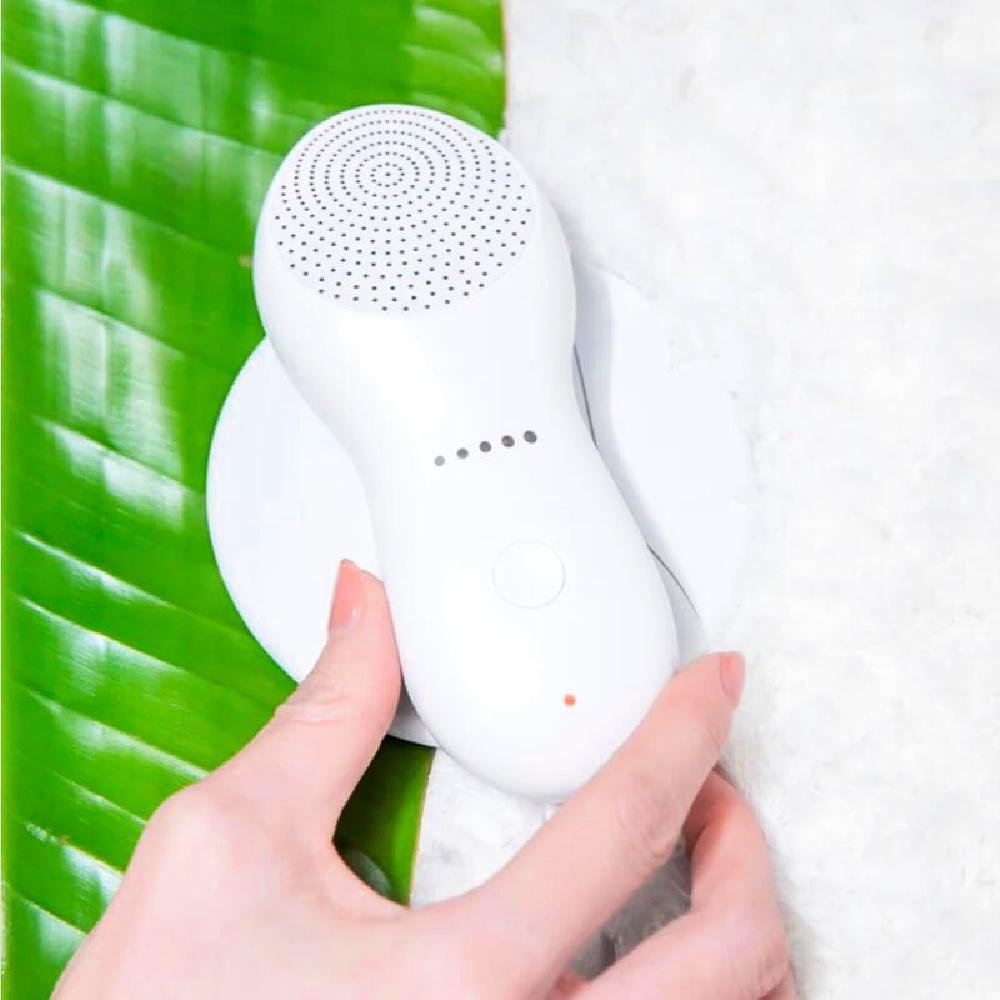 I do use it for 10 minutes daily and if I'm short on time, I will at least use it on my neck, since in-office treatments for that area are just so very expensive.
I apply a conductive gel before I glide the device over each area: forehead, cheeks, and jawline, and each side of the neck.
Please know that this device is contraindicated if you have any form of cancer or thyroid issue. It also should not be applied to the thyroid area.
The only feeling while gliding the gadget over my skin is warmth. I started out using it at the weakest setting and gradually built up to the warmest. I've since dialed it back a bit because I felt it may be a bit much for my sensitive skin.
That said, I enjoy the glow I see after each use.
NuFace Trinity Facial device with ELE and WR attachments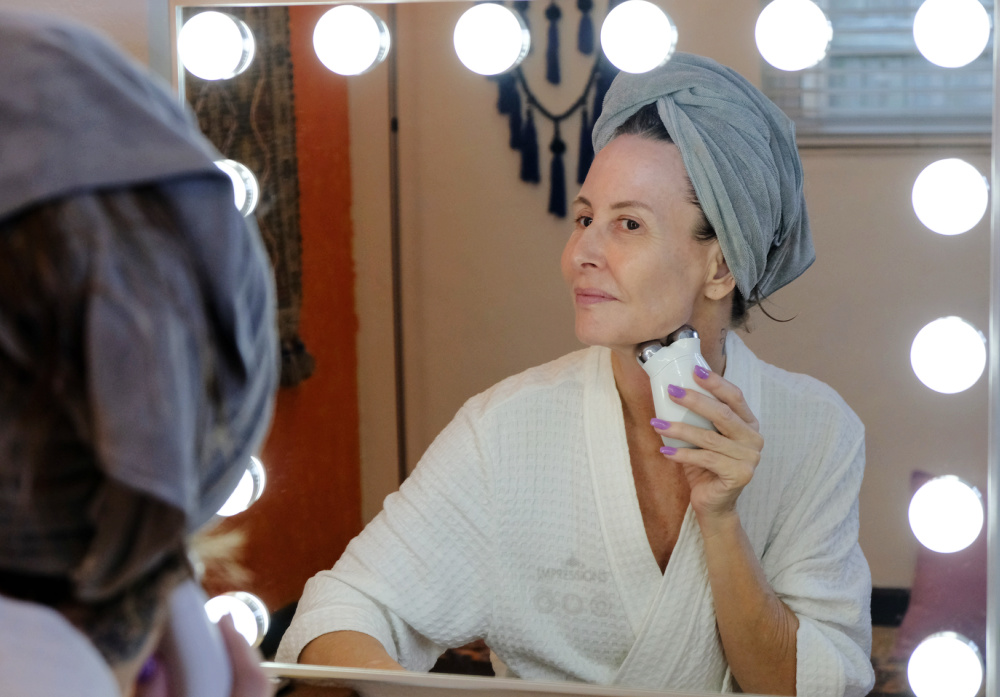 I bought the complete NuFace Trinity set one on Black Friday, which provided me with a great discount. That said, be on the lookout, because NuFace has deals throughout the year.
So I got the full shebang, the regular microcurrent toning device, plus an attachment for red light therapy (to reduce fine lines and wrinkles) and the ELE attachment for the eye and lip area.
There is a certain amount of controversy around whether microcurrent works to tone the muscles of the face and neck and therefore reduce wrinkles or even the appearance of jowls, but again, since in-office procedures for the neck are so pricey, I thought I'd try this mainly for the jawline and neck area.
I just read an interesting article on the Wall Street Journal of all places, about microcurrent devices, which I linked to in case you are interested.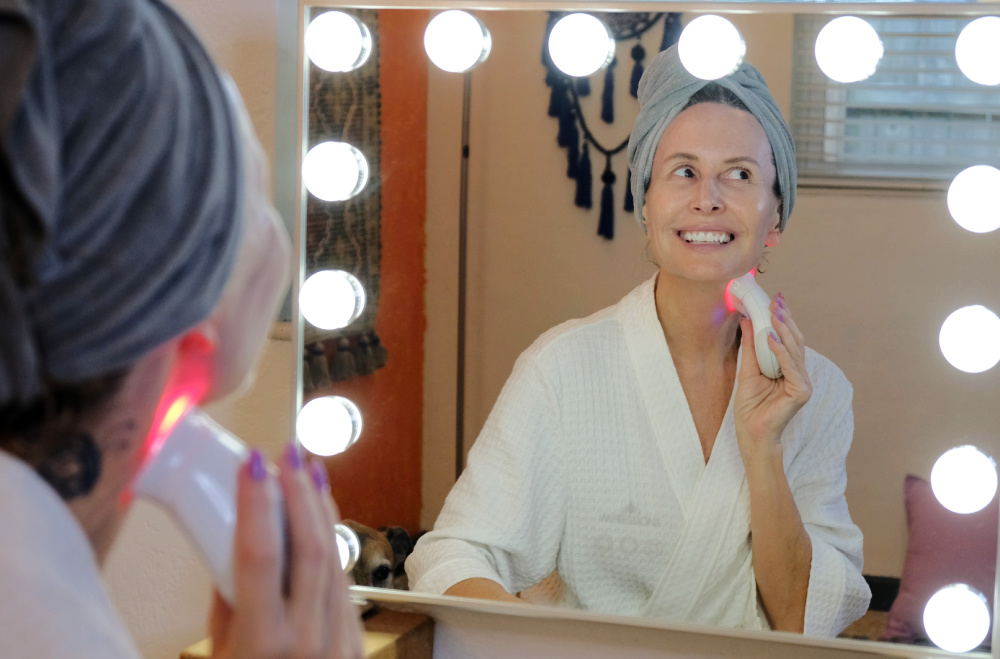 From the NuFace website: Microcurrent is a low-level current that mimics the body's natural ionic flow1 and has been clinically tested to safely and effectively address a variety of skin concerns.
Because microcurrent works virtually without sensation, the treatment is soothing and most clients feel nothing at all. Microcurrent treatments are popular in the beauty industry for providing both instant and cumulative results.
The one supposed drawback is that if you stop using it, you also stop getting results, but then that is also true of exercise, and I exercise daily too.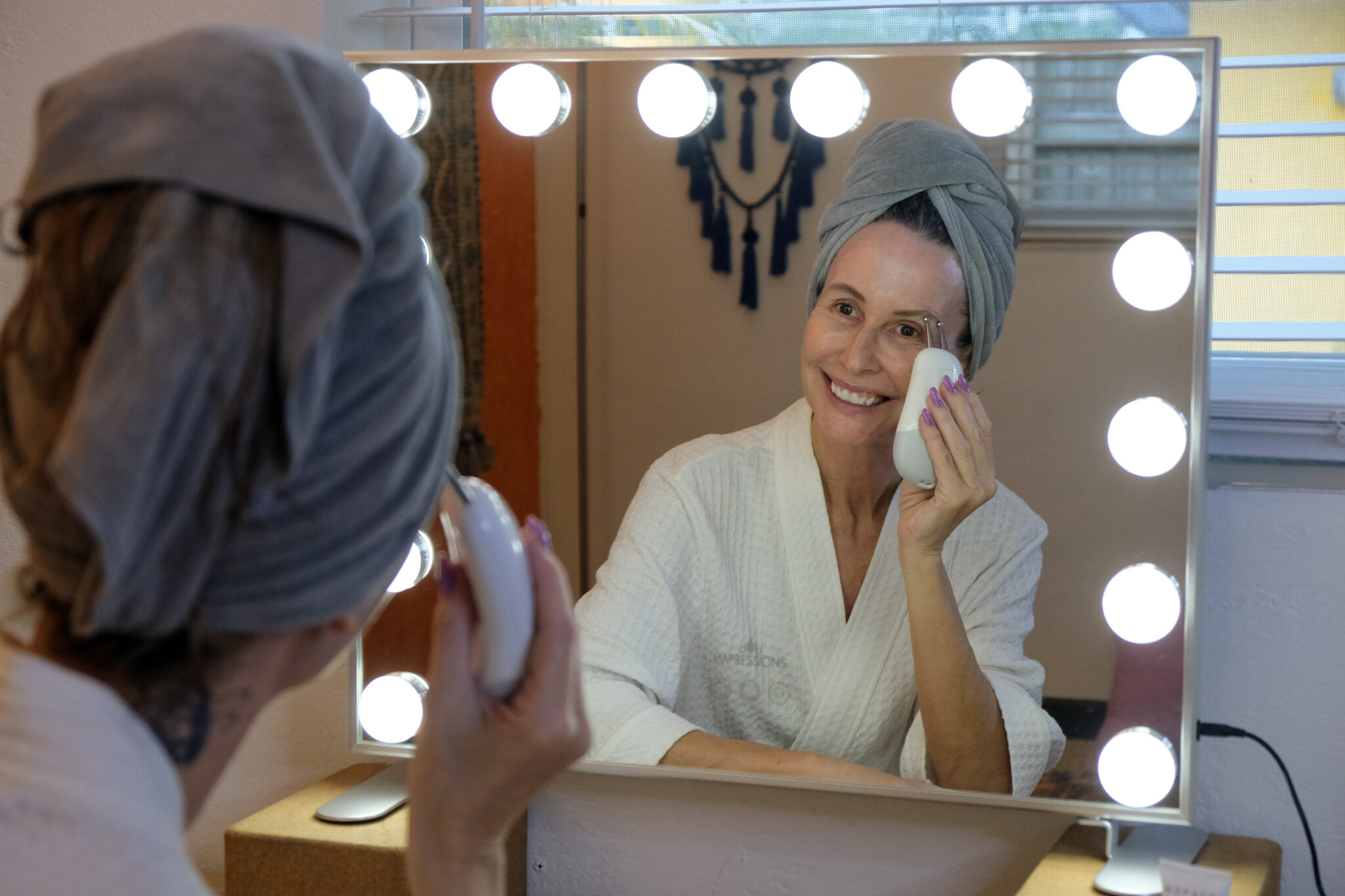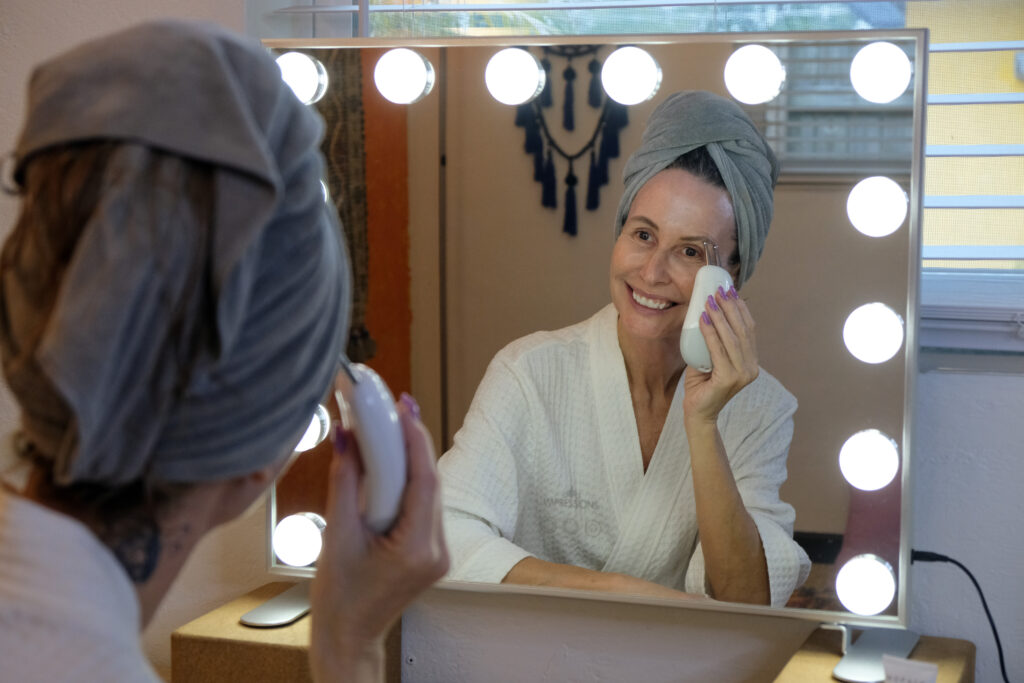 So far I'm pleased with the results in the sense that I feel I'm doing something for my neck at a reasonable price considering that I use it every day.
I don't believe in miracle cures, but I do enjoy a little pampering on a daily basis.
I also think that most people just don't have the discipline to do almost anything consistently, so that's where both gadgets could fail. But then that's not really the gadget's fault, is it?