This past week I got a taste of the simplicity that Marie Hell style embodies.
I just returned from a week-long art & writing retreat in the mountains in North Carolina.
I was able to unplug because there was no phone signal and in order to hook up to wi-fi, I had to drive five miles down a mountain to a bookstore and café.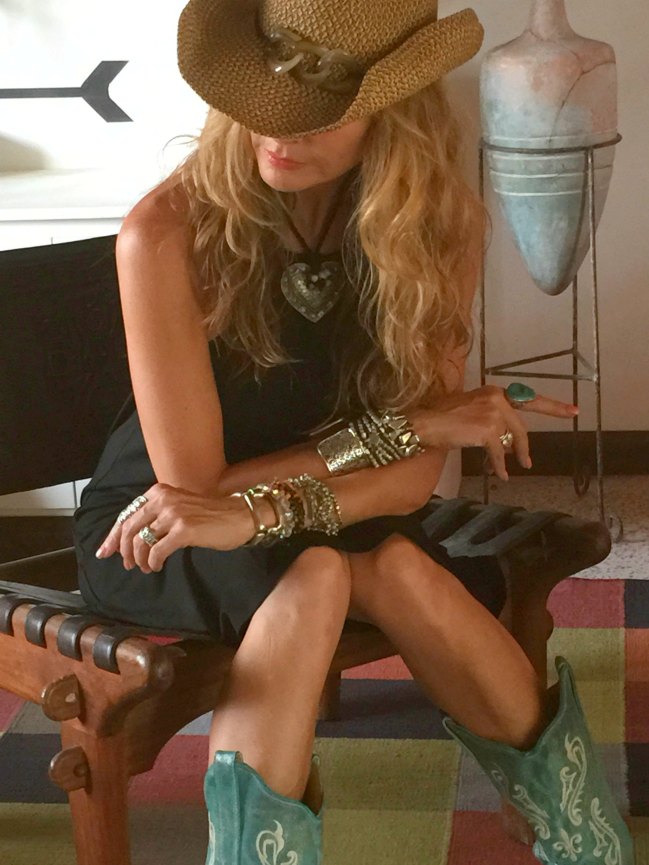 I had the pleasure of practicing Vinyasa Yoga at the crack of dawn (quite an accomplishment for me since I am not a morning person). I also practiced my sketching.
I indulged in figure drawing with a live model, observing and contouring her beautiful curves. I took a perspective drawing class. I went for walks, napped and read.
Dress in style using simple classic basics
For this trip I packed very few things.
Of course I packed my Marie Hell dresses, because they're versatile and take up very little space.
One of the tricks I use when I travel is that I turn my clothes inside out and roll them tightly.
The Reveal tunic in gray came with me to drawing class, with skinny jeans and flip-flops.
The Tied dress in black accompanied me to a cocktail reception one evening in sandals and then to the campfire in flip-flops, paired with a jean-jacket.
And finally, my latest garment that was love at first wear, the Flaunt tunic in black, was my date-night attire.
I also wore it to closing night at the retreat, during the art exhibit.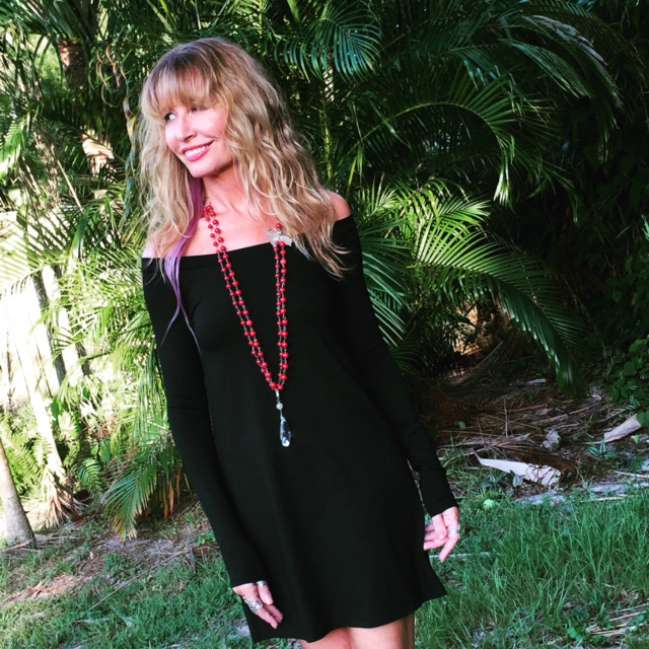 The beauty and practicality of owning quality timeless basics
As I grow older I realize the beauty and practicality of owning quality timeless basics that can combine with anything year-round.
In my previous post about Marie Hell, I showed how I enjoyed pairing these timeless garments with different accessories to change their look entirely.
The mission of Eileen Mandel, the founder of this line of clothes, was to make a difference in women's lives.
"I didn't want to go into the fashion industry," she says. "I just wanted to simplify women's wardrobes."
Marie Hell is only available online. Each style is available in two lengths, tunic and dress, and in four colors, white, off-white, gray and black.
Each design is different but the cut is the same from the armhole down so there are no surprises in that department.
Once you choose your size, you know all the designs will fit pretty much the same from the bust down. Although I have to say it's not an absolute.
For example, the Flaunt tunic can be pulled down a bit if you want a longer hem and bare more shoulder. I love how it drapes. And I especially enjoy the neckline and extra long sleeves.
All styles are made of jersey, and the white and off-white are not see through.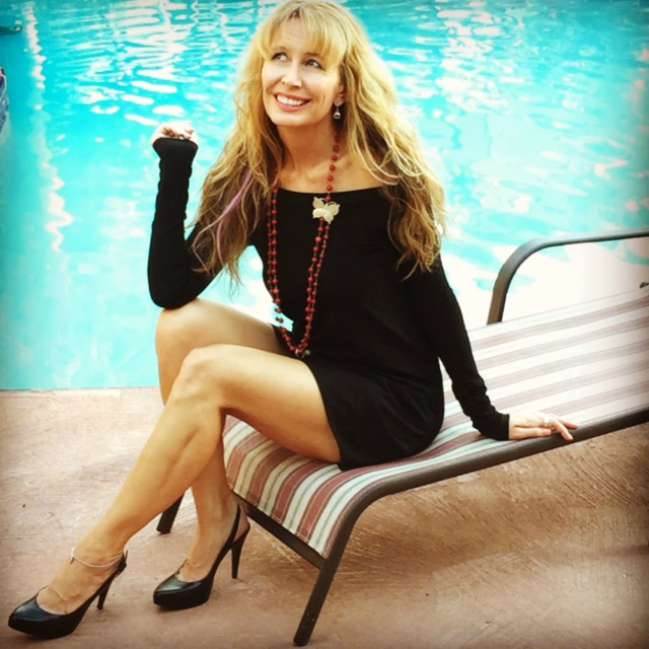 Marie Hell wants to make a difference in women's lives
Marie Hell "the soul of your wardrobe" is not just about what you see in their online catalogue.
It's also about what you feel when you communicate with a company that has a strong mission to make a difference in women's lives.
They have excellent customer service for returns (I've heard this from friends and colleagues), and a positive vibe.
For that reason, I'm excited that Viva Fifty! and I have partnered with Marie Hell to offer you a girl's night on Twitter, chatting about fashion and practicality.
And even better, the possibility of winning one of three dresses that we'll be giving away during the Twitter party.
In the meantime, visit MarieHell.com and start browsing their selections. If you win a dress, you will be able to choose the one you like!
Check out the "styled by" section where different bloggers of all ages and in different locations show how they wear their Maries.
Join our #MarieHellStyle Twitter party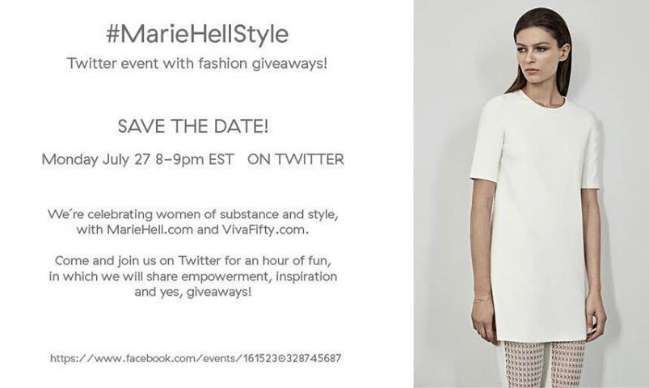 When: Monday July 27 from 8-9 pm EST.
How: Always use #MarieHellStyle when tweeting before and during the Twitter party.
In order to be eligible for prizes, you must RSVP to the event page on Facebook, and tweet using #MarieHellStyle hashtag. You may start tweeting right away, sharing your favorite dress from the online shop, for more chances of winning, and invite your friends to the event. Each tweet counts as an entry.
Winners will be announced after the event, via Twitter and Facebook.
Have fun and see you then!
Disclosure: This post contains affiliate links.