On looking back at what I hope was the first half of my life, I realize I've reimagined it many times. And so I've arrived in midlife not thinking, "is this it?" but, "what's next?"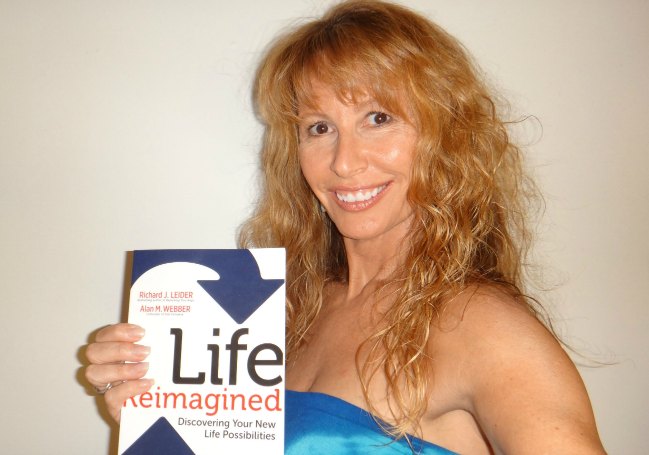 Perhaps because my grandfather and father never really retired (both writers and educators who love what they do), I never contemplated older age as an opportunity to finally pursue my goals.
In fact I've spent my entire life being led by crazy ideals and chasing dreams, feeling like a misfit, because I couldn't fathom having a 9-5 job.
And crazy as it may seem, I've managed to reach midlife doing things I found meaningful, without ever having to work in a traditional office setting.
I've reimagined myself so many times
I became a mom later in life (I had my first baby close to 38 and my second at 40), so I feel there is much left for me to do.
For one, I need to make sure I set these fine young girls on their own path of life imagined and reimagined.
When I was in my mid-forties, I lost it all after my divorce. I was forced to rebuild myself personally, professionally and financially, and now I feel, if need be, I could do it all over again.
Perhaps because I happily remarried at 50, I believe that everyone's match is out there if you keep an open heart and mind. It's never too late for love.
Also Read: Why Fifty is the New Fifty
In fact I've reimagined myself so many times that when I think of everything I've done and been, I realize you can squeeze a lot of life into 50 years!
The list of my reinventions goes something like this:
Language teacher, fitness instructor, translator, interpreter, dancer, runner, writer, book author, journalist, speaker, blogger, editor, editor-in-chief, and most recently, founder of an online magazine.
Daughter, granddaughter, stepdaughter, sister, friend, ex-friend, girlfriend, ex-girlfriend, wife, mother, ex-wife, wife again, stepmom …
In the book, Life Reimagined, Discovering Your New Life Possibilities, by Richard J. Leider & Alan M. Webber, I read that "Happiness is a choice, not a result of how life treats you." I fully agree.
As the book says, life should be about fulfilling time, not filling time.
We all have doubts & fears, but don't let them stop you
Does this mean that I was never scared when reimagining my life over and over? Does it mean that I'm 100-percent certain of what I'm doing or where I'm going? Of course not!
I have doubts all the time. Doubts and fears. I still feel on and off that someone's going to finally discover that I'm a fake!
But that fear didn't keep me from going forward with my latest Life Reimagined moment.
For two years I had been in charge of someone else's publication, someone else's dream. And before that, I worked at someone else's project for another year.
There is nothing wrong with that, and I certainly don't regret any of it, quite the contrary. But as I threw myself into those jobs, time passed and I experienced an awakening.
If I was going to work 24/7 giving it all I got, it better be for my own dream.

And then, after turning 50, propelled by the enthusiasm of my recent wedding and driven by the desire to be true to myself, I quit.
I asked myself what was I unquestionably passionate about and could joyfully do for the next decade or so. And the answer was Viva Fifty!, the very platform on which you're reading this post.
Because really, those crazy enough to think they can change their own lives, usually do so! Incidentally that last phrase is also from the book Life Reimagined.
The Life Reimagined tools
If you're wondering what's next … Do yourself a favor and log on to Life Reimagined online, where you'll find useful tools that will help you figure out where you're at, where you want to go and how you're going to do it.
It's scary, I know. I feel scared at least once or twice every day, but at this stage of the game, I've gotten used to it. And by living what for me is a life filled with meaning, the fear is offset by the joy of possibility.
If I died tomorrow (God forbid), I really would feel it was a life well lived, mistakes, challenges, divorce, unemployment, poverty and all. Of course I don't want to die yet.
Hopefully I will wake up many a morning to come, looking forward to the possibility of maybe another reinvention …
Disclaimer: This post is supported by Life Reimagined (www.lifereimagined.org): your guide to rethinking what's possible and seizing your "what's next" in work, relationships, health, personal finance and more. All opinions are my own.