Coloring gray hair has its peculiarities. I know this first-hand because after a lifetime of highlighting my hair, when I decided to go darker, I started going gray, and had to approach root touch-ups in a completely different way.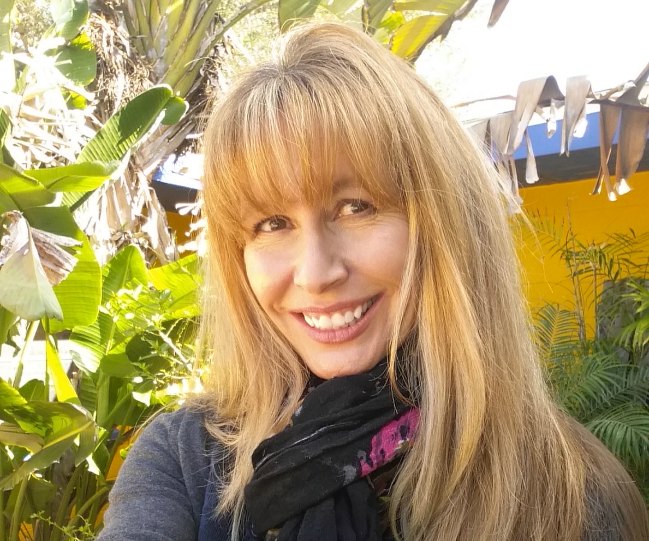 When I was younger, I would highlight my own hair using the tried and true cap and crochet- needle approach.
Darker roots eventually became trendy, so I was able to go longer between touch-ups without feeling that I looked sloppy.
But when the grays started sprouting while my base color darkened with age, it was a whole different ball game.
Dye gray hair or not?
Now I'm still not gray enough that it would look good to grow out my natural color, and on the other hand I need to touch up my roots more often, so as not to look unkempt.
I think I will wait until my hair is at least 60% gray to maybe give the full silver look a shot. In the meantime, I will continue to use color.
Right now the grays have a different texture from the rest of my hair and these strands are coarser and more likely to break.
It is basically hair without pigment, so it requires a lot more TLC than my younger locks did.
My usual approach, since my hair is rather long, is to go to the stylist for highlights and lowlights and then use a semi-permanent color or temporary rinse on the roots until the next salon visit.
One of the reasons why I usually don't do all-over hair color is because I'm scared it will look like a wig or fake. I like different tones that give my layered hair depth and volume.
How L´Oréal Excellence Age Perfect is different from regular dye:
When given the chance to test L'Oréal Excellence Age Perfect, what I found the most attractive about it was that it offers a layered-tone color while completely covering grays.
It is designed especially for mature, gray hair and promises shine. Because it is developed to adapt to gray hair differently from your natural color, it provides natural highs and lows.
The whole process is pretty simple, especially if you already have experience coloring your hair at home.
From start to finish, you can expect to take around 35-40 minutes, to include prepping time and washing (excluding styling).
Tips to dye gray hair at home mess-free:
Make sure you have plenty of time ahead. Don´t do it right before going to work or on a date!
Cover yourself with an old oversized T-shirt that you save especially for dyeing your hair.
Read the instructions ahead of time, to save yourself angst and confusion.
Enlist the help of a friend if you are unsure of doing this yourself.
Always wear gloves and keep paper towels handy to deal with spills if they do happen.
Dispose of the mixture and all disposable tools as soon as you´re done.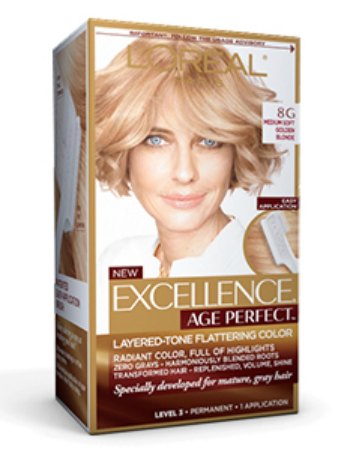 Applying all-over color at home
After you do a strand test to rule out an allergic reaction, you mix the colorant creme with the developer creme and shake well.
No matter whether you are using this color for the first time or just touching up your roots, you should start by applying the mixture to your roots, wearing gloves.
The easy-application brush makes it a mess-free process to apply the mixture to your temples and hairline.
If you´re retouching your roots, then wait for 25 minutes and then apply the rest of the color mixture to all of your hair with the larger side of the brush. Then wait 5 more minutes before you rinse.
If you´re doing all-over hair color, then apply the mixture to your full length of hair from the start and let sit for 30 minutes until you rinse.
Once the time is up, rinse your hair with warm water, using gloves, apply the conditioning treatment for two minutes, rinse again and then style as usual. 
You will need to touch up your roots every 4-6 weeks.
Choosing the right color for you:
My personal suggestion is to use a color that is similar to your natural hair color, so that root growth will not be as noticeable. 
In order to choose the right shade for your hair and skin tone, you can use the L´Oréal hair consultation tool to find the best product for you.
I´ve used L´Oréal color, both the regular highlight kits and the touch-on highlights, for years, so I´m happy there is now an option specific for gray hair.
The look and feel of my hair after using the product was soft and supple.

[Disclaimer: I am participating in a Vibrant Influencer network campaign for L'Oreal Excellence Age Perfect. This is a sponsored post; the opinions expressed are my own. Viva Fifty and I only accept sponsorships from brands and causes we love.]