At Viva Fifty we don´t believe in dressing your age, we´re adamant about letting the real you shine through regardless of how young or old you are.
It´s way more important to wear clothes that fit your particular body shape, whether you´re 15, 30, 60 or 80.
It´s also vital that you feel comfortable, beautiful and confident with what you´re wearing.
It´s not always easy to find brands that accommodate all sizes and body types, and that are consistent in their sizing and quality.
Quality, variety and good fit
Here are a few brands we love because they provide quality, variety and good fit at different price points. I wear them all in my fifties and see other women my age and older rocking their pieces.
What you choose from each one is up to you!
I discovered this brand at my local Macy´s and I am so thrilled.
Designed and made in the U.S. (just like the next two brands), I love this brand for many reasons.
Once you find your size (I´m absolutely thrilled to have found mine!), you can be sure that any piece from any of the lines will fit you and fit you well!
From extra small to extra curvy, every woman of any age should find something for her!
I´m not embarrassed to say that I keep an eye out for their online sales and have snagged great, beautiful and original pieces at a fraction of the original cost.
The quality is superb and the cuts are really nice!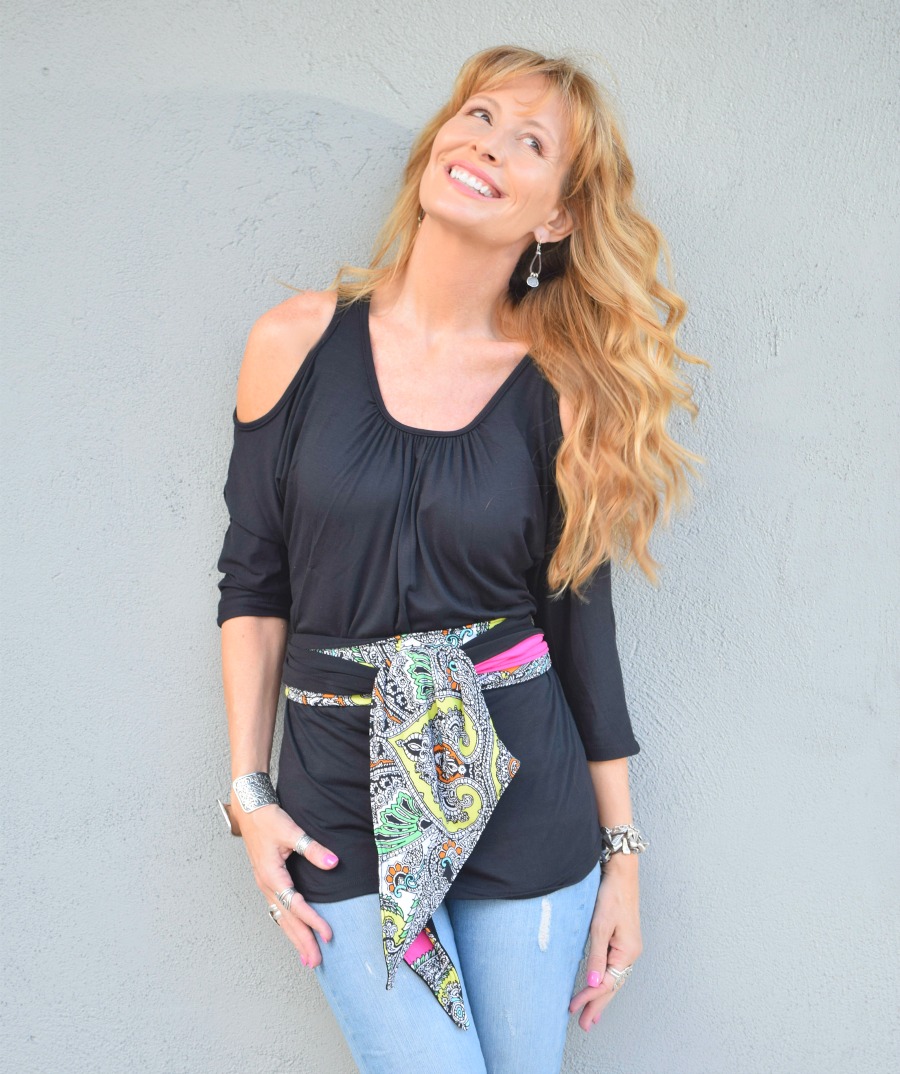 These tops are designed by Pauline Durban, a midlife woman who wanted to offer comfy, flattering and affordable tops for women over a certain age.
I own two of these and have gotten a lot of mileage out of each. My only qualm is that they run a bit large, and I wear a small.
I sometimes belt in the tops and they still look wonderful.
This particular link is an affiliate and you can also use code Lorraine20 for a 20% discount if you browse, like something and make a purchase.
I´ve reviewed dresses by the brand and they are both comfy and flattering to most body types and sizes.
I love that they are not only easy to wear, but also great for traveling. If you roll them up in your suitcase, you will be able to slip them on at your destination without having to iron them.
They all come in two lengths: tunic and dress. I wear the tunics with jeans, but you don´t have to. These are all simple yet timeless designs that never go out of style.
Also read: Dressing your age over 50
This brand is the brainchild of a yogini, dancer, singer and all-over creative midlife woman who lives in Sarasota, Florida.
I own a few pieces and they are all unique – when she designs them she only creates one of each.
Every piece is different.
When you purchase one of her creations, you know you are wearing something nobody else owns! That, to me, is pretty cool.
Her jumpsuits are one size fits all, and they accommodate all heights, body types and sizes!
As I said, I´m naturally small, so I cinch them in with a sash and I wear them with wedges. But Mara Chanin, the designer, is taller and has the hips to show off the palazzos in all their glory and she can pull off wearing flats!
Check out her online store or come visit if you are every in Sarasota!
I´m recommending Chico´s because I know a lot of women who love their clothes.
My biggest gripe is that small sizes are scarce. I´m slender, not petite and so once again, I don´t find myself shopping there for that reason.
However, they carry many timeless pieces that look fabulous on most midlife women. Classics like black trousers, white shirts, and blazers are always a good bet.
They do have the most beautiful accessories: I own many of their costume jewelry pieces and I love to add them to my boho-style clothes.
Don´t be fooled by stores that cater to young customers.
If they carry your size and style, you´re going to be buying stylish clothes at more affordable prices!
Check the store and/or website often and get trendy clothes that you don´t want to pay an arm and a leg for.
I own many boho tops by Lucky Brand, and have also purchased jackets, sweaters, and even PJs. Keep an eye out for seasonal sales and save even more!
I´ve purchased more clothes here than my teen daughters!
Several advantages here: you won´t find many midlife women wearing the same thing as you!
Also, since young people tend to revamp their wardrobe often, in one or two seasons, nobody will remember where they saw the cool boho top you´re rocking with your comfy jeans.
A cool trick I use: I buy dresses cut for teens and young adults, and I wear them as tunics.
I´ve gotten so many compliments, and nobody needs to know I only paid $15 for a "tunic" I got on super sale at a young-person store!
If this isn´t ageless, I don´t know what is!
I discovered these through Stitchfix – a clothes styling service that sends you a curated collection of fashion pieces so you don´t have to go shopping!
In one of my shipments, I got a pair of the best black skinny pants I could ever wish for.
I since purchased two more pairs of jeans: cropped and bermudas.
They are stretchy in all the right places and the sizes run from small to lots more to love, which is great!
Go check out their website to see the lookbook with beautiful women of all shapes, ages and sizes.