Summer is here and with it come lazy evenings at the pool and trips to the beach. Although skin care and sun protection are important year-round, summer is the season to increase our safety precautions.
"The sun's rays cause about 90% of injury to the skin, which means sagging, wrinkles, uneven pigmentation, thickening, and general signs of aging," David Colbert, M.D. said in an interview on WebMD.
This means the most important step in our summer skin-care regime is applying broad-spectrum sunscreen of at least SPF 15, although SPF 50 offers even more protection.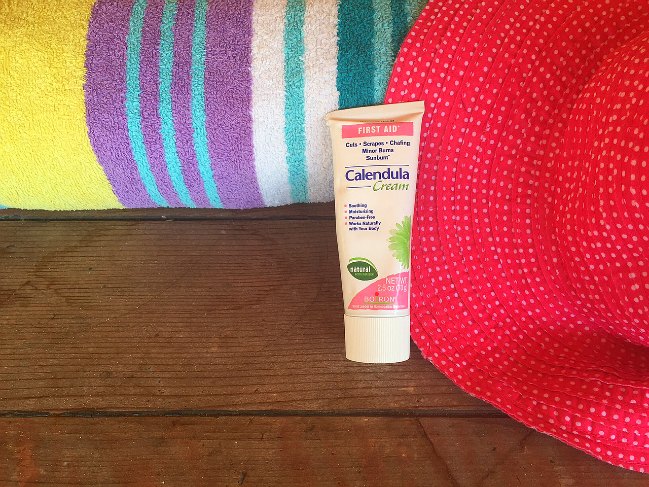 Also read: Natural relief from skin rashes and burns with Calendula
Keep in mind that the new FDA sunscreen regulations have recently changed and no longer permit phrases such as "sunblock," "waterproof," "sweatproof" or "prevents skin cancer" on sunscreen labels because they can be misleading.
Until further research is done, it is advisable to take as many precautions as possible.
Sun protection tips
Apply sunscreen before you leave the house. I know first-hand that children may resist this, but sunscreen is more effective if applied 20-30 minutes prior to sun exposure. Make it a game with the kiddos and allow them to apply it on you first. It certainly helps to lead by example and be the first to slather it on before an outing.
Remember reapplication is important, especially if you are perspiring or indulging in water activities. Every two hours is the minimum to reapply, but if you´re at the beach or the pool or directly under the sun, this should be more frequent.
Do your best to avoid exposure to the sun between 10 a.m and 2 p.m. During these hours the sun is at its highest and its rays are more direct and intense.
Use UPF clothing to protect your skin while practicing sports, boating or any other activity that entails long hours under the sun.
Never leave the house without a large brimmed hat or even a UPF hat. Make it a point for your children and grandchildren to wear a hat as well.
Sunglasses are a must. Not only do they protect your eyes but also prevent you from squinting which causes crow´s feet.
A parasol is a beach must-have. In addition to all of the above, it will provide a larger area of shade for the whole family. And still, know that the sun rays reflect on the water and the sand so you still need sunscreen!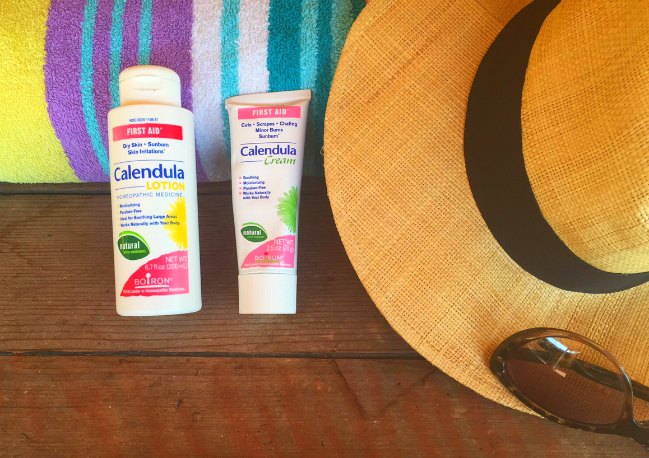 Natural after sun skin-care
Only a few days ago my tween and teen children went surfing with their extended family.
My youngest, 11, confessed that she forgot to apply sunscreen and her fair skin was sun-burned.
I slathered her with Calendula Cream by Boiron, and it alleviated the redness and the burn.
She felt the relief immediately, so a while later I found her in my bathroom reapplying Calendula cream on her arms and legs.
I smiled when I saw her doing this herself! The upside is that this also doubles up as a face and neck cream for – ahem- older skin.
Calendula is a natural skin healer made from the Garden marigold (Calendula officinalis), a flower native to Southern Europe and cultivated widely throughout North America.
It has skin-healing power and is a soothing substance. I like that it is paraben-free and has no artificial colors or perfumes.
I keep it handy, both in my beach bag during the summer and in the medicine cabinet year-round.
If you need further relief, you may want to try Calendula Lotion which is easy to apply on large skin surfaces and is also ideal for sunburn.
If you want to try for yourself, sign up for a discount on your favorite Calendula product and let us know how you liked it.
I´ve been using Boiron products since my twenties and I´m excited that now I´m able to share my experience with you!