Beauty routines and makeup applications need to change a bit in your 40's and most definitely in your 50's. The older I get, the more I prefer a natural look for daytime.
That said, I never, and I really mean never, walk out the door without wearing at least foundation if nothing else.
Makeup tips for women over 40
As your skin loses elasticity and develops fine lines, it's increasingly important to ensure that your complexion looks even-toned.
That can be achieved using a good foundation which matches your skin. In summer you can choose a slightly darker tone.
One trick in your mid to late 40's, in your 50's and beyond is to apply foundation not only to your face, but also to your neck and decolletage.
Using Clarins´ new beauty products, I will show you how I achieved three different looks, Natural, Polished and Fabulous, in 5, 10 and 15 minutes respectively.
I wore the same white T-shirt in the photos so the light would be similar.
I started using makeup at the tender age of 15, and I´ve always enjoyed discovering beauty tips and tricks to make the most of my features.
Now that my skin has changed and my eyesight has taken a hit, I use an enlargement mirror or wear multifocal contacts during my morning routine.
Sometimes the view can be daunting, but it will ensure that you walk out the door looking and feeling fabulous.
5 Minutes to Natural:
Skin Illusion Natural Radiance Foundation (I´m wearing beige 107)
Multi-Blush Cream Blush shade 02 – Candy
Instant Light Natural Lip Perfector in Rose 01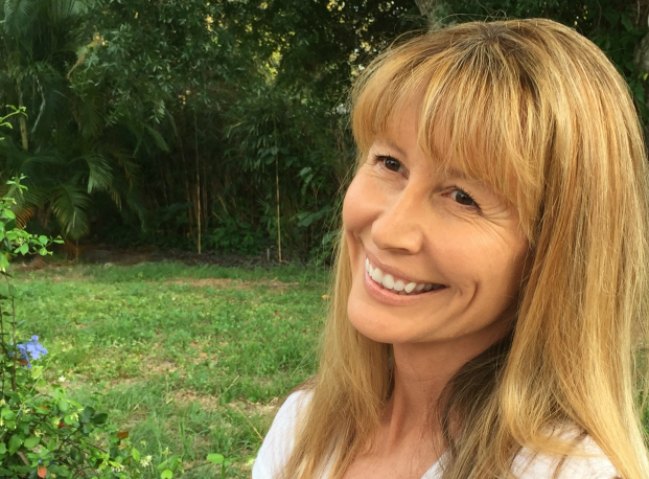 Apply foundation by warming it between your hands and then smooth over your face and neck using outward sweeping motions.
Gently press to set foundation. Not only does it feel velvety but smells wonderful.
I also dotted a bit of foundation under my eyes, and a little right under my brows.
Apply Multi-Blush by gently patting with your fingertips to the apples of your cheeks.
Apply Be Long Mascara using an enlargement mirror. You can apply to either the top lashes as I did or top and bottom.
Apply the Instant Light Natural Lip perfector with the applicator. It will glide on and give your lips shimmer and hydration.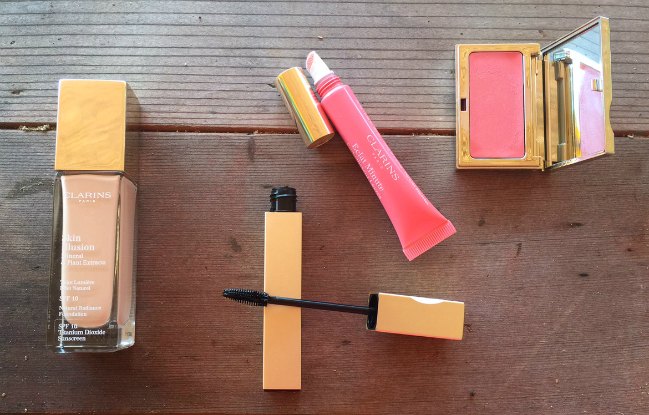 10 Minutes to Polished:
Instant Smooth Perfecting Touch
Extra-Firming Foundation SPF 15 (I´m wearing beige 107
Multi-Blush Cream Blush shade 02 candy
Ombre Matte Cream-to-Powder Eye Shadow in 01 nude beige
Instant Light Natural Lip Perfector in Rose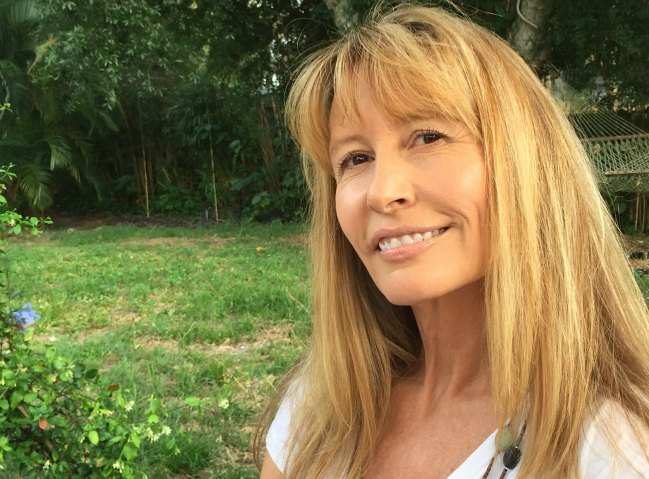 Apply Instant Smooth Perfecting Touch either on its own or mixed with your foundation.
It is a combination of makeup and skin care that will smooth out fine lines and make your skin the perfect canvas for the rest of your routine.
Apply it with your fingers and pat to set.
In addition to the steps above, for the Natural look, apply Instant Concealer by gently patting a small amount under the eyes and blend from the inner corner outward.
Apply Ombre Matte Eye Shadow using your fingertip to apply evenly from lash-line to crease. Blend outward to soften. No brush needed.
If you´re simply adding on to the look as I did, you don´t need to reapply mascara.
15 Minutes to Fabulous:
Instant Smooth Perfecting Touch
Everlasting Foundation+ SPF 15 (Beige 107)
Multi-Blush Cream Blush shade 02 candy
Ombre Matte Cream-to-Powder Eye Shadow in 01 nude beige
Rouge Eclat in Red fuchsia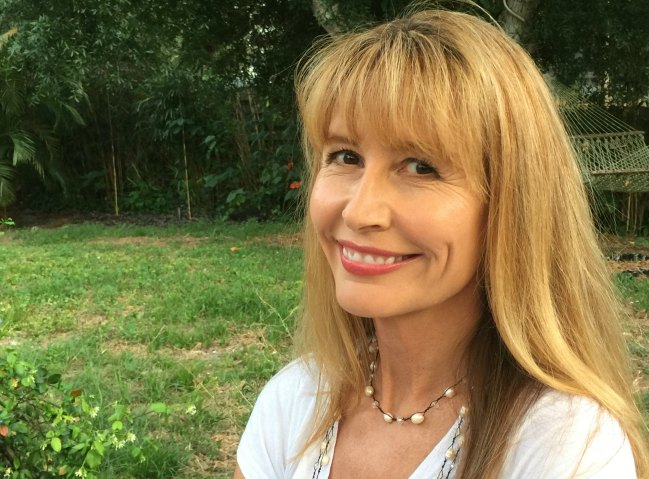 You can start your Fabulous look from scratch by following all of the steps above, and then adding these, or enhance your Natural or Polished look as I did, simply adding these steps to your routine:
In your mid to late 40´s and after 50, you may need to fill in your eyebrows. I used the Eyebrow kit for that, with the brush that comes with the kit.
I also applied a little of the darker shadow in the kit in the crease and above my upper eyelid, towards the eyebrows, and blended with the tip of my finger.
The 3-Dot liner is easy to use even if you´ve never done it before. I used it only on the top lid, right along the lash line.
To soften the look, I lined the eyes using the Eyebrow kit.
Finally I applied Rouge Eclat in Red fuchsia with my fingers and then lined my lips with a lip brush using the same Rouge.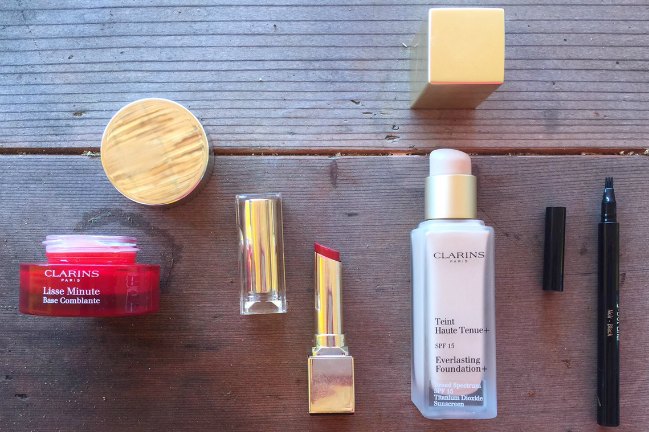 To take your Natural, Polished or Fabulous look to the next level you can add Clarins Eye Quartet Mineral Palette for instant glam.
Receive a full-size for FREE when you spend $50 on any item from the 5, 10 or 15 Minute Make-Up routines.
And now, a fun giveaway for you!
So you can experience one of these great products for yourself, visit Clarins online and check out the 3 looks on their site.
Which of them are you most excited to try? Do you have a special occasion coming up that it would be perfect for?
Follow the instructions in the Rafflecopter below. One lucky winner will receive one Full Size Instant Concealer in 01. It is one of my favorite products!
The giveaway ends May 4, 2015 at midnight and the winner will be announced and contacted on May 5.