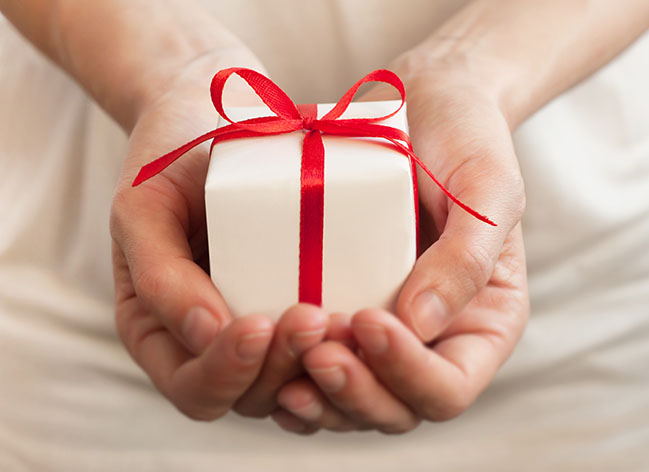 Gifts, if they were only that easy. As people get older it gets more difficult to purchase something valuable, affordable, usable and desirable all at once.
There is no perfect gift
So whether it's a Valentines' gift for a spouse or lover, a birthday gift for a friend or family member or even a Christmas gift, it is almost impossible to find the perfect present.
Maybe this is because there is no perfect gift. What John likes, Charlie might not enjoy.
Then there is a question of budget.
One of the main problems with inexpensive or casual gifts—and sometimes even expensive gifts—is that they end up in a closet or as a donation to the Goodwill or Salvation Army.
So what can you give someone who's already set in their ways?
Well, here is a list of 5 simple gift ideas for him and her, presents just about anyone can enjoy:
1) A gift certificate to a spa
We live stressful lives. Most men and women I know would love to take a break and relax.
And who doesn't want to be pampered, even if it's just a massage.
A gift certificate to a local spa can fit almost any budget.
Also Read: Learning to Appreciate Wine, A Lifelong Journey
2) Wine
This is the kind of gift that can also fit any budget.
Besides, even the most avid wine aficionados love to get that special bottle of wine as a gift.
But the best part about giving wine as a gift is that you might also get to enjoy some of it yourself.
3) Pictures
If you're family, a family portrait or a photo album makes a great gift.
We sometimes give my parents a small photo book each Christmas so they feel like they're a part of our life.
My brother gives us photos of his kids. We use them for target practice. Just kidding.
It's nice to feel the family around us since we don't live in the same town.
4) Books
Think of whatever hobby or interests your friends have and give them a book on their favorite topic.
Sometimes antique books can be picked up for a song, and often times these are one of a kind or hard to get books that are good to look at and hold valuable information as well.
5) Tickets
No, not parking tickets, but tickets to a ball game, a concert, the theatre.
Many of us fall into a routine and forget about those fun yet sometimes expensive outings.
We recently got tickets to the theatre from a friend. It was a musical we might never have gone to see.
In the end, we truly appreciated the gift.