Athleisure has been a growing trend for years already, but being forced to stay home and spending so much time comfy and cozy in our ratty old t-shirts and slippers over the past year has made many of us feel quite averse to you know, actually getting dressed in real clothes.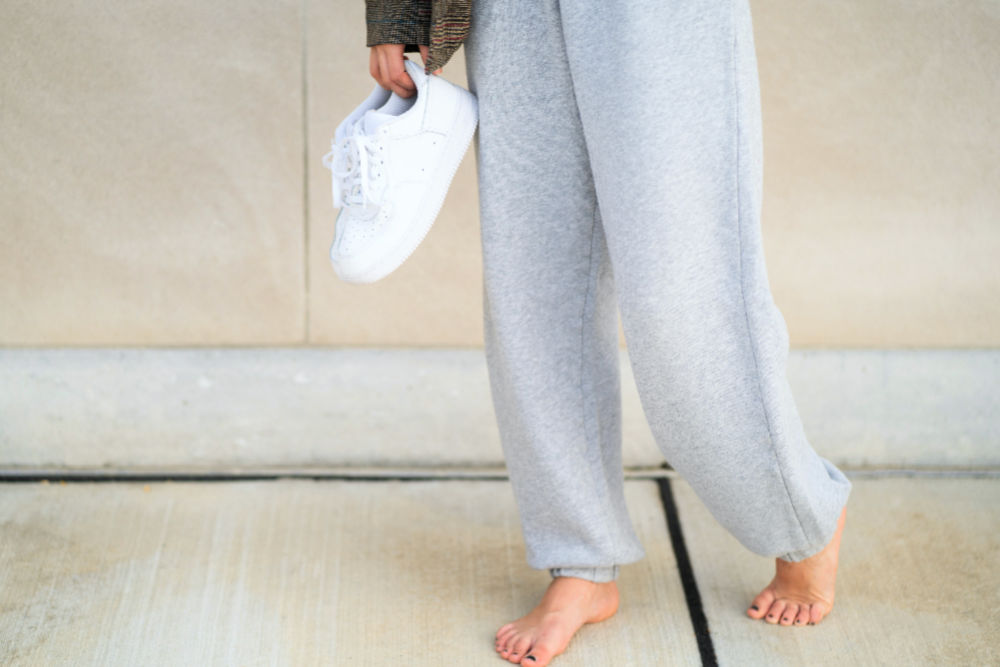 So, it should come as no surprise that folks are now proudly stepping out in the most relaxed clothing we can get away with and still look like we care. The thing is, we've come to realize that life truly is fragile, times are tenuous and well, we can only take so much.
If something as simple as being physically comfortable 100-percent of the time makes us feel a little bit better about life, we say it's okay to embrace that.
Thankfully, clothing manufacturers caught on quickly and ramped up production on super-comfy clothes that are still cute and stylish. Here are some of the cozy fashion trends we're getting on board with in 2021.
Sweat sets
Matching sweat sets are a gift!
Celebs and influencers have been donning them for a while now, and we absolutely love it. The right sweat set can be worn for everything from a family movie night to a virtual business meeting.
We particularly love them in neutral tones which makes them more versatile, but if color's your thing go for it. They even come in great textures like a waffle knit or corded.
Sherpa tops
There's just something so cozy about pulling on a Sherpa top. They look attractive and feel even better. And these days, they come in a ton of different styles from dressier sweaters to ultra-casual hoodies.
You can even find many items with Sherpa details that embrace the trend without going all in.
Cropped hoodies
If you think you can't get away with a crop top, think again. Cropped hoodies are a huge trend right now, and they are incredibly comfortable.
Paired with high-waisted jeans or leggings and a fitted tee or tank, a cropped hoodie is that extra-layer that makes an outfit look complete.
If you don't mind showing a sliver of the belly, that's always an option, but otherwise, as long as you wear the right base layers, you can enjoy the trend without revealing anything at all.
Bike shorts
Whether you're getting wardrobe ideas for spring and summer or you live in a warmer climate, bike shorts could work for you. No, we're not talking about the high-sheen, neon-hued varieties that were popular a couple of decades ago.
These days, bike shorts are once again on the rise, and they come in a variety of lengths, colors, and patterns that can take you from the couch to the trails and then to the grocery store without a second glance.
We love that many of them also have built-in slimming and smoothing technology as well.
Oversized tops
Even more importantly, oversized tops are also on-trend, so you can pair those new bike shorts with a t-shirt, sweatshirt, or hoodie that leaves a little more to the imagination and be even cozier than ever.
Oversized tops aren't just boxy abominations anymore either, there are many cuts and fits available making it easy to choose one that works for your body type, so you can be comfy without looking like you're wearing a garbage bag.
Jumpsuits
There are so, so many styles of jumpsuits on the market right now, and they make life so much simpler. There's nothing like being able to put on a single piece of clothing and look like you "got dressed."
From fitted, spandex numbers perfect for the gym to softer, looser more bohemian jumpsuits, there's something for everyone. Throw on a light jacket or a breezy scarf and your comfy but stylish outfit is complete.
Textured leggings
Whoever bet the legging trend would go away in a few yes was dead wrong. There was a brief blip that threatened it all when "jeggings" became a thing, but thankfully we collectively steered away from that into a much more chic and purposeful direction.
We love the idea of textured leggings, like the seamless ribbed and waffle-knit varieties we've been seeing. They are easy to wear but offer some visual interest.
Fuzzy socks
Fuzzy socks will never, ever go out of style. From the cat print fuzzies you wear at home to the deliciously cozy soft wool socks you pair with your favorite boots, there's a fuzzy sock for every occasion.
People are even embracing warmer, fuzzier socks for the gym these days, and we're not mad at all.
Comfy shoes
Right along with fuzzy socks, the comfiest of shoe options are also making major waves.
A couple of years ago, the "dad shoes" trend cropped up and has steadily taken on a life of its own with shoes like Crocs, Birkenstocks, and roomy sneakers with cushiony soles all making major comebacks.
And yes, it's totally acceptable to pair any of them with your matching sweat set or bike shorts.