Last year I shared my 57th birthday photoshoot and why I do it every year now. Last year my peak pose was a freestanding handstand, which I wanted to accomplish by age 60, but reached earlier.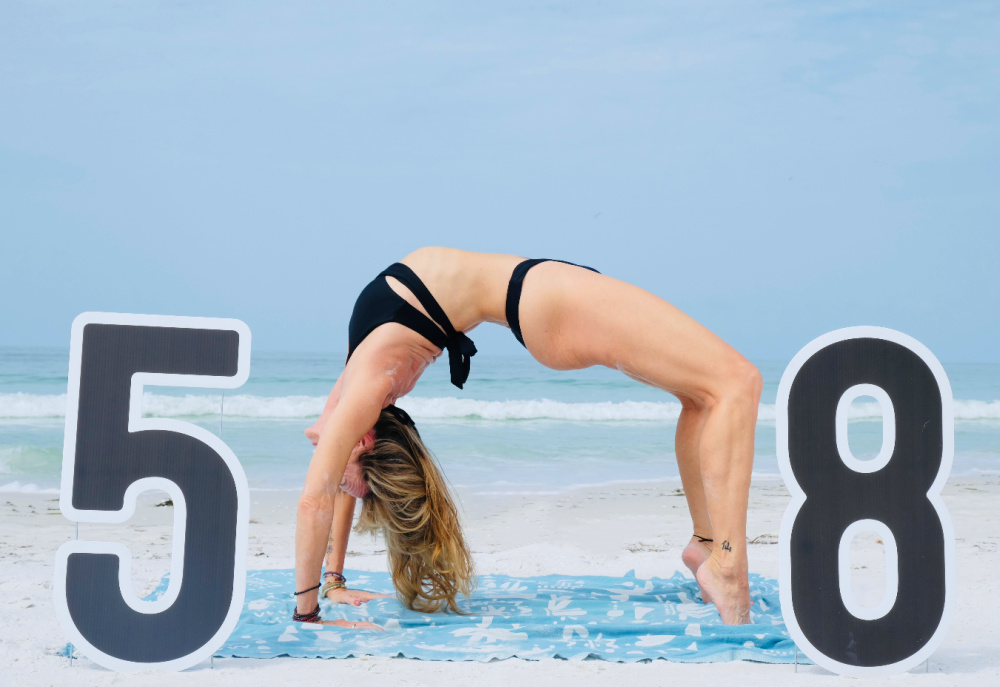 This year, my idea was to train for some challenging new yoga pose for my 58th birthday photoshoot. However, two months before my birthday, I contracted breakthrough COVID-19, and that nixed my whole plan. 
The day that my husband (a professional photographer) and I went to the beach to take the photos I envisioned, I had to work around lingering post-COVID exhaustion.
In addition, the heat and humidity didn't feel as great to me as when I'm healthy and well.
Why I chose more "moderate" yoga poses this year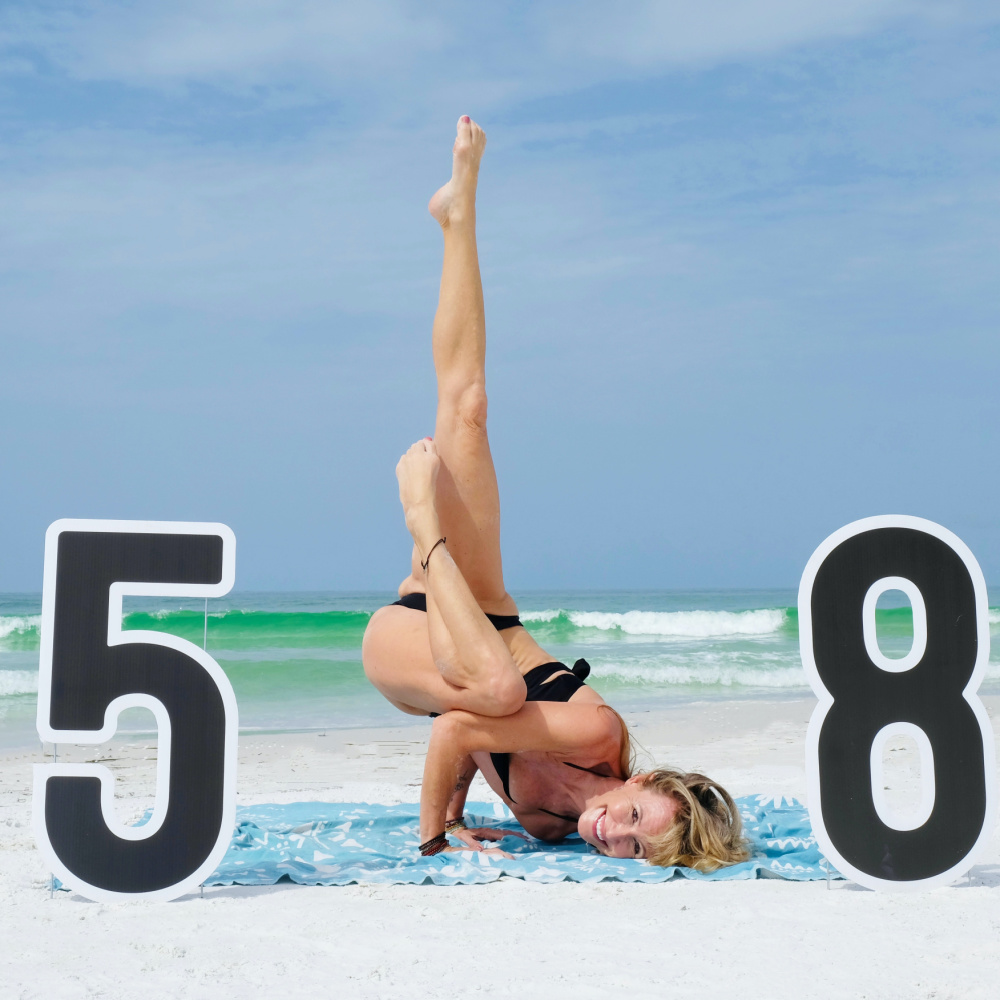 This year I skirted the handstand because I am truly not into risking my wellbeing for a picture, so I did the poses that come easily to me now.
Please keep in mind that although I have exercised consistently from a young age, I never started arm balancing until after I turned 50.
Every year I try to find birthday numbers that are different from the ones I used the year before. The ones in the picture are from Party City.
They are lawn signs, for the drive-by pandemic birthday celebrations, I suppose. When I bought them, I knew that they'd look good in the sand. 
These pictures are all taken on Siesta Key Beach, close to our home in Sarasota, Florida. The sand is cool to the touch because it is in fact 99% pulverized quartz. Pretty cool, right?
I'm more of a sunset at the beach kind of person, but we took these pictures in the morning since the sun sets on the water.
I had done my hair and makeup before the photoshoot and had to move fast since the humidity and heat are relentless. Although we parked at a lot where we knew there would be a smaller crowd than at the main entrance, we did get passers-by wishing me a happy birthday.
It was a lot of fun in the end, and I chose the wheel pose picture as my main birthday photo to post on Facebook and Instagram. 
What some commenters said about last year's pictures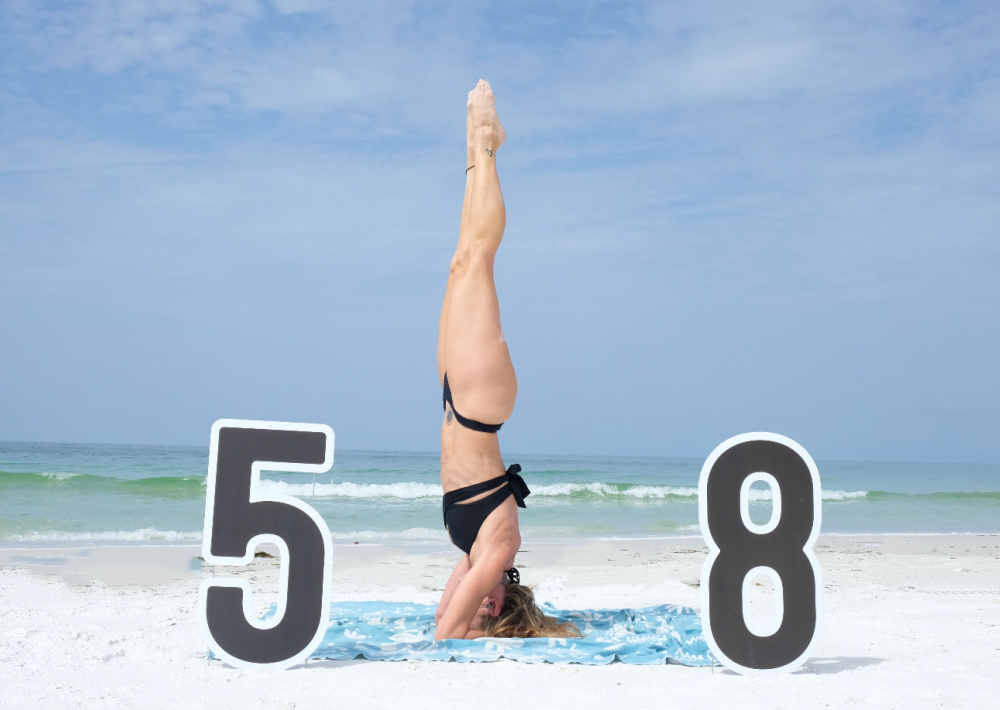 When I shared my pictures last year, some women on the Viva Fifty in English Facebook page commented that I must have airbrushed the pictures. Nope. I suppose my husband's camera is a bit magical but other than for light, the pictures are not doctored. However, I was thankful that the majority of women focused on my strength.
I have zero issues sharing my midlife body the way it looks up close. The lighting is pretty good, but if you want to take a close peek at the pics I invite you to enlarge them.
The sag, the wrinkles, and the crepiness (not creepiness) are there. I also realize that resizing the pictures for the blog also reduces their quality. But trust me, in real life, age has left its marks.
Anyhow, as I mentioned last year, I will continue to do this for as long as I am able to. This past year has been grueling with my dad's colon cancer and my mother-in-law's breast cancer diagnosis.
I don't take my health and my mobility for granted and I do my best to keep it up, even if I have to take breaks here and there.
Being grateful for my sound mind, body, and soul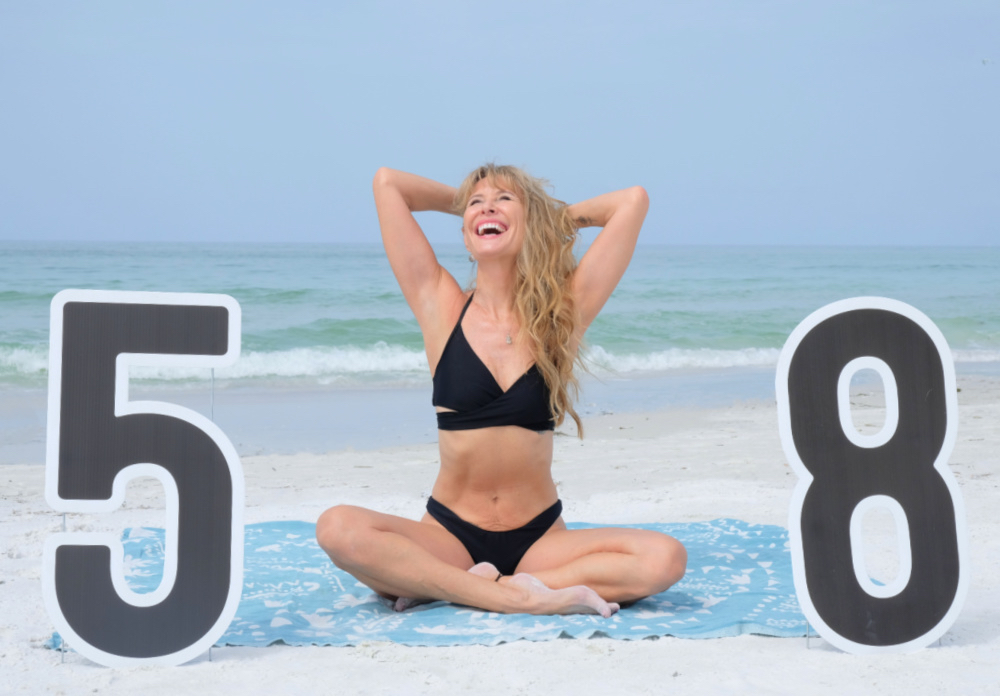 This past year I also had a posterior vitreous detachment in my right eye, which kept me off my hands for a bit, but the great news is that my sixth colonoscopy (I had a precancerous polyp three years ago) came out well and I don't have to have another for three more years.
Well, as I said, for now, I will continue to document my audacity as I try to shatter stereotypes, and I hope you do the same. It doesn't have to involve a bikini or yoga on the beach.
I wish for you to find your way of celebrating a new birthday!