I'm always thankful for the opportunity to showcase Haiti and its people, and show the rest of the world the beauty of this gutsy and inspiring country.
I´ve written before about why I left my heart in Haiti, and I know will write about it again.
You see, five years ago, I met my now-husband, a Haitian-American writer and former photojournalist.
The earthquake that devastated Haiti in 2010
When the earthquake happened on January 12 of 2010, it really did hit home here in Florida, where we live.
Haiti's earthquake was a 7.0 magnitude on the Richter Scale, injuring 300,000 people, resulting in over 250,000 deaths and leaving over one million people homeless.
My in-laws lost family and friends to this natural disaster and the devastation was not just something I saw in the news.
We got first-hand accounts from my brother in law, a photojournalist who traveled to his country of birth from Miami not only to report the damage but to help his people.
His photos and e-mails were heart-rending.
I will never forget a picture he sent of a little girl´s hand – the only visible part of her, as she´d been crushed by the school building.
I felt and shared the sadness, the heavy-heartedness of those affected and the ones left behind to deal with the aftermath of such a huge tragedy that pummeled a country that was still reeling from the effects of hurricanes, floods and political issues.
Also Read: Why you should visit the old city of St. Augustine, Florida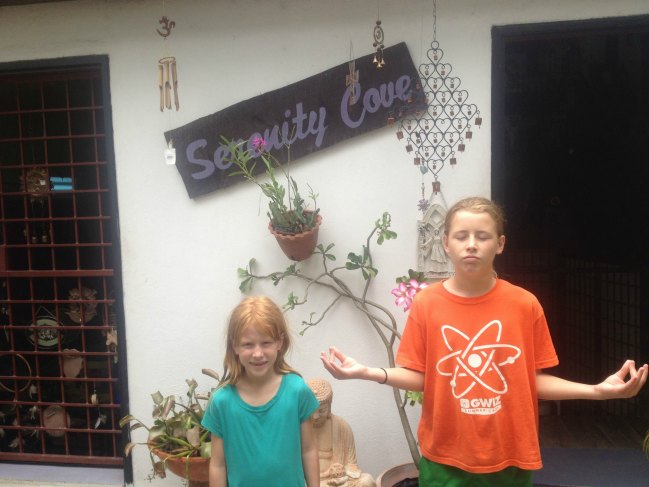 Well, since I married into a Haitian family and had the opportunity to visit the country and get to know its people, I feel a moral obligation to showcase this hidden gem that most people in the U.S. don´t really know much about.
Of course when we visited Haiti in the summer of 2012 to celebrate my in-laws' 50th wedding anniversary, there was still a lot of damage and destruction left to repair, still a lot of people who needed help.
But the resilience and the resourcefulness of the Haitians is present in every street, in every corner, in every dish and in every piece of art.
From the beautiful green mountains of Fursy to the turquoise waters of Port Salut, Haiti is an undiscovered diamond in the rough.
The rawness of the landscape is breathtaking.
The taste of the food – my favorite dish being lambi – is real.
The creative ways in which people use their resources is admirable. And the artwork is unique.
I'm thankful for having experienced it all first-hand.
After having spent time with my family and kids in Haiti, the second best thing to actually being there is recreating the ambiance at home.
Hatian papier maché art from Jacmel
The blue vase that I chose to illustrate this post is made in Jacmel for Macy´s Heart of Haiti.
Aside from complementing other Haitian artwork that adorns our home, the vase takes me back to the artisans I saw at work in that beautiful town.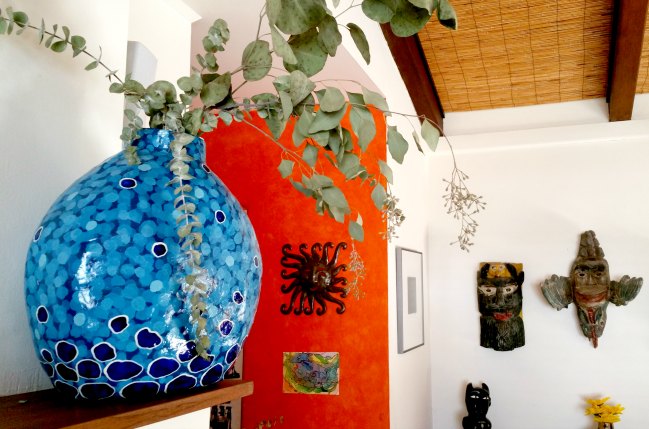 This beautiful blue circle vase is made from papier maché, and sourced from a variety of materials including cement bags. The artisans paint and glaze each piece by hand.
Haiti has an estimated 400,000 artisans – out of a population of 10 million – who rely solely on their handcrafted goods as a source of income.
But they face great challenges such as a limited ability to market their products outside of their geographical location, limited access to raw materials and poor infrastructure.
Haiti still needs help recovering from the aftermath of the earthquake, so if you would like to help its artisans, who get 50% or the wholesale price of the pieces, you can purchase a vase like this one for a holiday gift, at Macys online or in-store at some locations, or choose from a variety of Gifts that Give Hope.
Heart of Haiti was started by social entrepreneur, Willa Shalit, Macy's and the Clinton Bush Haiti Fund in 2010, right after the earthquake.
You can follow the initiative on social media, on Twitter: @HeartofHaiti, @Macys, #HeartofHaiti or  Heart of Haiti on Facebook.
My wish is that one day you will get on a plane and visit Haiti, because that's the only way to see what's behind every piece of art created there.
In the meantime, here is a video that may help you understand how some of the art is made:
Disclaimer: I am a member of the Everywhere Society and they provided me with this product for review. All thoughts and opinions expressed are my own.