If you have not been to Downtown Miami in a while, you are in for a treat. It is not the downtown that your parents or grandparents remember.
While just ten years ago safety in the streets was an issue, things are very different now.
In fact, it is now considered hip to live in Downtown Miami where people are close to work and can commute on foot or using the Metromover (which is free).
This area is now a vibrant urban center that never sleeps, where young professionals live, work and enjoy themselves after hours.
Every time we go down from Sarasota to Miami to visit family, we're stumped as to what else to do outside of Coral Gables and Pinecrest. I could never have guessed that the answer was in Downtown Miami.
But after a two-day press tour of the area, my eyes were opened to the many cool places to visit with my family.
I had no idea that in 2015 alone, nearly 40 new restaurants opened in the downtown area, and more than a dozen high-end eateries are projected to open in 2016.
Downtown Miami is also an up-and-coming arts and culture scene. From the recently opened Perez Art Museum Miami, to Adrienne Arsht Center for the Performing Arts, and the anticipated Frost Museum of Science, there are a lot of opportunities to soak up culture.
On a different note, an upcoming and very exciting development is  Brickell City Centre, which will have residences, office space, retailers and hotels, right in the centre of the city.
So, next time you head to Downtown Miami, you may want to check out these interesting spots:
A classic of Downtown Miami, the hotel looks onto Biscayne Bay. Aside from  the great amenities such as the outdoor pool, the spa and gym, it is conveniently situated right by Bayside park.
You can walk to Bayside Marketplace to dine and shop, or to the American Airlines Arena to see the Miami Heat play or attend a concert.
You really don't need a car to move around the area, and the Metromover station is a short walk from the hotel. The hotel also has a wonderful restaurant, Toro Toro, famous for its brunches.
If you want to experience something really special, then ask about Table 40 which provides a private dining experience right in the kitchen of Toro Toro restaurant!
This is a short walk from the Hotel Intercontinental. It's a theater with a rich history.
It was founded in 1926 and is reminiscent of European theaters such as la Zarzuela in Madrid, Spain, but smaller.
Some major performers that have been on its stage there include: Elvis, Pavarotti and Carly Simon, to name a few.
Before you go, check out their upcoming events page, because it really is a versatile venue. From open mic nights to full-blown performances, it has a lot to offer.
Also read: My experience at Generations Riviera Maya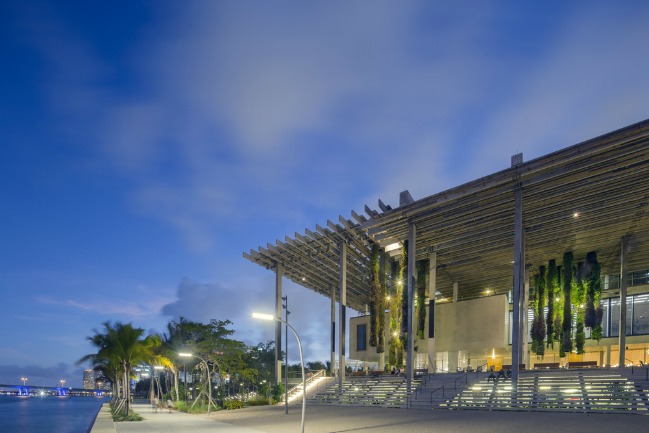 This beautiful museum right by MacArthur Causeway and Biscayne Boulevard will pleasantly surprise.
Not only does it host art exhibits, but also photo contests, art walks, film festivals, performances and more.
Take the kids, as it is an open space where children can learn about art and the world around them.
You can have a meal at Verde Restaurant, right inside the museum. Thursday evenings it is open until 9 pm, making it perfect for a date night.
I have enjoyed dining at this restaurant a few times and I highly recommend their "croquetas."
The menu is affordable and varied, and you can choose to dine al fresco, by the water, or indoors in the air conditioning.
This is a great restaurant to take the family, as it caters to all tastebuds and has a laid back atmosphere.
If you are visiting Downtown Miami without kids, then you may want to dine at El Tucán where you will not only enjoy a great meal, but also live music and entertainment every Thursday, Friday and Saturday.
There are two dinner seatings and showtimes. Doors opening at 7:30 pm for cocktails. If you want to dance the night away, at 1:30 am, DJd tropical music and live percussion fills the locale.
It has a sophisticated and yet fun atmosphere. I enjoyed a vibrant live show with Marlo Rosado, Grammy Award winner for best Tropical Latin Album.
He incorporates elements of rock, hip-hop and bachata to his salsa recordings.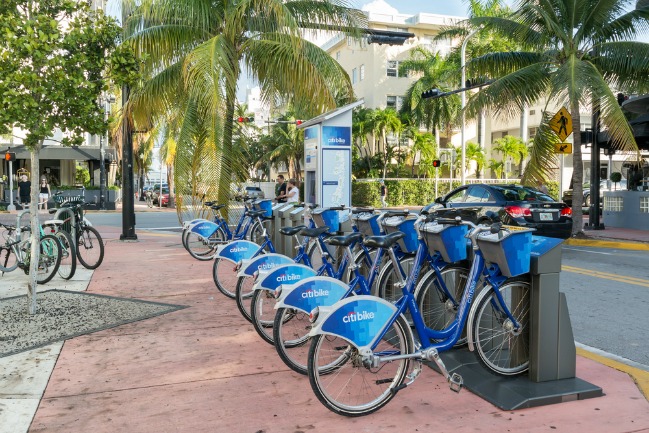 I was pleasantly surprised to see there are also bicycles that you can rent and share, which can also take you from one venue to the next.
These are available all day every day, and are a convenient and affordable way to get around.
I would love to know whether you´ve been to any of these places or have any other suggestions of spots nobody should miss when visiting Downtown Miami!