I had never been to Mexico before I traveled to the Riviera Maya on a recent press trip*. Actually I had been to Tijuana many years ago but somehow I believe that doesn´t count.
I have, however, traveled to other beautiful destinations like the Mediterranean coast in Spain, Ibiza, Majorca, Menorca, the Algarve in Portugal, Haiti, Dominican Republic, Turks & Caicos.
I also live in the Gulf Coast of Florida, an area famous for its beaches. So I know my beaches and seaside resorts.
Generations Riviera Maya
I couldn't wait to see what Generations Riviera Maya had to offer. The photos online were breathtaking.
The multigenerational resort by Karisma Hotels is a 30-minute drive south from Cancún airport, in Quintana Roo.
It boasts all-suite oceanfront accommodations with unlimited butler service.
My room, along with many others, overlooked a lap-pool right outside the room, which in turn overlooked the beach.
All the suites are oceanfront
The upside of all rooms overlooking the beach is well, the view. This has but one caveat.
If you step outside onto the patio to take a dip in your beautiful lap-pool and close the sliding door behind you, it will automatically lock you out. This will leave you outside with no way to get back into the room.
Apparently this is a very common occurrence and the entire staff knows to look up from time to time in case a guest might be flailing her arms asking for help.
So if you visit the hotel, please make sure you don´t close the sliding door behind you when you step outside.
Friendly, serviceable butlers at your service 24/7
That said, if you have any kind of issue, you can always call your butler who will do his best to find a solution to your concern. All the staff was very serviceable and nice without being overwhelming.
They speak English and are happy to tell you how much they love the company they work for.
According to them, Karisma helps them not only learn about the hospitality business but also further their studies and self-development. That shows in their dedication to their work.
As one staffer told me, if one is happy in his or her personal life, that carries into the professional life as well.
I´m bilingual in Spanish, so I chose to communicate in that language but I would have gotten by just fine if I spoke only English.
Also read: 7 Things I loved about Beaches Resort in Turks & Caicos
Water, water everywhere
If you are a pool lover, you're in luck. There is a pool for everyone.
If you want to explore further than the Generations Resort, you can walk or take a golf-cart to El Dorado Royale and El Dorado Royale Casitas and sample other beautiful waterways and pools and swim-up bars.
There are beautiful cabanas with butler service all throughout the resorts. I was even able to catch up on work and the wifi reached the beach.
A big plus for traveling entrepreneurs!
La capilla de los milagros
There is a beautiful chapel, La Capilla de los Milagros, right at Generations Resorts.
Inside there is a large stone with La Virgen de los Milagros, that was apparently rescued from the waters in 2014.
I enjoyed sitting for a few minutes in the "capilla" every day, listening to the waves. If you´re planning a Catholic wedding, that is a beautiful spot.
The Karisma gourmet inclusive experience
If you visit Generations for the dining experience, you're in for a treat. The á la carte dining experience in the resort's many restaurants, each offering a unique cuisine, is fantastic.
You will find everything from gourmet local fare to international cuisine that caters to all tastebuds. They are fast to consider any food allergies you may have, so don´t be afraid to speak up.
Karisma has a greenhouse on the premises, where they grow their own produce. You can request a tour if you like!
That explained the tasty tomatoes and the mouth-watering green juice at breakfast. Make sure you try it!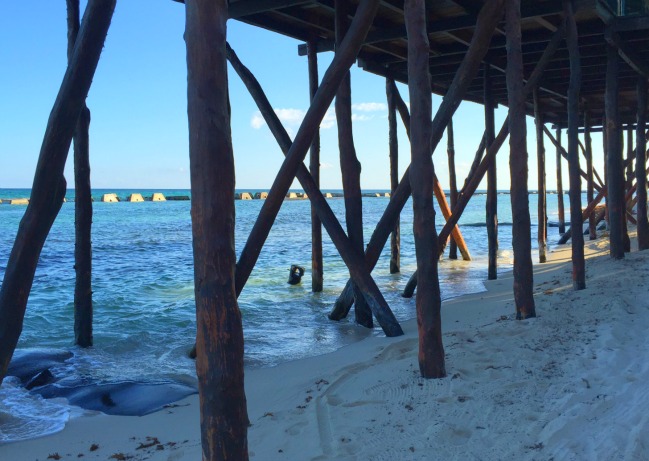 A note about the beaches
At the time of my visit, the beach was undergoing some kind of seaweed invasion that hit the shores in July of 2015 and was still an issue in November, although not quite as bad.
If you are expecting pristine beaches with turquoise water, you may be a tad disappointed.
Although the resort does a good job of cleaning up every day (which means there are noisy tractors on the sand while you may be trying to nap), there is little you can do when nature decides to throw tons of seaweed your way.
The beach will hopefully be its old beautiful self again when the slabs of concrete and the sand that has been brought to restore it are fully submerged. This is to create an artificial reef that may take a few years to form.
In the meantime, you have those beautiful pools I mentioned. Not to say you can´t swim in the ocean. I did!
Massages and yoga by the ocean
N´aay spa offers all kinds of pampering services from manicures to facials. I received a complimentary massage as a part of my press trip, and I absolutely loved it.
The masseuses are well-trained and provide friendly and professional service.
I would have loved to enjoy my experience at the Beachfront Sky Massage area but on that particular day a huge storm prevented that from happening.
I also enjoyed daily yoga on the Pier with Myuriel, the upbeat instructor who also teaches Zumba, Spinning and other disciplines.
That is a treat that you don´t want to miss. She caters to yogis and yoginis of any level, so don´t worry about not being fit enough!
All in all, it was a relaxing and enriching experience. If you have traveled there I would love to read your thoughts in the comments section below!
* A press-trip is typically an all-expenses paid trip with a pre scheduled itinerary, so you can share the experience with your readers. All opinions are my own.