When it comes to makeup in midlife -you've probably heard this before- but less is definitely more.
With the onset of fine lines and wrinkles, foundation can tend to cake in crow's feet and around the lips.
If you have hooded eyes, eyeshadow needs to be used differently than when you were younger.
The photos showcase some of the products I used for this natural look. Here are some tips I use when applying makeup and that I hope will help figure out what works best for you.
1.- Use a primer sparingly.-
I tend to use primer very sparingly and avoid the undereye area, but I don't forget the neck and décolletage if I´m wearing a scoop neck top.
I recommend using a smaller amount than directed.
2.- Bring out your glow.-
The makeup I use for a video is very different from the makeup I wear on a daily basis. Something that looks too shiny on camera may be perfect for everyday life.
A tinted moisturizer or luminous serum tint that helps your skin glow, worn alone or under foundation, will make you look refreshed.
3.- Use long-lasting foundation.-
Apply it over the sheer tinted moisturizer, either dabbing it on with a wet blender sponge or a foundation brush.
Once again, I use it also on my neck and décolletage but avoid the outer eye area.
Less is more in this department too!
You want to even out, not hide, your complexion. I use an enlargement mirror so I don´t miss a spot!
4.- Lighten the inner corners of your eyes.-
If I´m doing this for a photoshoot or a video, I will be more heavy handed with the lightening.
You can use white matte eyeshadow for this. If it´s for an everyday look, then I will use concealer (the same shade as my foundation) and a brightener on top.
Also read: Beauty picks to help you get your glow on
5.- Use a lighter color on your lips.-
When your lips are sporting fine lines already, darker colors tend to intensify the effect.
I increasingly use lighter tones.
If I want staying power I may use a long-lasting lipstick and, once it´s dry, pat on some gloss for volume.
I tend to skip the lipliner and fill in my lips with a lip brush, but that´s up to you!
5.- Apply eyeshadow above your eye crease.-
This is especially important if, like me, you have hooded eyelids.
I apply the darker eyeshadow above the crease and then dot a lighter shadow in the middle of the upper eyelid. Blending is vital so it won´t look overdone.
I personally never use dark eyeliner past the pupil on the inside and I don´t tightline anymore.
6.- Mist your face with a setting spray.-
Especially if, like me, you live in humid weather or you´re going to be away from home the entire day, a little bit of setting spray goes a long way.
A good rule of the thumb is use half as much as recommended and you will be fine. Younger skin can get away with way more!
7.- Whiten your teeth.-
Ok, so this is not a makeup tip, but a white smile always brightens my day. I whitened my teeth professionally in my late thirties and since then I keep it up with whitening strips I buy at the drugstore.
A touch up every few months is all I need.
This is by no means an all-inclusive tutorial, but stay tuned for more tips!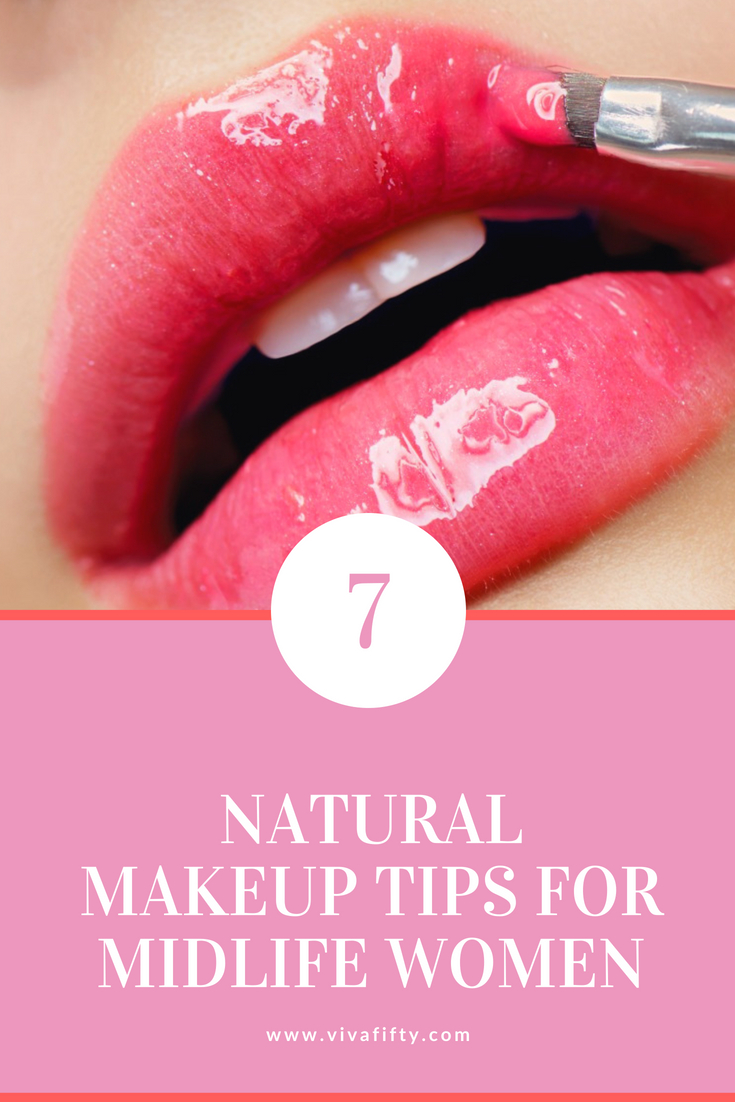 Viva Fifty Media and Lorraine C. Ladish receive editorial samples for review. We only showcase products we love.