As a work at home mom, I juggle a ton of responsibilities every day. One minute I´m having a conference call with a client and the next I'm doing a load of laundry.
In fact our home office is right beside the laundry room and the kitchen. In a way it´s very convenient but on the other hand, there is no escaping the chores when you really need to be working.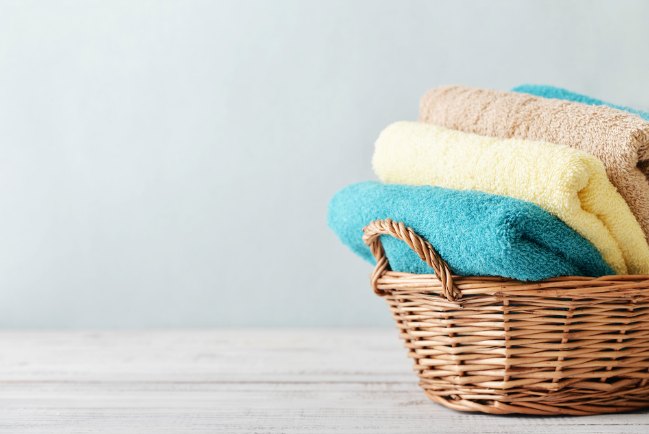 My husband works from home too – he´s an author and also my business partner. We have three children, 14, 12 and 11, and a dog.
There is always so much to do, I´m often overwhelmed
It´s really hard to keep up with all the to-do lists, grocery-lists and the kids´ activities.
Our kids skateboard, play basketball and go swimming. My eldest changes clothes at least four times a day, no kidding!
My husband and I workout, I´m a runner and he goes to the gym at least three times a week.
Then our dog, Toby, who is also my running partner, sheds like crazy. Especially in the summer.
We live in Florida, and summer is storm season. Toby is scared of thunder. I think this makes him shed twice as much, which translates into washing his bedding every few days.
Everyone do their own laundry
Now that our children are older, the solution to keeping household chores in check is to have everyone do their own laundry.
One of the problems this brought in the past is that when using liquid detergent and softeners, the teens think that more is better. They´d go through half a container in just a few days.
Another issue was having to purchase different products. In addition to detergent and softener, we bought stain removers for those hard to remove stains in the kids clothes.
Now Gain Flings has simplified our routine a lot. Because each Gain Fling laundry pac contains everything needed to do our laundry, it takes out the guesswork.
We´ve taught each of our older children to just fling the laundry pac into the washer, then load their clothes, shut the door and press "start."
No more wasting time and money on different products!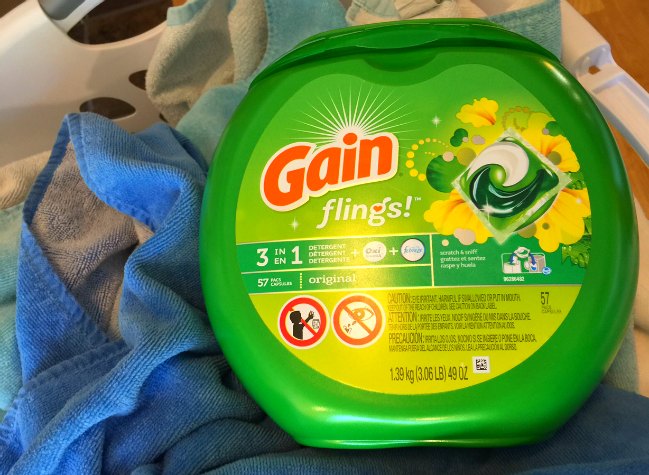 The way we organize laundry in the house so that the adults aren´t doing it all:
Each child has their own dirty laundry hamper.
Each one is responsible for doing their own laundry. If they don´t do it, they don´t have clean clothes to wear. It's that simple!
Sunday nights we remind them to do laundry, so they decide who goes first and they take it from there.
My husband and I share a dirty laundry hamper. We don´t really have a system. Whichever one of the two realizes he or she needs clean clothes will throw them in the washer. I do tend to separate my delicates so my husband doesn´t inadvertently ruin them by using the wrong cycle. But I no longer have to worry about him not putting in enough detergent or softener (he´s the money-saving person in the house!).
If you have younger children please remember to keep all laundry products up high and out of their reach!
A Giveaway for you!
To help you enjoy the simplicity that Tide Pods and Gain Flings provide, we're happy to host a giveaway for you!
Simply enter your information in the Rafflecopter below and you will be eligible to win one (1) Tide pods tub AND one (1) Gain flings tub.
The winner will be announced via email as well as on the Rafflecopter. Good luck to all!
Follow the hashtag #NuevaFormaDeLavar on social media to keep up with the latest news on these two handy and time-saving products!
This is a sponsored conversation written by me on behalf of Tide® and Gain® and Latina Bloggers Connect. However, all opinions expressed are my own.