Have you ever looked down at your phone at a stoplight? How about while driving? I have! I rationalized it by telling myself I´m a social media influencer.
I needed to check and see whether I'd received a once in a lifetime e-mail at the exact time I was on my way to pick up the kids from school.
I´m sure you´re shaking your head. And you're right. It pretty ridiculous and irresponsible. Well, I´ve since changed my ways.
Fighting the urge to check my phone while driving
My girls, now 11 and 14, were in a car accident last year while someone else was driving.
Ever since then, they're the first ones to remind me to not even glance at my smartphone when I´m behind the wheel.
Really, no email, no text, no Facebook update is worth a life. It only takes one quick glance away from the road for something terrible to happen.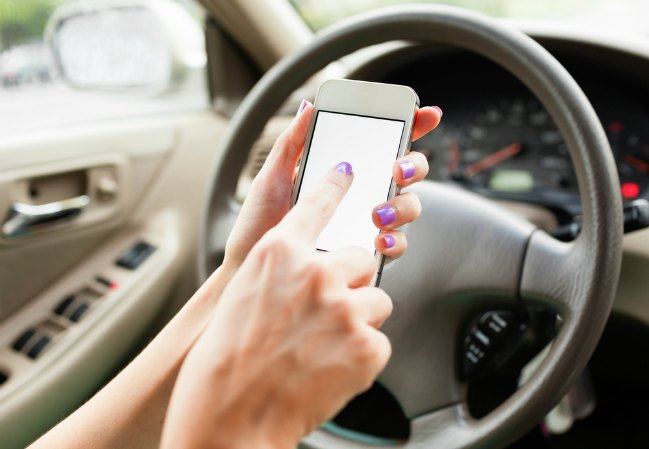 Unfortunately, it turns out that I´m not the only driver fighting the urge to check my phone while driving.
New research from AT&T released today shows that nearly 4-in-10 smartphone users engage in social media while driving.
Almost 3-in-10 surf the net.
And surprisingly, 1-in-10 video chat!
While texting and e-mailing are the most prevalent smartphone activities while driving, it's surprising that the 7-in-10 people who use their smartphones in the car, are also on social media, according to an article in the New York Times. Yikes!
These folks are mostly on Facebook, with more than a quarter of those polled using the app while driving.
And for those who love Twitter as much as I do, well 1-in-7 are tweeting behind the wheel. I don´t think I´ve ever gone that far.
Smartphone activities people say they do while driving include:
Snap a selfie/photo (17%)
Other unsettling findings include:
62% keep their smartphones within easy reach while driving.
30% of people who post to Twitter while driving do it "all the time."
22% who access social networks while driving cite addiction as a reason.

Of those who shoot videos behind the wheel, 27% think they can do it safely while driving.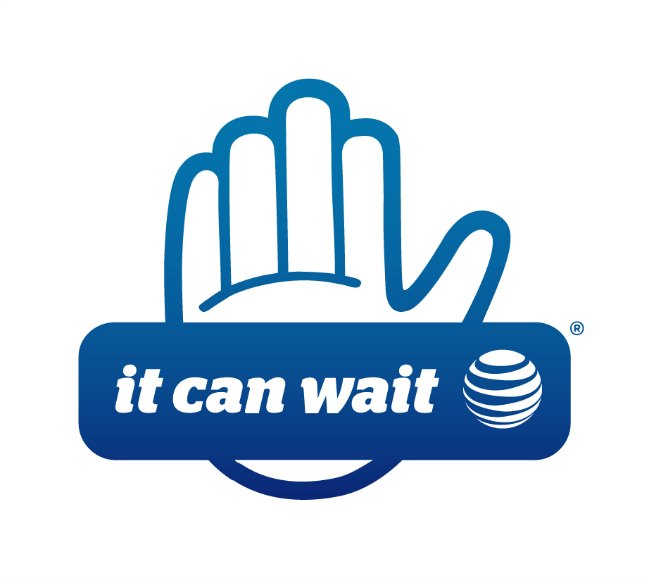 I´m excited to partner with AT&T to raise awareness of their It Can Wait® campaign, that is shifting focus on texting while driving to include other smartphone driving distractions that have emerged as a result of our high engagement with social media and other online means of communication.
"When we launched It Can Wait five years ago, we pleaded with people to realize that no text is worth a life," said Lori Lee, AT&T's global marketing officer.
"The same applies to other smartphone activities that people are doing while driving. For the sake of you and those around you, please keep your eyes on the road, not on your phone."
Since its launch in 2010, the It Can Wait campaign has:
Helped raise awareness of the dangers of texting while driving to about 90% for all audiences surveyed.
Inspired more than 6.5 million pledges not to text and drive.
Worked with departments of transportation in Texas, Kentucky and other states on research that suggests a correlation between It Can Wait campaign activities and a reduction in crashes.
Here are some tips of my own on how you can avoid smartphone-related distracted driving:
Download and activate the AT&T DriveMode app available for Android and IOS. When enabled, incoming alerts are silenced, outgoing text messages are restricted and incoming calls go directly to voicemail. The app turns on when it detects you are driving 15 MPH or more and turns off when you drop below 15 MPH for 2-3 minutes. Parents with young drivers at home can receive a text message alerting them if the app is turned off.
Set your smartphone to airplane mode while you drive. If you are on a long trip and really MUST check your phone, pull over at a rest stop and then do your e mail checking, social media updating and take a few selfies.
Lock your smartphone in your car's glove compartment while you drive. This may sound extreme, but since we mostly check our smartphones out of habit, not having it handy will stop you from grabbing it out of the cup holder while you drive. I was without a phone for a week after I left my device behind at a conference. I felt so liberated not having the temptation to look at it behind the wheel.
Let your copilot do the texting and phone answering for you. But even this is risky, because if you receive unsettling news while driving it could affect your concentration and slow your reactions.
I say let's do whatever it takes to keep our eyes off our smartphones while driving, and keep them on the road where they belong.
Visit www.ItCanWait.com to learn more.
And now, a giveaway to encourage you to join in the It Can Wait campaign: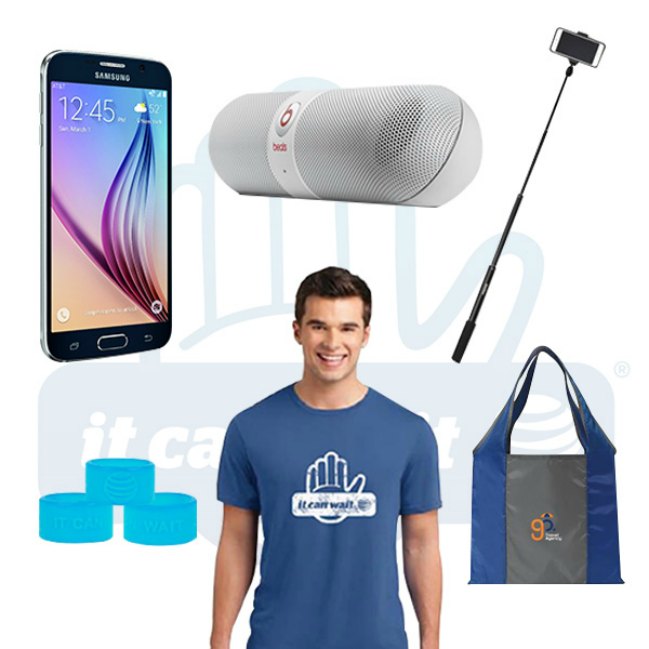 We are giving away to mindful drivers a swag package that includes:
A Samsung Galaxy S6, an ICW branded phone case, a Beats by Dre Pill, a selfie stick, ICW stickers, a tee and thumb rings. All these goodies will come to you in a fun tote. See the photo for details!
To enter, simply enter your information in the Rafflecopter, follow the instructions and … good luck.
The winner will be announced on Wednesday May 27 2015 on our website and via social media.