The Basque Country is a place you should be guided through lest you miss its hidden gems.
You can read guides, book your hotel, your flight, but if you don't blend with the actual Basque people, you will hardly get to know the depth of this area in Spain.
You may see the surface, but will not get to know its people, culture, and gastronomy.
The Basque Country
Only a Basque can really show you the ins and outs, and here we are giving you a sneak peek of what you can see if you book your trip.
The Basque Country is one of the few places in the world where the food, culture and its people's idiosyncrasy play a vital role in its uniqueness.
It's south of Europe, south of the Gulf of Bizkaia and it is bordered by the Cantabrian sea, the Atlantic ocean and France.
It's now in vogue for its excellent gastronomy, which is famous worldwide, along with its extremely delectable wines and cultural richness.
Bilbao is now home to the Guggenheim, which has been responsible for much of the city's transformation in the last 20 years.
Bilbao used to be an  industrial city,  but  has become a state of the art city, attracting travellers worldwide because of its enchanting balance of tradition and modernity, its spectacular landscapes, its kind-hearted people, and the great variety of activities it hosts.
San Sebastian, barely an hour drive from Bilbao, has been named this year 2016, one of the two European Cultural Capitals because of its wondrous beauty.
Visitors of La Concha Bay are fascinated by the breathtaking views from mount Igeldo.
Vitoria is the administrative capital of the Basque Country, and its historical medieval well-preserved city center was declared a Historical Landmark.
Enchanting forests, lagoons and wetlands surround the city where hikers, runners or bikers as well as conservationists can enjoy nature in all its beauty.
Vitoria also has its unique wines and gastronomy, which enrich the visitor's experience. The artistic Center of Atrium offers cultural activities, which include avant-garde works of art, and two medieval cathedrals.
The Basque Country's enthralling beauty can be experienced on its coasts as well as inland.
Its climate is humid with moderate temperatures year round, and due to its geographical location it allows for an evergreen mountainous breathtaking countryside, in clear contrast with the cities' and small town's blend of modern and old charm with their unique traditions and folklore.
The language spoken, besides Castilian Spanish, is Euskera, which is the only non-Indo-European language in Spain.
Also read: What you can expect if you visit Madrid
Gastronomy
The Basque people take pride in their gastronomy due to the excellent quality of their commodities to prepare their glorious meals.
The best and world, renowned chefs are Basque, such as Juan Mari Arzak, Pedro Subijana, Andoni Luis Aduriz, Martin Berasategui, Eneko Atxa, which have been awarded the most Michelin guide stars in the world.
The Basque "Pinxos" cult is now world famous. These delicate mouthwatering creative culinary bites are the rage of any cultivated palate.
The trick is the quality of the goods the region is responsible for. From olives to tuna, these delicacies are most often works of art even in miniature.
If they look good, they taste even better.
The Basques also have 'secret societies,' simply to cook! Only men cook, and women are only allowed to sit and enjoy the meal.
These societies are not open to everybody; it's by invitation only. There is more to it, but let's keep it a secret for now until you come over!
Wine, wineries and cider
Wine and cider play a very important role in Basque's daily life. No, we are not drunk all day. We pace ourselves, taste and savor, just like our meals, our daily spirits.
We are proud of our Rioja Alavesa region, which has the largest concentration of centenarian vineyards.
Txakoli is also one of our treasured secrets: a white wine elaborated with local grapes and is gaining followers and is becoming a world-wide prize winner and comes in three different certificates of origin; Txakoli from Getaria, Álava and Bizkaia.
Cider has been our native drink for centuries, made from fermented apple juice.
What was once started with wholesale trade affair to choose the best sider, has now become a highly anticipated event, called the "txotx," which is the ritual of opening the "kupela" were the cider is stored.
The Rioja Álavesa wine region is one of the most important in the world. The wineries are a balanced blend of tradition and style such as the modern architecture of the Ysios and Marqués de Riscal.
A visit to these wineries combined with the majestic setting, history and famous gastronomy is an unforgettable experience and a "must" if we want to immerse ourselves in this area of the Basque Country of profound richness which are  deeply in contrast with the rest of the country.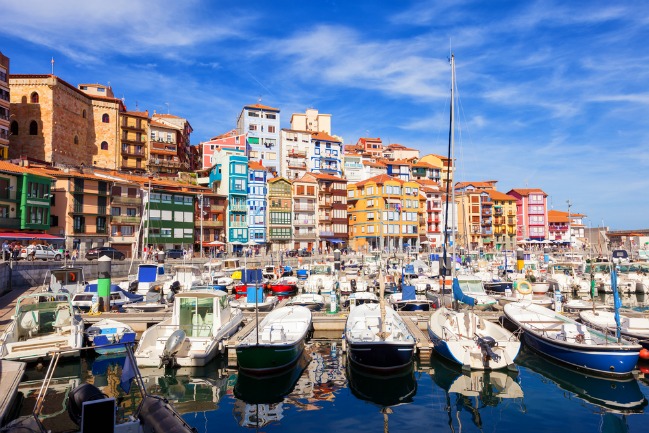 Architecture
In the last 20 years, the Basque Country has been so rapidly transformed that it has become one of the top destinations for curious travellers who want everything; Culture, history, coast, mountains, forests, great plains, tradition, gastronomy, wine, and art.
The later is also a destination for artists like Frank Gehry, Norman Foster, Santiago Calatrava, Cesar Pelli, Rafael Moneo, creators of the Guggenheim museum, subway, Zubi Zuru walkway and Loiu airport, the Isozaki towers and the Palace of Exhibitions and Conferences Kursaal.
Notwithstanding, Bilbao was chosen as the city design two years ago.
There is more in store: strong industry, fishing ports, the majesty and beauty of the French-Basque Country, its fairs, rural sports, country fairs, the biosphere reserve of Urdaibal, San Juan de Gaztelugatxe, beaches, woods, museums, San Fermines…
How about joining us? We at Basque Experiences will help you discover and EXPERIENCE the "real" Basque Country."
As Basques we are in the know, are passionate about what we do and hopefully your friends in this adventure.
We are organizing a trip with Viva Fifty! A 7-day tour of total immersion in our culture and traditions. Are you in?