If you're practicing yoga in midlife and beyond, you're not alone.
According to a survey by Yoga Alliance in 2016, "30–49 year olds make up 43 percent of the practicing public, followed by those ages 50+ (38 percent)."
If you want to take it farther and are contemplating getting certified as a yoga teacher, you can sign up to a number of 200-hour yoga teacher trainings available all over the United States and abroad.
Or if, like me, you're over 50, you could enroll in a YTT-200 (shorthand for the above-mentioned training), especially designed for yoga fans 50+.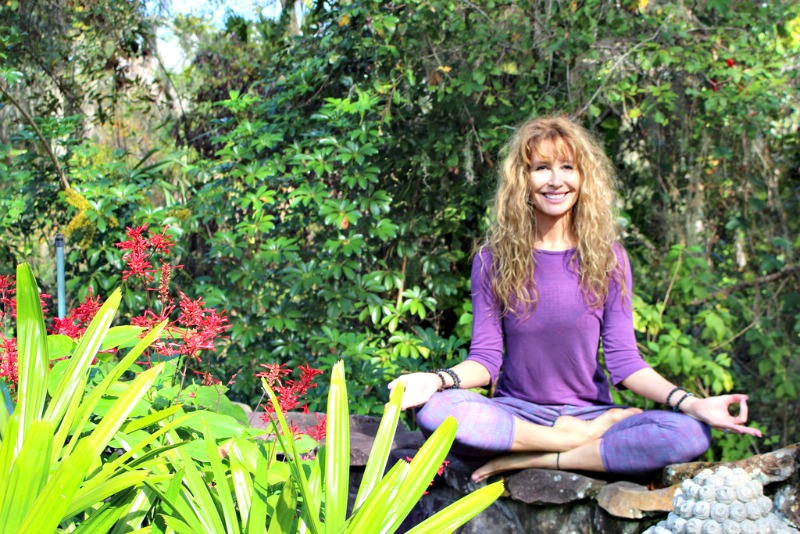 My yoga journey
My yoga journey started when I was a kid, with a book by Richard Hittleman.
I went on and off the mat for life, combining yoga with running and dance, until a hip injury forced me to hang up my running shoes at 48.
Yoga every day since the age of 51 not only improved my hip, but made me stronger and more flexible than I've ever been.
At 54 I made the decision to enroll in yoga teacher training and at 55, I graduated as an RYT-200 and kept on studying to obtain my 500-hour yoga teacher certification, also for 50+.
I'm doing all of this at Heartwood Retreat Center in Bradenton, Florida. I'm one of many women over 50 who have graduated from their yoga instructor program aimed specifically at our age group.
I am so excited with everything I've learned so far, and so happy to have found a tribe of like-minded women to enjoy it with, that I can't but share what's so great about this YTT.
Yoga teacher training
First of all, even if you don't live in Florida, you can take one of their immersion trainings.
One way or another, I hope you find inspiration in this Q&A with the owner of Heartwood, Ginny East, ERYT-500 yoga teacher, certified yoga therapist with IAYT (International Association of Yoga Therapists), Reiki Master and trained Ayurveda Counselor from the Kerala Institute, India and a registered member of the National Ayurveda Medical Association.
Everything she offers at Heartwood exudes attention to detail, knowledge and professionalism, and the entire staff is stellar.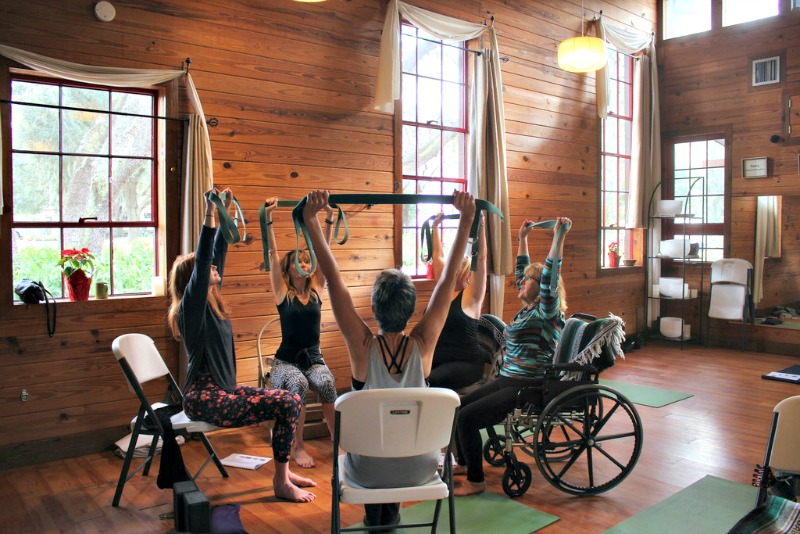 YTT-200 and YTT-500 for 50+
Viva Fifty.- How and when did you decide to launch the YTT-200 and YTT-500 for 50+?
Ginny East.- Several years ago, we began a teacher's training specialty weekend focused on the specific considerations for teaching yoga to seniors.
As we covered not just the physical adjustments, but how to address the unique mental and emotional challenges that are prevalent at more mature stages of life, we emphasized to our teachers that aging is not so much about life narrowing, but life changing, and yoga can be taught as a wonderful tool to help people gracefully keep fit in mind, body and spirit.
As a 60-year old yoga teacher, I also began noticing how some of the physical aspects of a traditional yoga teacher training were becoming more difficult for me, yet the wisdom teachings became more clear.
One day, after a particularly difficult practice that aggravated my arthritic joints, I was feeling grateful that I took yoga teacher training in my early 40's, because I didn't think I'd be able to get through it half as well today.
That thought made me wonder how many older potential teachers might be out there who have patience, wisdom and heart to share with others, yet due to the obstacle of fearing the physical challenge would be a problem, won't ever attend a life-empowering yoga teacher training.
I certainly feel I have a great deal to offer the world at 60, and it would be a shame if I were not engaged in the world, sharing what I know with others.
So I decided to try a yoga training for 50 plus to reach those individuals who still have a passion for learning, and have a great deal to offer as teachers and mentors.
I believe older teachers are great role models for older students as well – showing them what is possible – that we can continue to learn and grow and get healthier at any age.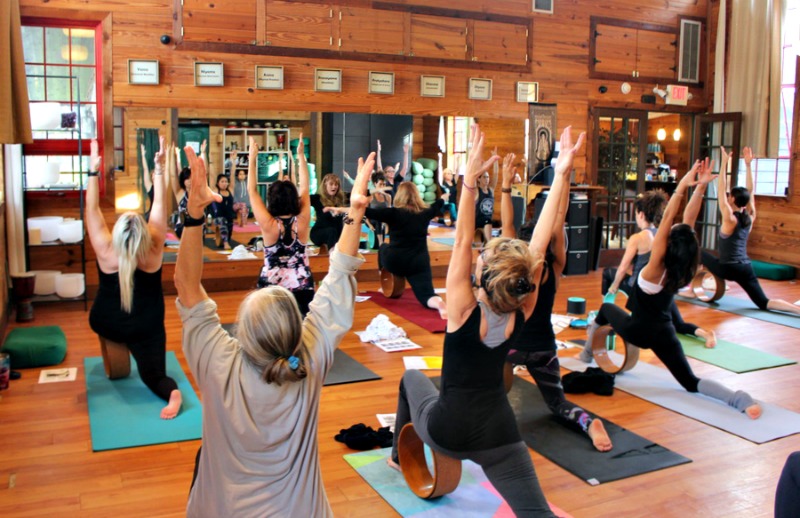 Yoga teacher trainings at Heartwood
Viva Fifty.- What is different from this particular program to all the other yoga teacher trainings at Heartwood and elsewhere?
Ginny East.- The RYT-200 and the RYT-500 for 50 plus programs cover all the core elements of any 200-hour or 500-hour yoga teacher training program.
However we soften the practices and spend a bit more time on modifications, which is helpful for the teachers themselves, but also prepares them to work with the kind of prospective students they are likely to attract if they teach to their own communities and circles of people ages 50 and up.
While the graduates of this program can teach all ages and levels, they will be more adept to work with aging bodies with limitations or common challenges, because we discuss this more in the courses.
Also, while our general RYT-200 program offers a weekend specialty training in aerial yoga, we substitute this with a specialty training in chair yoga, because chair yoga is geared to more mature bodies and expands the potential of yoga to students of any mobility.
Our 50-plus teachers are perfectly suited to work with older students, because they have more patience and empathy for the common issues that bring individuals to chair yoga rather than a traditional mat class.
Enjoying a community of others who are in a similar stage of life
Viva Fifty.- Why are 50+ women joining the program and what does a 50+ woman bring to the classroom as a yoga teacher?
Ginny East.- Women often choose this program instead of the standard RYT-200 not because they can't handle the traditional path of training, but simply to enjoy the community of others who are in a similar stage of life.
By working with other 50-plus women, there is the common bond of mutual life experiences, such as our changing roles in life, parenting older children or experiencing the empty nest, seeing our bodies change over time, dealing with aging parents, divorce, changing financial situations, retiring and losing our identity, and the like.
The conversations are deeper and 50 plus women don't feel pressured to "keep up" with the 30 year olds who have not yet learned to let go of their competitive nature.
Women 50 and older are simply more rooted in who they are and what they know, and they are on a quest to develop self-knowing for  themselves to understand their lives in retrospect.
They are also ready to use their yoga to help others, because they recognize that they are not necessarily "older", but more of an "elder" – someone who has lived long enough to have a deeper understanding of the needs and struggles of others.
Yoga is a tool to soften the struggles of life and learning to help others heal and be their best self is what yoga teacher training is all about.
Women at 50 and over are ready to give back to the world and yoga is a powerful medium to make a difference in the lives of others.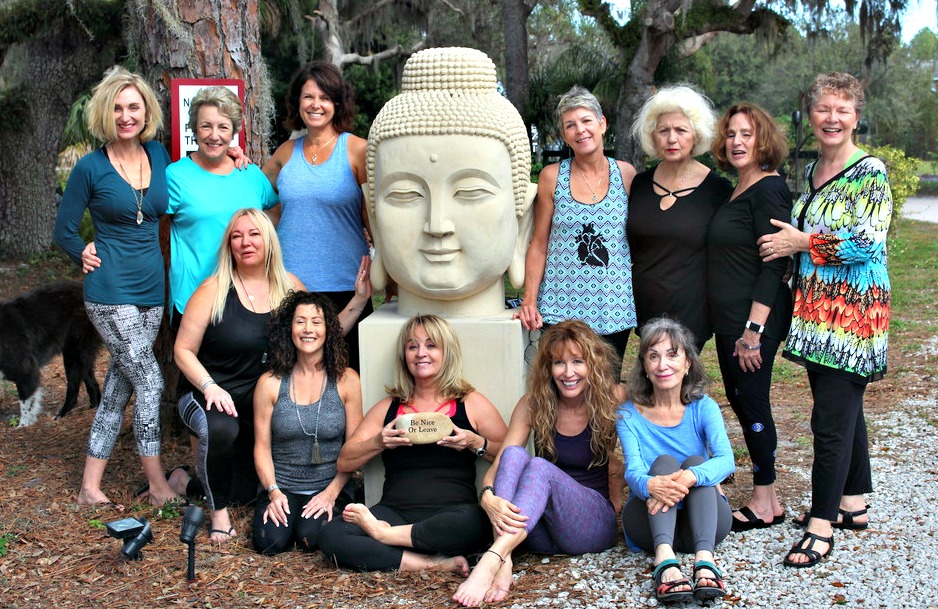 You're never too old
Viva Fifty.- What would you tell women wondering whether they are too old to take the YTT course?
Ginny East.- Yoga is not just about the physical practice. We've had women of all ages take the course – from 50 to 80, and at all levels of fitness.
We've had students take the course who needed to do all the practices in a chair because they were not able to get on and off the mat, working right alongside students who could do advanced practices.
In all cases, we make adjustments and the variety of levels is a gift to the class, because it reminds everyone of the needs and ways to diversify classes.
No matter what level the students are, they are real life examples of students we will work with later, and the variety of capability offers real life examples regarding how to address issues we will see in our classes.
Authentic yoga is not just about contorting the body, but about integrating the mind, body and spirit, and this can be accomplished in a chair, on the mat, and in a variety of yoga practices that teach us to be mindful, present, and to recognize and celebrate life as a joyful journey of self acceptance and love.
To find out more, visit Heartwood Retreat Center. I also feel I need to add the disclaimer that this is not a sponsored post. It was born from my enthusiasm and joy, which I hope will inspire you to perhaps pursue your own RYT-200 or RYT-500 for 50+!
Also read: What I learned from these two very different yoga photos