I cannot conceive of life without exercise. For me, the only thing that has changed through the decades has been the type of sport I practice.
And the older I get the more I try to listen to my body and go by what it´s asking me to do.
Some of the disciplines I´ve practiced are running, yoga, jazz and modern dance, ballroom dancing, pilates, rollerblading, swimming and weight-training.
Another thing that has evolved are the gadgets I carry when I run. When I was 17, I used a watch in which I would input the length of my stance when running.
It would beep so I could match my pace to the beeps and so be able to measure the distance I covered.
Listening to music while running was practically unheard of back then. Things have definitely changed!
Four years ago I ran a half marathon. I was able to train using different apps on my smartphone to calculate distance, pace and even calories burned.
I was also able to listen to my favorite playlist during the race.
Turning to Vinyasa flow yoga for inspiration
Although I still go for runs a couple of times a week, my body has been telling me to switch it up and practice other forms of exercise, such as resistance training, and more recently Vinyasa flow yoga.
My first experience with Vinyasa yoga took place this summer during an art retreat in the mountains of North Carolina.
For one week I got up at the crack of dawn to get on my mat. At the end of it, I was sold on the practice. My hip pain from a running injury, was gone!
Since then, I´ve been practicing Vinyasa yoga in my backyard. At first, I practiced from memory, recreating the moves I had learned during the retreat.
But then I realized I had to challenge myself.
So I took out my smartphone and connected it to speakers via Bluetooth, so I could watch and listen to Vinyasa flow videos and practice to them.
I propped my smartphone up against the leg of a table outdoors, but then had to move it around depending on the pose I was engaging in.
My dog loves to join me and sniff my smartphone, which is never good news for my phone!
More of us are realizing the importance of well-built smartphones with tough glass, so we don´t have to use bulky protective cases.
Gorilla Glass 4 is the toughest cover glass yet. If your smartphone incorporates it, rest assured it dramatically improves protection against drops.
It also improves damage resistance against sharp contact, like if you drop your phone on asphalt, concrete or other rough surfaces.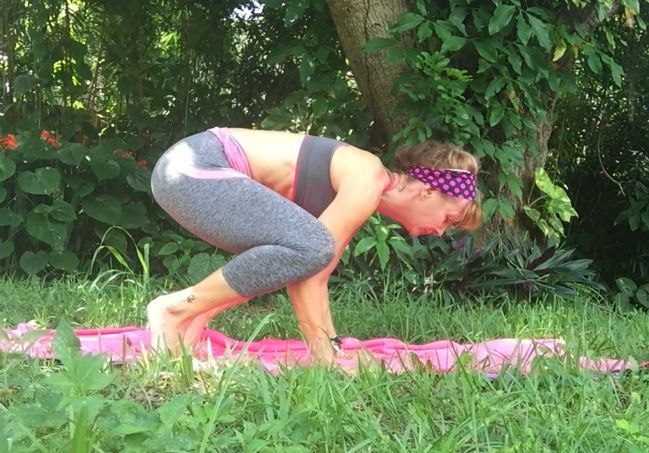 The joy of mastering the Crow pose for the first time
With this peace of mind, I was able to engage in my Vinyasa flow practice and one day, just like that, hold the Crow pose.
This required preparing my wrists and forearms for a couple of months, with Cobra and Downward facing dog to name a couple of poses.
It also required opening my hips gradually and attaining a level of confidence and focus that would allow me to try without fear of toppling over.
If you are trying, but have not yet mastered the Crow, here are a few tips that I feel worked for me:
First, learn to fall, roll, and topple over—even if you have to surround yourself with cushions. Once you realize that falling over is not a big deal, you will be more confident. If you are wearing your smartphone, and if it has Gorilla Glass on it, you will know that it has exceptional damage resistance to scratches and bumps.  
The second is to strengthen your wrists and forearms by doing exercises where you are bearing the weight of your own body. From push-ups to handstands and going through Cobra pose. Not once or twice, but many times.
And finally, learn to focus. It´s not so much about strength as it is about focus. Crouch down and open your knees and hips while keeping your heels together. Lower down on your mat to the point where your head can touch the floor, and then wrap your arms around your feet.
3 steps to get yourself into Crow pose
1. Position your arms in front of you, hands firmly planted on the floor, but keep the body in a tight bundle.
2. Hold your elbows against your inner thighs. Press your arms against your legs and vice-versa.
3. Slowly rock yourself forward while fixing your gaze in front of your hands. Shift your body weight from the balls of your feet to your hands. And then lift your feet off of the ground. Just enjoy the feeling of being in perfect balance.
Once you reach that point, no matter whether you just lifted your feet a little or a lot, you will be able to recreate the pose as many times as you want. Just like riding a bicycle.
I was so excited that I was able to hold the Crow, that the next step was to try and lift my legs higher, and the next day I held the side Crow.
So next time you´re shopping around for a smartphone, ask whether it has Gorilla Glass, and you´ll know that your device will be well-protected, even during your workouts.
Gorilla Glass has been used on nearly 4 billion devices from 40 major brands. Is it on yours? Click here to find out.
How do you protect your mobile device during your workout?
Comments submitted may be displayed on other websites owned by the sponsoring brand.