First I have to say I am not a Jamón expert. I just love Jamón. Jamón is ham, but in Spain it's Jamón and it comes from very specific breeds of pigs that are fed different special feed. The hams are cured by traditional methods and certain breeds like Pata Negra are prized and very expensive, even in Spain.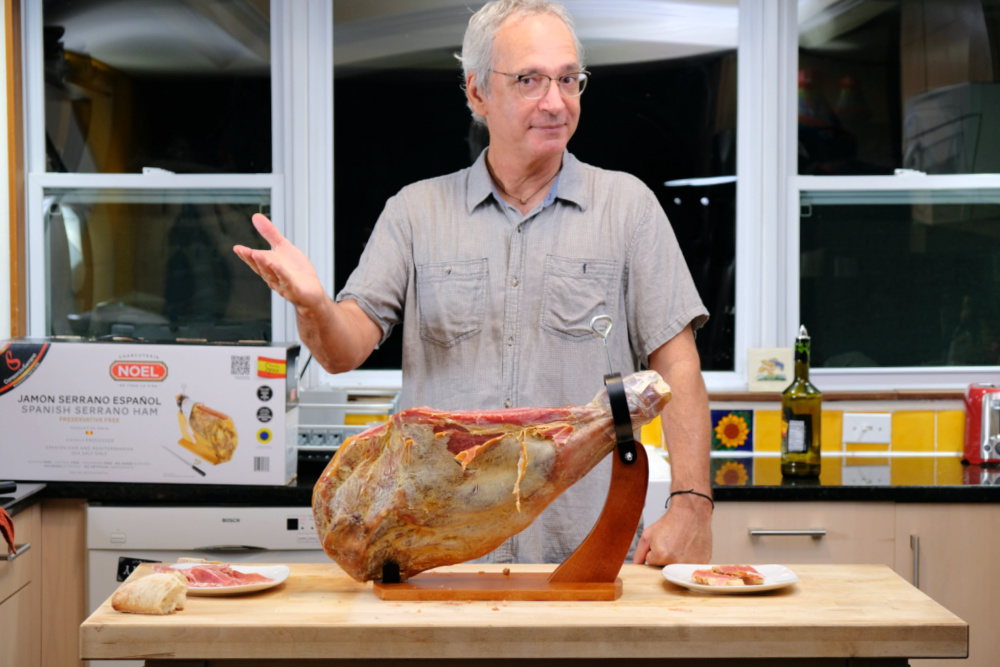 Because these Spanish hams are not cured with preservatives (in most cases only salt is used) Spanish Jamón is virtually impossible to get in the U.S. Yes, you can get prosciutto (Italian cured ham) or some Serrano hams here and there, but they are usually made in the U.S. and loaded with salt and sulfites and other preservatives.
A couple of years ago when I saw an entire pata de Jamón (an entire leg) for sale at Costco by Noel, I texted my wife. The entire leg was just $100. But my wife, being the Spanish woman that she is, immediately dismissed it as not real, not good, and basically forbade me from buying it.. 
Two years later she was hanging out with her Spanish girlfriends in Sarasota, Florida, and one of them served a plate of Jamón and she loved it. When she asked who brought the Jamón from Spain, the friend said she got it at Costco.
So next time I went to Costco, I bought the Jamón. In the box you get a whole Jamón, (the leg), a holder and a knife. I watched the video that Noel has online about how to put together the platform and set up the Jamón. This is important because you don't want the jamón to wobble when you're cutting it. The knife is long and super sharp, so be careful.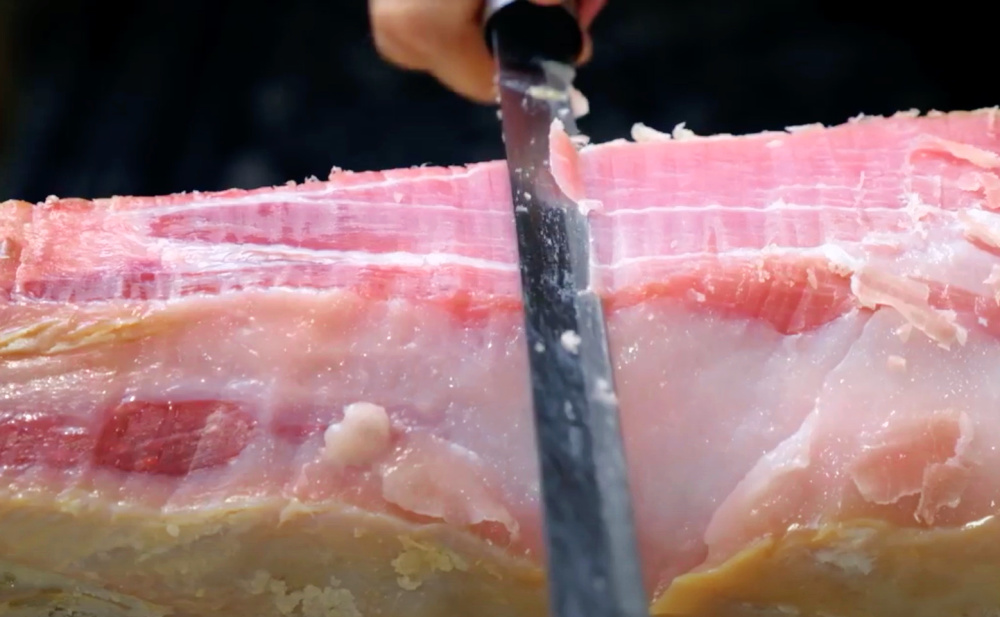 The key to cutting the Jamón is to move the knife side to side in order to slice it. First, you have to cut out the chunks of fat that work as a cover over the ham. Set aside these pieces so you can replace them when you are done slicing ham. This helps the ham keep longer. Cover the open sections covered with the slices of fat and then cover with a cloth.
The goal is to slice the ham as thin as you possibly can. Even if the pieces are short or little shavings, it's all good. Thick slices can be tough to eat and in Spain are usually used for cooking. So be careful with the knife and slice evenly across the top toward you (as I have seen people do in Spain) or away from you.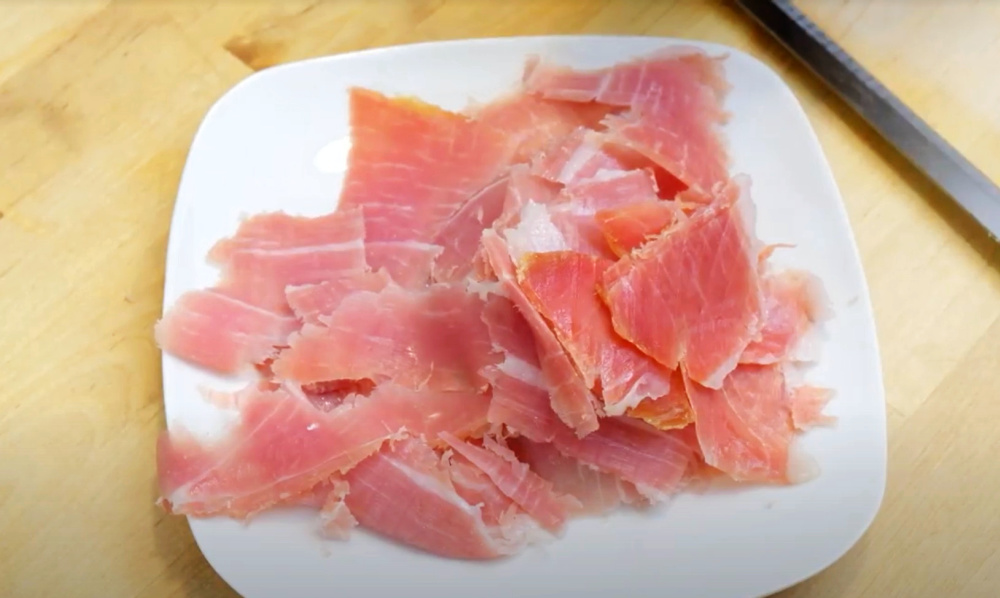 My wife was still quick to note the Jamón was not pata negra or another fine jam from the most coveted breeds and producers. But those legs of Jamón cost over 600 Euros in Spain, so I'm good with simple and delicious Noel Jamón serrano. It is one hundred percent natural with only pork let and salt as the ingredients.
A few things to note:
Costco only sells this Jamón in stores during the holidays. Maybe because of the cool weather or just because it's Christmas. You can, however, get it at a higher price year-round on Amazon, of all places but I also found it on the Costco website.
The Jamón is very greasy on the outside. When you take it out of the vacuum packed package, it will fill your kitchen with the delicious smell of Jamón.
There is no avoiding your hands getting greasy when handling the Jamón.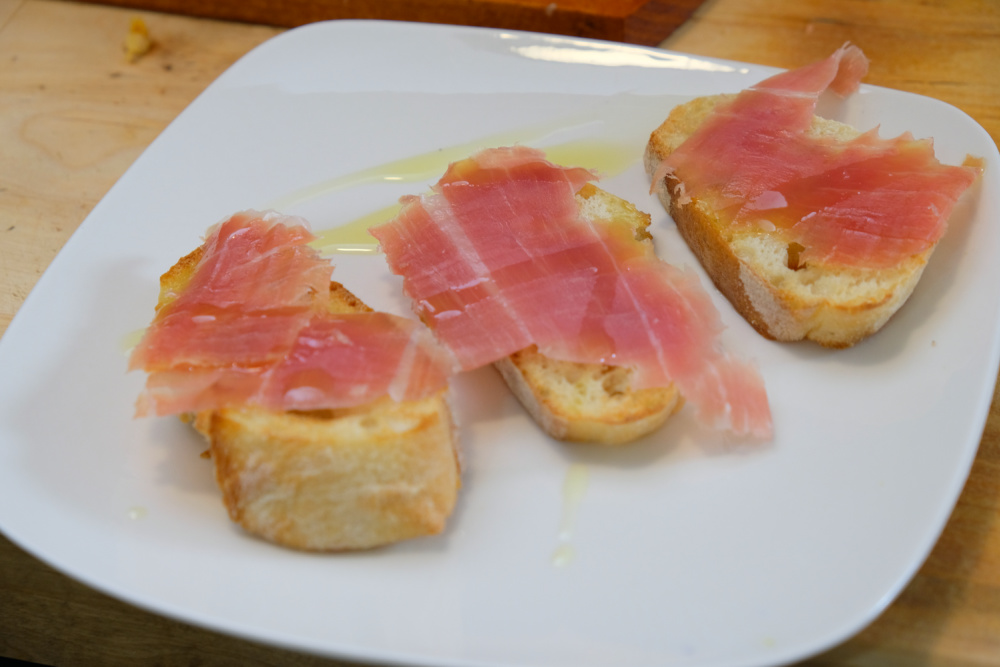 Thin slices are a must. Be patient while slicing the ham.
The Jamón can sit in its platform for weeks and months, no need to refrigerate.
It is common for mold to grow on the open sections. Just cut these pieces off and throw them away then slice the rest and enjoy your Jamón.
Do not eat the thick fat that surrounds the Jamón. Slice it away and keep pieces to cover the Jamón when you're done.
Cover the Jamón with a cloth (not tin foil or plastic).
Enjoy slices of Jamón on its own as a snack, as a charcuterie with Manchego or other fine Spanish cheeses, crackers and fruit, or with a little tomato puree on a nice toasted baguette with a bit of extra virgin olive oil, or in a portion of pasta with asparagus, olive oil and garlic, or however you like!