If you've never tried SUP yoga, no matter what your age, you're in for a treat. I took my first ever SUP yoga class a few months ago in Sarasota, Florida, with Stephanie Ouellette, of SUP Yoga SRQ. It was a month before my 58th birthday, and I enjoyed every second of it.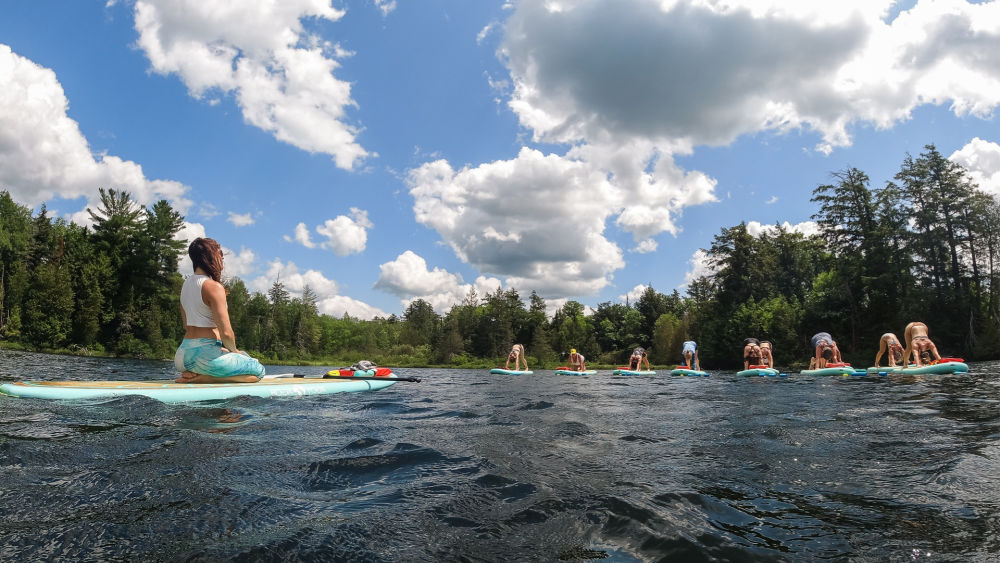 My reason for embarking on taking yoga classes on a paddleboard, when I practice yoga at home every day, was to get out of the house – I was facing some tough personal challenges at home. I needed to get out and about but I didn't want to go back to a yoga studio just yet.
I own a paddleboard and enjoy going out on the water, but I am just not up to practicing SUP yoga by myself. I really want to be carefree, not concerned about whether I will be toppled over by the wake of a boat, or wondering whether I'm being safe!
After four classes with Stephanie and counting, I can say SUP yoga is truly different each and every time. It's quite a treat and it provides a mental vacation. You really do need to be focused on every movement.
Even though I am an experienced yogi, on the board I feel like a beginner all over again, which is both humbling and stimulating.
The advantages of booking SUP yoga with SUP YOGA SRQ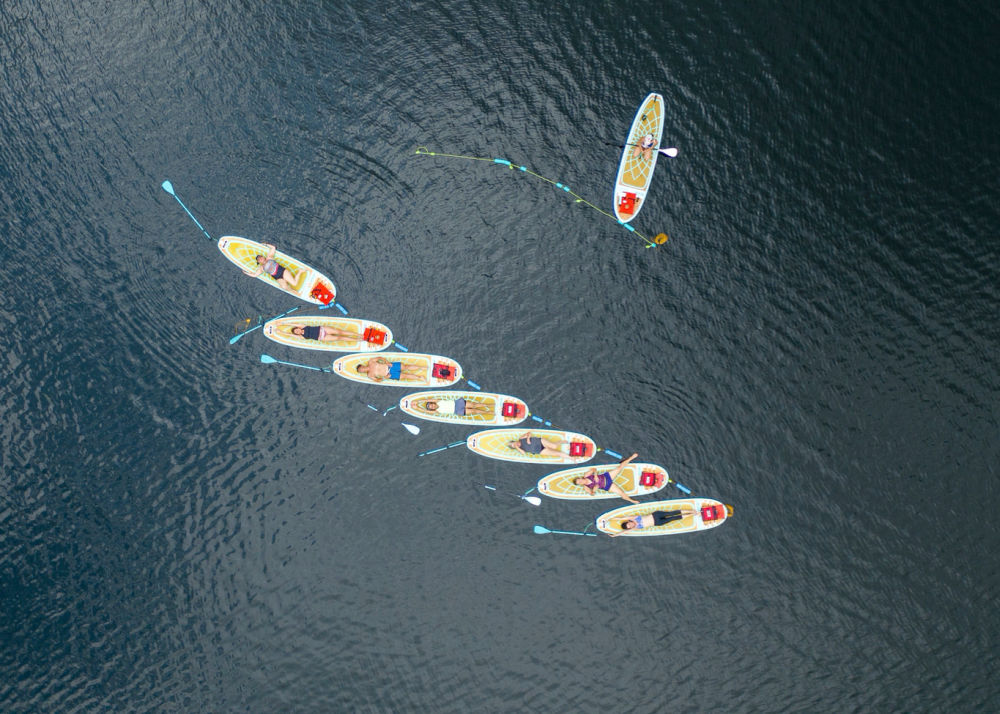 One of the things I enjoy the most about SUP yoga SRQ is that Stephanie focuses only on SUP yoga. On top of her yoga teacher certification, Stephanie has her SUP Yoga certification, up-to-date First Aid & CPR, along with a water rescue course.
Additionally, SUP Yoga SRQ owns all its equipment. Most other yoga studios that offer SUP Yoga occasionally call on local board rental companies to deliver boards – and yogis end up on all kinds of boards in various conditions.
When a client books with SUP Yoga SRQ, they know they are guaranteed to be on yoga-specific paddleboards. Stephanie uses BOGA Yoga boards, which provide extra surface area, and other thoughtful yogi touches – which make stepping out of your comfort zone to try yoga on the water that much more accessible for all bodies.
Stephanie has been sharing SUP Yoga for eight years and has guided hundreds of people onto the water. There are a ton of factors to be aware of to make a session successful, safe, and fun – winds, tides, anchors, time of day, and here in Sarasota – staying up to date on Red Tide.
Stephanie is always looking out for her clients' well-being & ease. I can attest to that!
Do you need to be experienced or bring your equipment?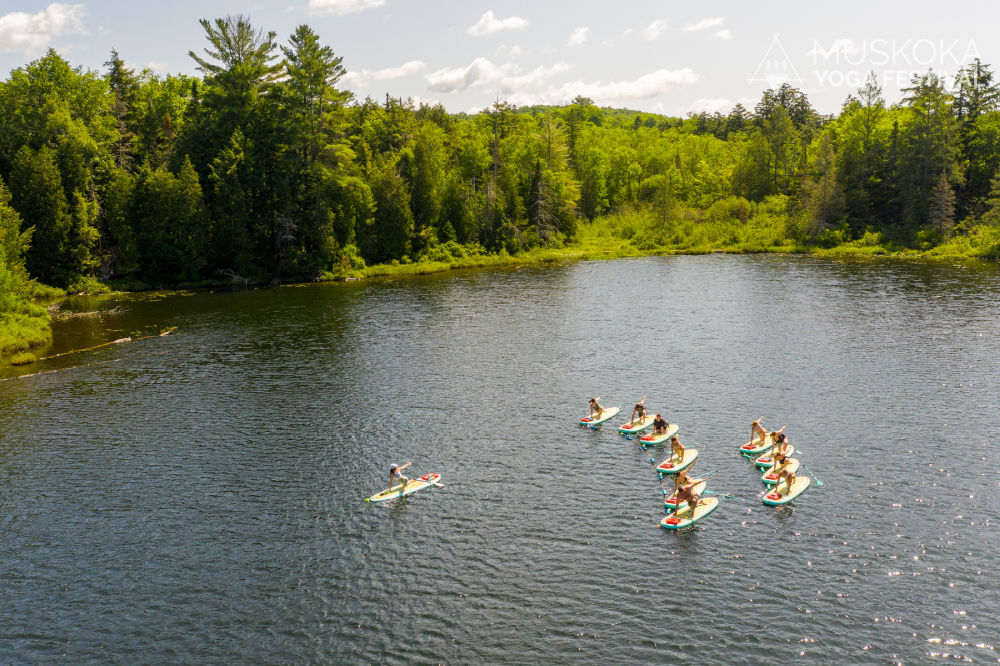 No yoga or paddleboarding experience is necessary to join a class with SUP Yoga SRQ. Stephanie provides all the equipment, and each class starts with a little SUP 101 orientation.
This covers adjusting and holding the paddle, general safety, and even tips for falling in the water! The boards are anchored during the class, and often take place in 3-5-feet-deep water, which helps beginners feel instantly more at ease.
The equipment used makes it way easier than it may seem at first – Stephanie says most people truly surprise themselves with how much they do on their first time out.
I have practiced alongside people who had never done SUP yoga or even been on a paddleboard before and Stephanie was great about guiding them while keeping the more advanced practitioners engaged as well.
What are the benefits of SUP yoga for older practitioners?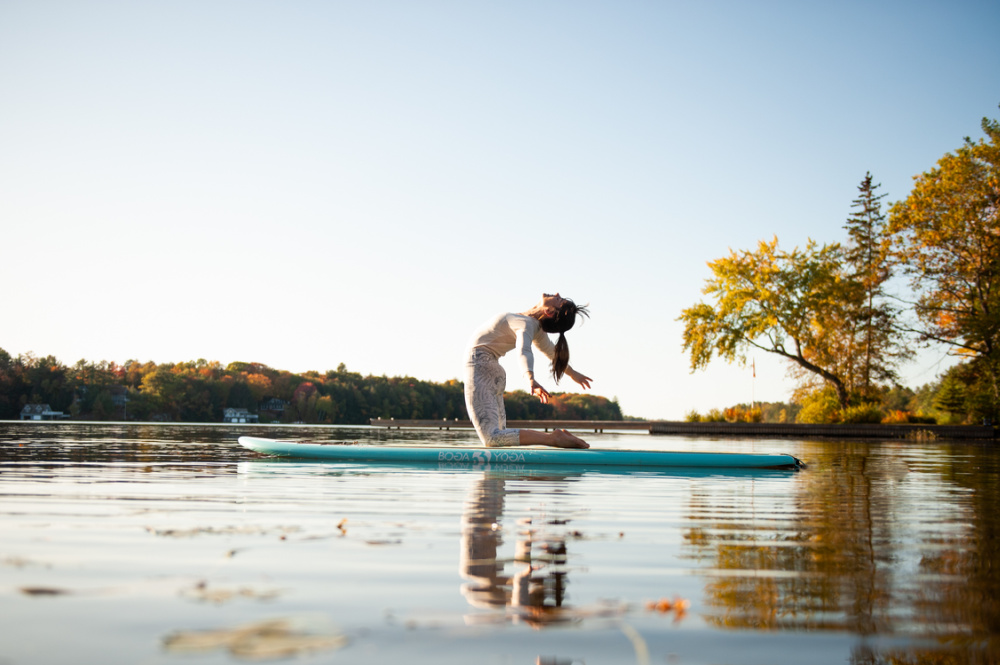 According to Stephanie, all participants may benefit from the chance to connect to nature – what you see, hear, smell, and feel while you are on the water is therapeutic.
Because one is on the water for this practice, we have to give up all the stability that being on firm and solid ground provides. Every part of the practice out there is a balance pose – regardless of age, we will feel tons of little muscles firing to steady the body, that don't need to fire up nearly so much on land.
This wobbliness increases proprioception, focus, and the ability to truly drop into the moment. Mindfulness is heightened, senses are heightened.
Yoga is a fabulous movement practice to load our upper bodies. As we age, our bone density tends to decrease, leading to osteopenia and even osteoporosis.
Loading our bones aids in maintaining bone density, and getting so many extra stabilizing muscles firing will certainly load older bones in a variety of ways!
Last, but certainly not least, SUP Yoga is empowering.
Is it possible to practice SUP yoga on one's own, without a teacher?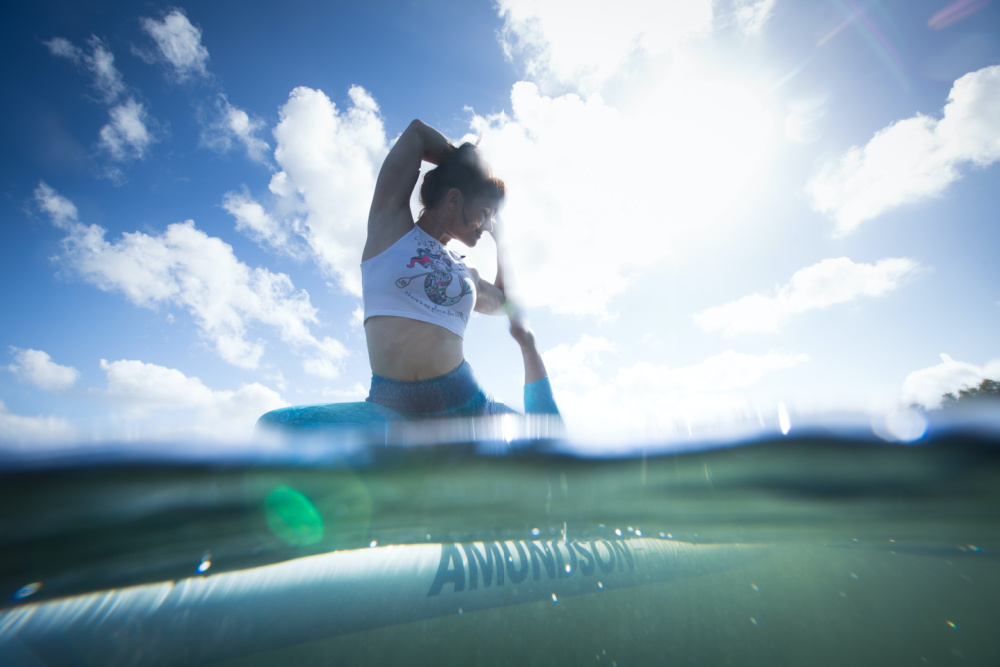 Stephanie told me there are a lot of elements to consider when taking off on a SUP Yoga adventure. Joining a class led by a professional takes a lot of these considerations off one's plate – one can show up to the designated spot, follow instructions, cues, and let the focus be on enjoying the practice.
However, if heading out to practice SUP Yoga alone sounds like fun to you, Stephanie advises to please do so responsibly & safely!
You should have a clear plan of where you are launching, the conditions that day, and how long you plan to stay out. Some elements to consider are the tides, the wind direction & speed, the types of wildlife that may be present in the area you are planning to practice in, sunrise/sunset times & visibility/lights if you plan to paddle early or late.
Stephanie always recommends anchoring your board while practicing yoga on the water. It can be very dangerous to accidentally float into busy waterways, onto oyster beds, or get inadvertently caught in a current or riptide and end up a long way from where you started.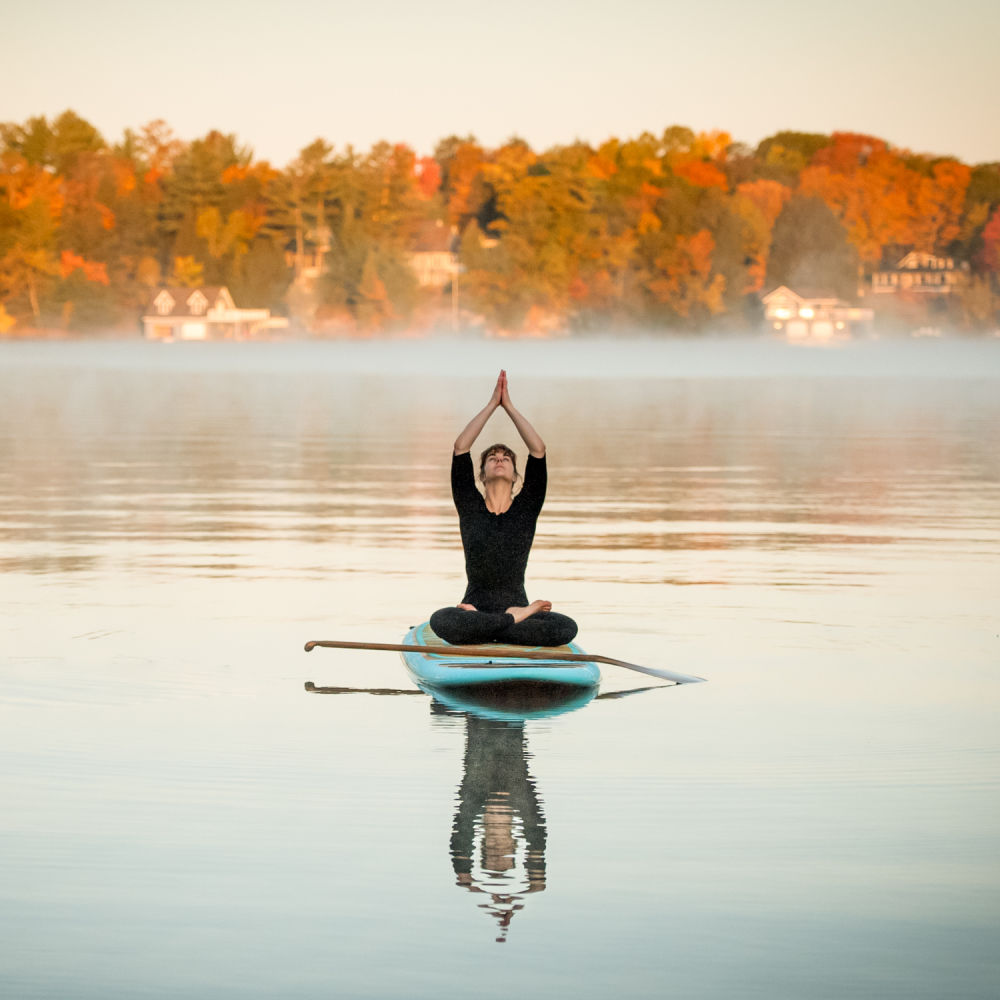 Every paddler should have Coast Guard Approved (CGA) flotation on board, a whistle, and a tow line (the SUP board leash is a great tow line alternative/substitute).
SUP Yoga SRQ doesn't let any of their clients hit the water without a water bottle on board because heat exhaustion is a real-deal concern out on the Gulf.
Finally, in this day & age, if you are heading out alone and can bring your mobile device in a dry bag (with a little towel or cloth so your wet fingers can still unlock it) – that is a great safety tool to have on hand as well.
If you are in the Sarasota area and would like to book a SUP yoga session with Stephanie Ouellette, please feel free to use code VIVA50 for a one-time $10 discount.