I don't know about you, but one of the hardest resolutions for me to keep year after year, is the one about eating healthy on a consistent basis.
As a busy work-at-home mom, I sometimes forget to eat! And then I´m so hungry that I´m tempted to open a bag of chips or go get some fast food.
Who doesn't love a greasy burger every now and then, right? But that, on a daily basis, is not conducive to good health.
As a mid lifer, I need to find snack hacks that will help me stay on track. And one of these easy hacks is yogurt.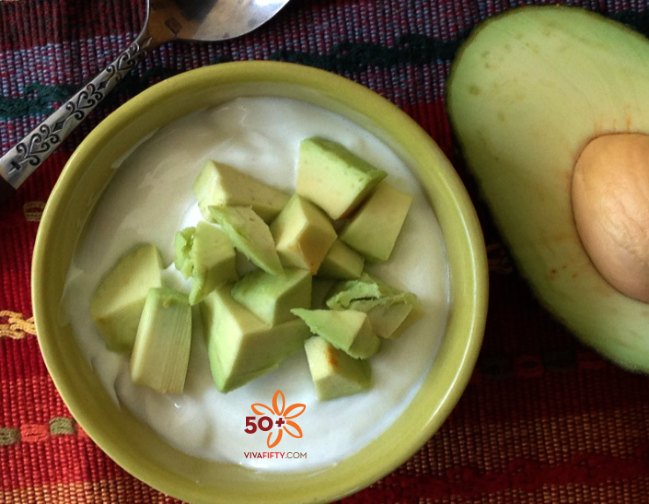 Yogurt is one of those foods that you can easily store in the fridge for the whole family to enjoy as they wish.
My eldest, 13, freezes a yogurt each night and takes it with her to school the next day. By lunch time, it´s thawed out.
She´s an avid basketball player so I´m glad she´s choosing this over junk food.
The benefits of Greek yogurt
Greek yogurt in particular is being touted as a power food. It is full of protein and vitamins D and A as well as calcium.
This is good news for all women, but especially for women my age. The 50+ crowd really needs to focus on bone health.
However eating plain greek yogurt can get boring fast. I was excited for the opportunity to try Yoplait Greek 100 yogurts which comes in a variety of exotic flavors.
Coconut, Mango and Key Lime pie, to name a few of their 20+ flavors—yes, they have pie flavored yogurt. They also have Apple pie and even Boston Cream pie!
While these all taste delicious, I like to add a little extra something to each of these 100-calorie snacks that also pack 10-12 grams protein each and 0% fat.
Easy 150 calorie snack hacks
Some ideas to make these creamy and smooth Yoplait Greek 100 yogurts even more interesting, is to add fresh fruit or granola.
But I have something even snazzier than that. Being Latina, I had to try it with avocado, which is also a power fruit.
Avocados are loaded with vitamins and are low in carbs and high in fiber. They contain fat but it's the good fat that our bodies need.
So, in my world, that's a perfect combo.
My snack hack recipe:
1 Yoplait Greek 100 yogurt (my choices: vanilla, mango, honey, lemon or strawberry)
½ a ripe avocado
Pour the yogurt into a bowl and stir into a creamy texture. Chop up half a ripe but firm avocado and sprinkle on to yogurt.
Add a dash of salt and pepper if you like. I've even added a dash of tabasco and loved it.
On Yoplait's Pinterest board you can find more 150 Calorie snack hacks that will surely inspire you to create your own!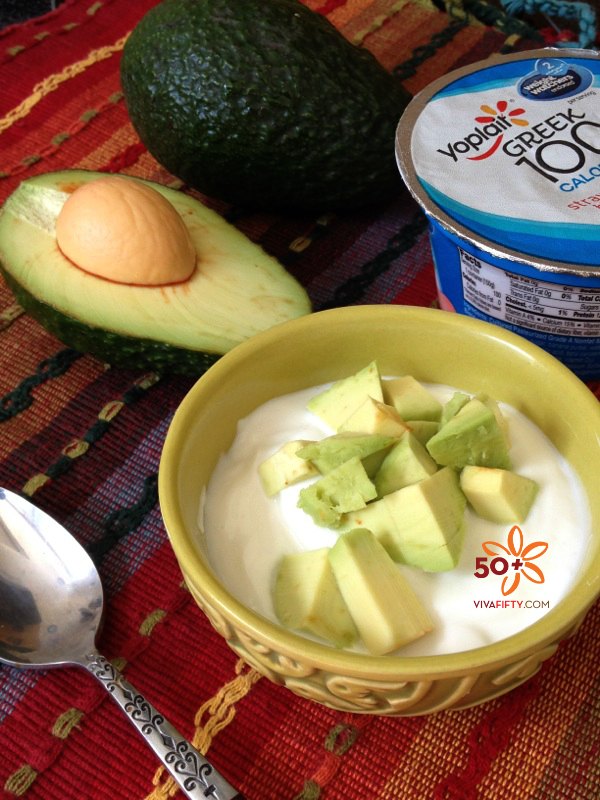 A giveaway from Viva Fifty to you!
To inspire you to to buy your own ingredients to make a healthy snack hack, Viva Fifty is giving away $25 to two lucky winners ($25 to each of the two winners).
Enter the contest in the Rafflecopter below, from now until January 31 at midday. Terms and conditions in the Rafflecopter. Good luck and healthy eating!
a Rafflecopter giveaway

[Disclosure: Many thanks to Yoplait for sponsoring today's post and encouraging me to try Yoplait Greek 100! Opinions are my own. Viva Fifty and I only accept sponsorship from products, services or causes we enjoy and believe in.]