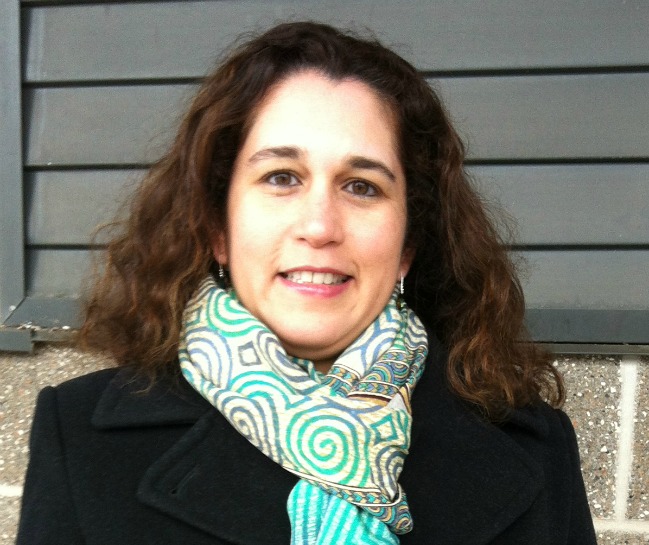 Protima Wagh is a creative entrepreneur and founder of Brand Of Silk, which are silk stoles and tops that are great for women who are menopausal or live in warm climates.
Protima Wagh, founder of Brand Of Silk
Protima was born and brought up in Mumbai, India and was exposed to a variety of textiles at an early age.
She is a chemist by profession who loves hands on work whether it is in the laboratory, art studio or kitchen.
She lives in Austin, TX with her husband and two children. Her hobbies include organic gardening, cooking and surface textile design.
She holds a Master's degree in Biotechnology and over 20 years of business experience in the specialty chemicals industry.
We interviewed her because we loved her garments, after receiving beautiful samples of a top and a stole, and we fell in love with the story behind her business.
We hope it inspires to pursue your entrepreneurial dreams or admire and wear her beautiful creations. Ask her any questions you would like in the comments section below!
The story behind her business
Viva Fifty.- How and when did you establish Brand of Silk ?
Protima Wagh.- I had been dabbling with the idea of using pure sari silk to make tops for a while. My first encounter with this fabric was about 20 years ago when my mother bought a sari and it was gorgeous!
The silk was lightweight, soft, drapey and above all really comfortable to wear (She still wears it for special occasions and always gets compliments for it after 20 years). This silk is pure and unadulterated.
In 2013, I decided to look for manufacturers and found a handful of them who were ready to sell me the fabric. Most manufacturers don't sell it as fabric because of the high demand for silk saris (an Indian garment usually 5.5 yards long which is worn by draping it around the body).
Also, all of the manufacturers are concentrated in a small area in South India where silk processing and production is a skill and art practiced by generations of weavers and silk screen printers. So the fabric is hand printed by artisans.
When I requested information from my manufacturer, I was told that raw silk for this fabric comes in mainly from Italy (Lake Como) and some from China. It goes through the process of steaming and printing in India to get the final product.
Most people are not familiar with Italian silk but it is the finest silk in the world and clothing from this fabric costs anywhere between USD 400-900 and is always sold exclusively at high end stores like Harrods and Saks.
In 2013, I bought some of this fabric and had it sewn in Texas by master sewers specializing in silk fabric. Silk is one of the hardest fabrics to sew. There are very few people in the US (mainly Chinese and Korean artisans) who can sew it.
Most of these US artisans lost their jobs after the clothing industry outsourced manufacturing to China. The reason I had them made in the US is because I wanted to be able to communicate with the sewers to ensure a quality product.
Also read: 7 Lifetime beauty habits to look fabulous at 50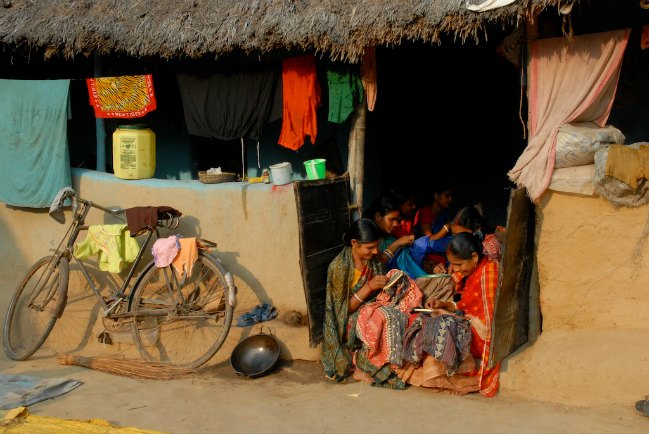 The benefits of pure silk fabric
Viva Fifty.- How do the tops benefit menopausal women or those living in warm climates?
Protima Wagh.- In all of my research on silk manufacturing, I learned that most manufacturers are unscrupulous and sell silk that is blended with polyester.
Clothing from this blended fabric costs anywhere between USD 20-100. No customer will try a burn test on her new blouse! So it goes unnoticed.
Sometimes, they also add just enough polyester to the silk fabric so that it passes the burn test making the customer believe that it is high quality silk when it is truly a fabric blend. Because silk is a protein like human hair, it burns like human hair with an acrid and distinctive smell.
The first thing my customers told me is how they don't perspire in their Brand of Silk tops and that they never liked to wear silk because they got sticky in warm temperatures.
Silk fabric is an excellent insulator and regulates body temperature. It keeps the body warm in winter and cool in the summer. But this is true only if it is pure silk.
Silk polyester blends increase body temperature causing excessive perspiration. This is because polyester, polar fleece and nylon are all made from petroleum byproducts!
Brand of Silk tops are very breathable and adjust to your body temperature. The wearer doesn't get a sticky back because the fabric absorbs perspiration. Similarly, you don't feel cold because it insulates the body.
During hot flashes, the body undergoes rapid temperature fluctuations and wearing breathable natural fibers helps stabilize it.
One of my customers told me that she used to sit in her office with her blazer on because she got a blast of cold air from the vent right above her seat.
She wore her Brand of Silk top with a camisole and didn't feel cold with the blast on her. Above all she didn't have to sit in her blazer on all day long! That is a good test of quality silk fabric!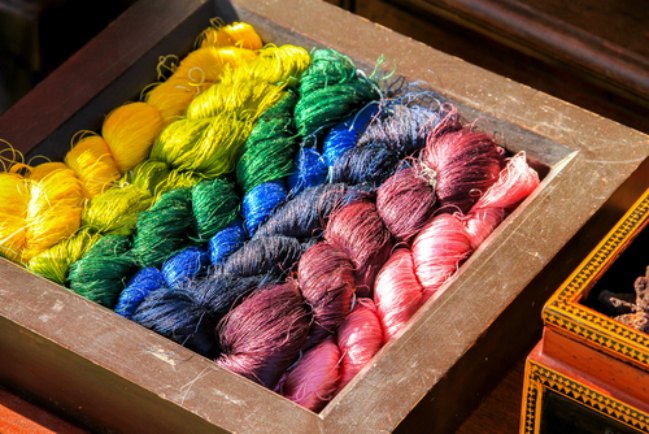 How to style silk tops and stoles
Viva Fifty.- How do you recommend women style the tops and the stoles?
Protima Wagh.- I have designed the tops in classic styles so they can be worn in different ways:
You can wear any of the tops with classic skinny jeans and heels or wedges for an effortlessly chic look!
Wear them with capris (skinny or regular)
Pair the tops with dressy trousers for work or special occasions.
The top can be worn as is or with a belt around the waist (if you don't like the loose fitting look) with skinnies!
Tuck the tops in with solid colored skirts or pants.
When wearing a belt, the tops look good with any neutral solid colored pencil or A-line skirts as well.
Wear them with (or without a blazer) and dressy pants for an office to evening wear!
They also look great with solid colored shorts and a summer hat for a chic resort look!
Accessorize with timeless jewelry for a classic look.
Great to carry while travelling! It takes very little space in the suitcase and doesn't wrinkle as much as cotton or linen. Tip: roll your silk top around a T-shirt while packing a suitcase to avoid crinkling.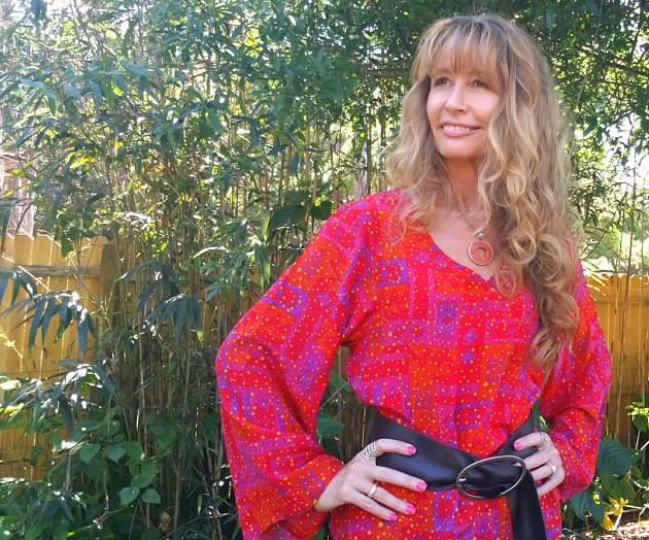 Stoles:
Wear them with solid colored cocktail dresses, tank tops or spaghetti tops for a pop of color and prints and to cover shoulders.
Tie it loosely around your neck over a solid colored coat or blazer.
Wear it around the neck and leave both ends dangling free.
Tie them in a beautiful knot around your handbag for a chic look.
They are absolutely fabulous for travel as they can be tucked into a small corner of your handbag and come in handy in planes where it gets pretty cold or when doing camel rides in the desert (warm and sandy),or when visiting religious places. (I forgot my stole and had to rent one to enter the Blue Mosque in Istanbul. I was hoping that the person who wore it before me didn't have head lice. Yuck! Am not making the same mistake again!)
I have also seen some women with long hair tie it back with a stole.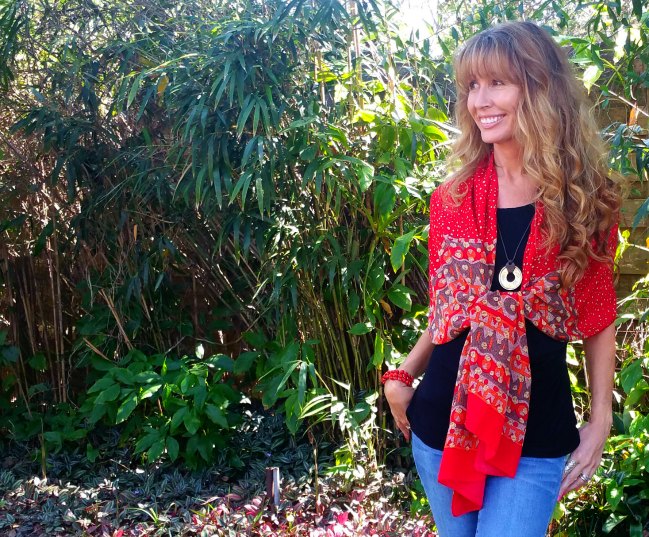 Hand embroidered stoles
Viva Fifty.-  Tell us a little about the hand embroidered stoles
Protima Wagh.- The hand embroidered stoles are made by women in rural underprivileged areas of eastern India. This is a part time job that brings in extra income to support their families. Their full time jobs are that of a mother and housewife.
This work is usually done in the mornings or early evenings when the children are away at school and the menfolk are at work. The women usually sit cross legged on their front porch exchanging village gossip and sipping tea while doing embroidery. Most of the work is done during the day and long summer days allow them to work longer hours.
Many non-governmental organizations rehabilitate sex workers and victims of human trafficking through this art form. It is passed on usually from mother to daughter.
But NGOs today have team leaders that go from village to village seeking women who want to learn the art and supplement their income.
The team leaders provide the group with fabrics, designs and color coordination. The fabric is dyed and prepared as per the color scheme. Then a design is traced onto the fabric with chalk.
Embroidery is done patiently and painstakingly to depict village life or motifs from Hindu mythology and local culture.
It is believed this form of embroidery known as running stitch embroidery started with Lord Buddha and his first disciples around 525 B.C. The monks started collecting old tattered clothing as alms and reused the thread from old saris and clothing items to sew the tattered pieces together for blankets and robes.
Over time, this developed into an art form practiced only by women as a hobby. Women would even make their own trousseau this way. It was practiced by women of all ages and social statuses.
About running her own business
Viva Fifty.- How much do you enjoy running your own business?
Protima Wagh.- I started working for my father at the age of 16 years and eventually established my first company in 2007 after I moved to the US. I am still involved in my first business and enjoy working with my customers.
One of the things that I am very particular about is quality of my products and customer service. My father instilled in me the importance of providing quality product with quality service. You can't have one without the other. So I am always prompt about replying to emails and delivery of products.
I love the flexibility in terms of time. My family is always my first priority and as a parent of a 4 and 5-year-old, I am always on my children's schedule.
I also love experimenting with different concepts be it in the chemical industry or the textile and fashion industry and having your own business allows you that luxury.