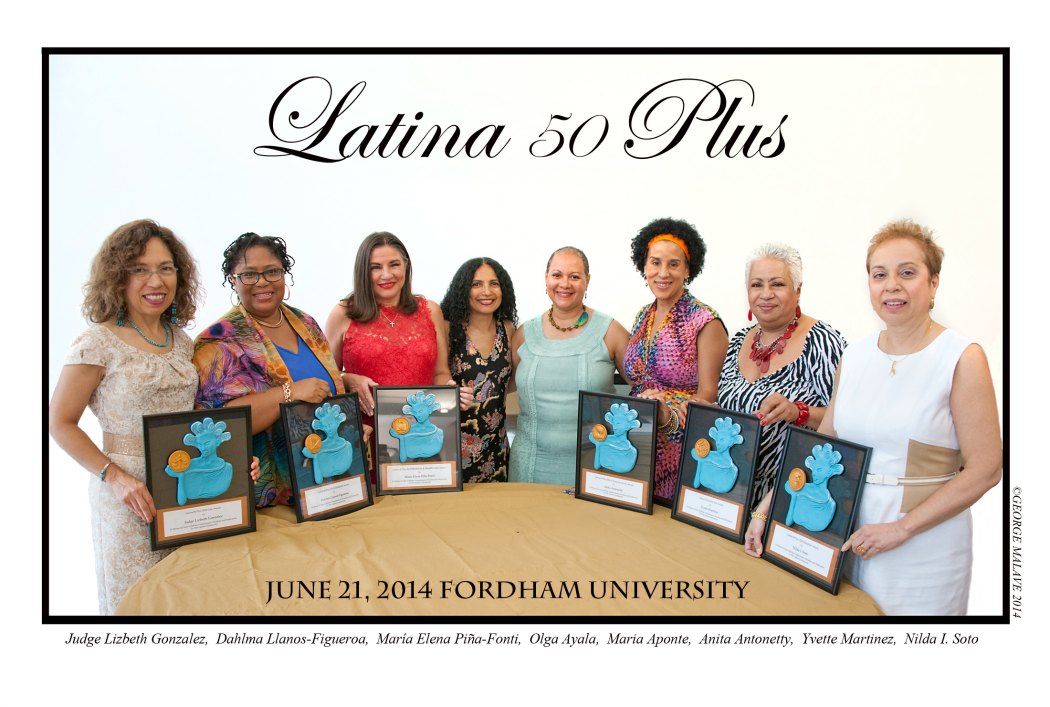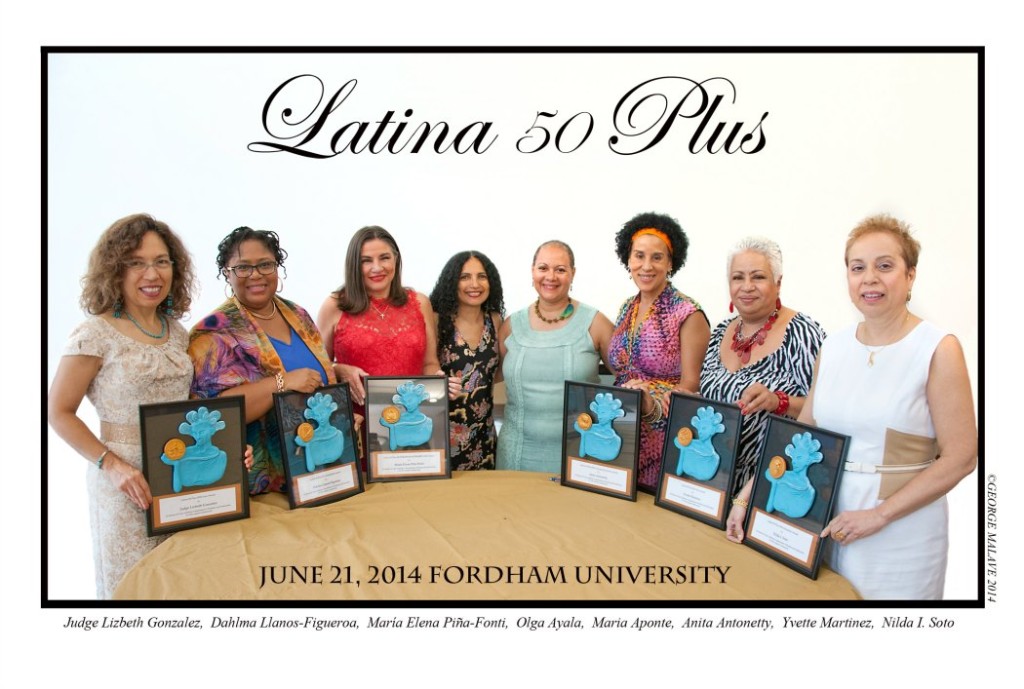 The Inaugural Latina 50 Plus™ Luncheon & Award Ceremony, founded by Maria Aponte-Gonzalez, took place on June 21, 2014 at Fordham University in The Bronx, New York.
Six over-50 Latina women were honored, chosen from the fields of art, community service, education, health care/medicine, law and literature.
"As an artist, I have always worked toward the betterment of the Puerto Rican woman through my work in theatre and the arts," Aponte-Gonzalez, founder, said.
"Latina Fifty-Plus pays tribute to Latinas over fifty years of age who were pioneers," she stated during her speech at the awards.
Latina 50 Plus™
The program acknowledges the trailblazers who were among the first in their profession.
This venue, which expresses public appreciation for Latina women over fifty, will give them the opportunity to share their personal narratives.
They will be able to provide a historical perspective on what it was like to have lived in a time when Latina feminism was not the norm or even tolerated.
These career-minded professionals were the pioneers who fought to dispel commonly held stereotypes of Latinas, some of which are still with us today.
"By honoring these Latina pioneers we are honoring our history as women of a certain generation who laid down the stepping stones of change for future generations of Latinas. These are the women who mentored and inspired younger women to pursue their own dreams and realize their own goals," Aponte-Gonzalez concluded.
Also Read: Why Fifty is the New Fifty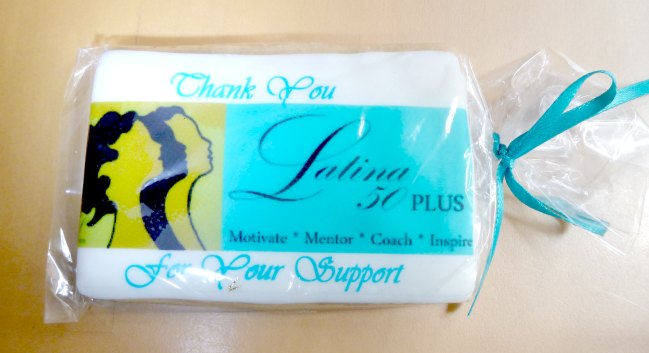 The women who were honored during the Latina Plus Awards
Allow me to introduce you to the women who were honored during the Latina Plus Awards:
Yvette Martinez, Artistic Director of Retumba received the Art Award.
Retumba is a multi-ethnic, all female music and dance ensemble founded in March 1981 in celebration of Women's History month.
"It's important for young people to know that the music and dance of today has been passed down to us through our ancestors, who struggled and in many cases died creating a better life for us," Martinez said.
"And the best way to honor them is by being the best that we can be."
Ms. Anita Antonetty, was the recipient of the Community Service Award.
Antonetty truly has activism in her blood. She learned to care for others at the knee of her mother, the celebrated Evelina Antonetty (founder of United Bronx Parents, Inc.).
This daughter was busy handing out information in the community, coordinating summer feeding programs, organizing festivals as well as protests.
"It was the hardest job of my life, but always interesting and rewarding" she said.
Nilda I. Soto, who has worked as Assistant Dean for the Office of Diversity Enhancement at Albert Einstein College of Medicine for the past twenty years received the Education Award.
She is also the Director of the Einstein Enrichment Program (a state funded program for high school students) and Director of the Diversity Student Summer Research Opportunity Program.
She coordinates activities and services for diversity students from various educational levels, high school through medical school, who express an interest in a career in health and/or science.
Also Read: On the Arrogance of Youth and the Wisdom of Our Elders
Ms. Maria Elena Pina-Fonti received the Medicine/Health Care Award.
Currently the president of the New York Chapter of the National Association of Hispanic Nurses, Pina Fonti's nursing experience spans a total of forty two years of which thirty two years have been dedicated to the discipline of nursing education.
The Honorable Lizbeth Gonzalez, Acting Supreme Court Justice presiding in Bronx County.
Judge Gonzalez is a member of the Diversity Committee of the NYS Bar Association's Judicial Section, and was the recipient of the Law Award.
She was recently honored at the American Indian Community House for her work on behalf of the Native community.
Dahlma Llanos-Figueroa was chosen for the Literature Award.
A novelist, memoirist and short story writer, her work is deeply connected to Puerto Ricans on the island and New York.
Influenced by West African mystical symbology and 20th Century Latin American magical realism, her work is a delight to read.
A 2006-2007 Bronx Council on the Arts Literary Fellow and three-time BRIO/ACE award winner, her novel Daughters of the Stone was shortlisted for the prestigious 2010 PEN American Award.
She is now working on her second novel, A Woman of Endurance.
As each honoree accepted her beautiful award, created by artist Olga Ayala, she was given an opportunity to speak about her journey, the challenges, the successes.
There wasn't a dry eye in the room because so many of the women present connected with their stories.
You probably do know Latina women who have been in the trenches fighting for equality and respect. Hey, you might even be that woman! And aren't some of us still fighting?