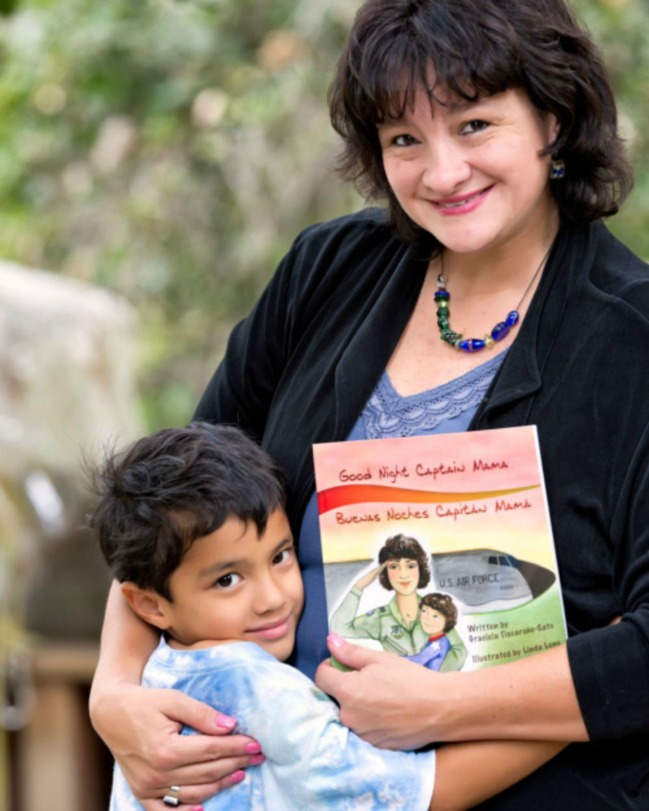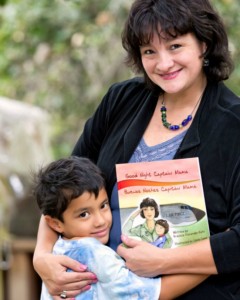 When you think of the word immersion, do you picture an adult in deep mental involvement, hours at a time, or perhaps a language immersion class lasting months?
Here's an equally powerful form that's familiar to me as an author: immersion only minutes at a time with young children, to help spark dreams of bright futures.
The inspiration to write this is twofold
First, I'm a "momtrepreneur" with three very active school-aged children (including a teenager who's blind.)
As the founder of an educational publishing and multicultural marketing firm, I travel often to speak at business and educational conferences, K-12 schools and universities.
During the school week, my daily, high quality, one-on-one time with my kids typically lasts just a few minutes.
Whether my daughter is in deep mental involvement working a complex math problem or my son´s decoding longer words in a history book while reading to me, we've learned how to make those precious minutes count.
That's our reality. Maybe you can relate?
The second inspiration came this month when asked to do four back-to-back Career Day presentations in third-grade classrooms, in one hour.
Sadly, many schools dedicate little time to expose children to professional careers and diverse role models. So, like at home, I made those precious minutes count.
The counselor asked that I share both my military aviation career AND my current profession as social entrepreneur and publisher.
I brought two props – my Air Force flight suit and a copy of my four-time award-winning children's book Good Night Captain Mama.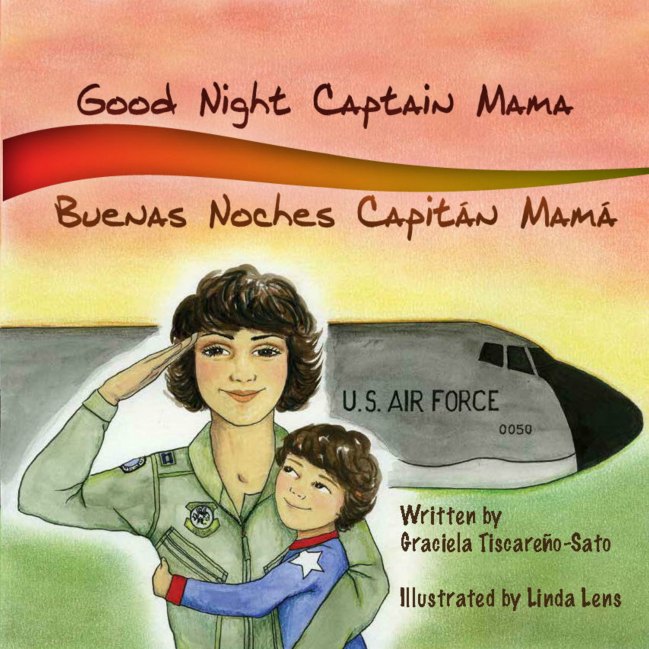 How I condensed tons of information and inspiration into just a few minutes
I walked into the classroom holding up my flight suit and asked, "Who knows what this is?" I immediately captured their attention.
Their excited hands waved in the air, and they made great guesses like "an Army soldier's outfit!" and "Clothes for working under a plane."
I studied their excited little black and brown faces. I told them it was my flight suit, from when I flew with the U.S. Air Force. Suddenly it was real to them and the conversation took off!
I showed photos of my crew and a video of military airplanes in the mesmerizing ballet of aerial refueling in the KC-135R tanker – action imagery of jets connected in the sky, to quickly immerse these young minds in the cool world of aviation.
I explained how we fly and "pass gas" (insert giggles here) at hundreds of miles per hour, 4 to 5 miles up in the sky. More questions came.
They demonstrated their complete engagement. It's amazing how much we were able to do in those few minutes!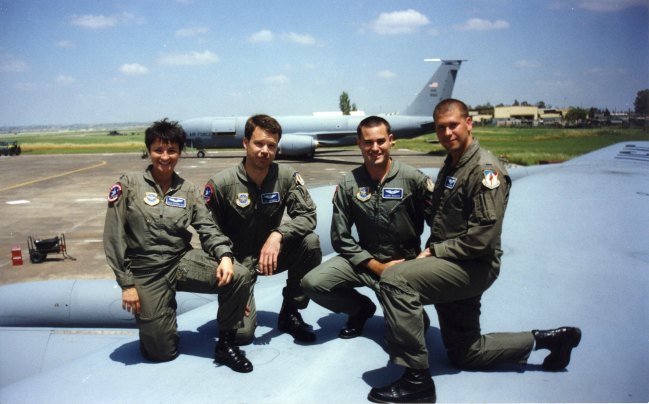 I ended saying, "The years I spent learning math, science, reading, thinking and problem-solving skills, like you're doing now, all came together in the plane. I loved college and graduating from Berkeley."
"I loved wearing the uniform and flying to many fascinating countries in the world so much that now I publish children's picture books in English and Spanish (my first language) to share these adventures with kids everywhere."
"Hopefully, some of you will decide to fly and travel someday. Can you promise me you'll make the right choices and dedicate yourself to your education to do it, or whatever else you decide you love as you get older?"
Smiles, heads nodding…. precious.
Lastly, I told them how to get their first free orientation flight at our local airport. They were excited. I heard, "Dude, I'm so going to do that!" and other enthusiastic comments.
During the last presentation, I walked the room giving students a good look at the flight suit they found so fascinating.
One girl held her hand palm up. In it, was a two-inch long paper airplane, drawn, cut AND colored Air Force blue.
She smiled and said, "I made it for you. Thank you."
I picked up the tiny airplane, told her it was perfect and beautiful and said, "Thank you so much. I will always treasure this."
As the children assembled for recess, a boy approached me. He said, "I saw Julissa make a tiny airplane for you, so I made a big one."
He handed me a full-page paper airplane. I complimented him for making such a terrifically symmetrical airplane so quickly. He smiled and headed outside.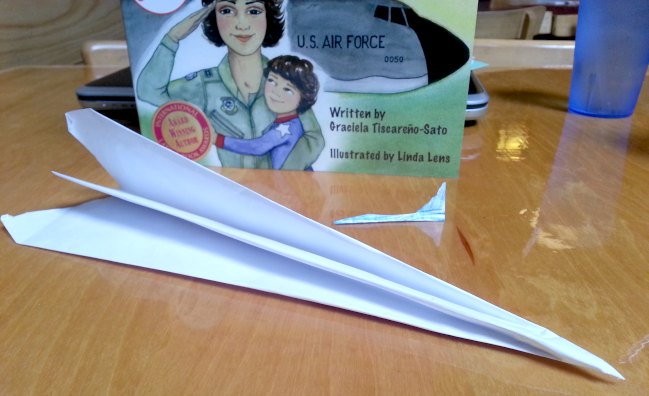 These parting gifts represent bright, hopeful futures I carry with me in my travels.
I've reflected on the wonderful attention demonstrated by the students and their total engagement about a topic so completely foreign to them – only five of 25 hands went up when I asked who had flown on an airplane.
I hope that somehow those few moments we shared will make a difference in their future outlooks.
I hope the teachers invite me back for an author visit and to do the art project in the back of the book.
I'm certain that when we release the second book in the Captain Mama series, these students will be among the first to enjoy it.

Sneak peek into my next children´s book, coming up soon
On that note, here's the BIG reveal. For the first time anywhere, here's a sneak peek of the book cover art for the second book in the series.
Little Marco becomes the storyteller as he, his classmates and his sisters, visit Captain Mama and her crew at the plane. As before, the illustrator is Linda Lens.
The pre-order sales period begins April 30th. Those placing pre-orders will be listed in the book as early supporters and will receive author-signed books upon publication later this year.
If you order three or more books, you'll also receive complimentary embroidered patches of the cover art.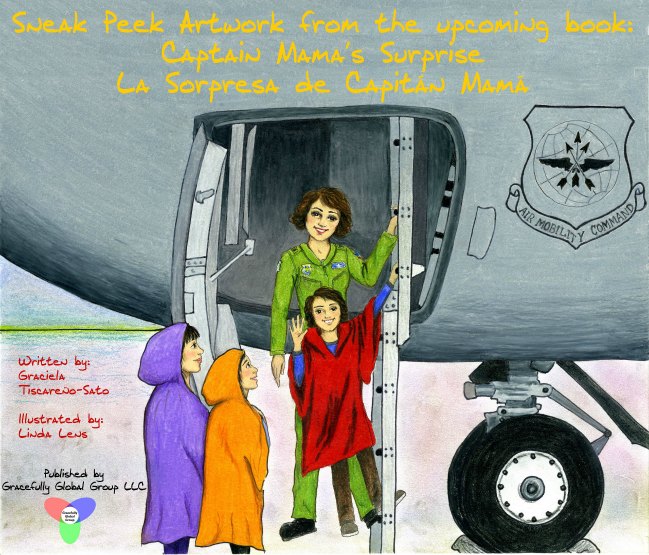 I'm grateful for the chance to share my experiences creating uniquely immersive moments with children.
Whether I'm rushed into four classrooms in an hour or even better when I'm the guest speaker for an all-school assembly, I aim to spark dreams of global adventures for ALL children.
I had that honor at a military base recently, celebrating Month of the Military Child, surrounded by children's patch art. Priceless.
I can't wait to do it again at a school near you, for Memorial Day, Hispanic Heritage Month, Veterans Day or Women's History Month.
Please contact me to express interest in a school visit or to schedule an "immersive" author visit via Skype. I keep a list of interested parents, teachers and administrators.
When I get booked as a paid speaker for a conference, I reach out and also serve students in a K-12 school, because I love to make those precious minutes count.
© of all photos in the post Graciela Tiscareño-Sato
Editor´s Note: This post for the 3rd Annual Latinas for Latino Literature (L4LL) Dia Blog Hop in honor of Día de los Niños, Día de los Libros which is celebrated annually on April 30th.
Established in the United States by poet and author Pat Mora, Día is a celebration of books and children. The 3rd annual L4LL blog hop has 12 authors/illustrators paired with 12 Latina bloggers. See the complete schedule here.