I practice gratitude daily, not only in November. But as Thanksgiving approaches I find myself being that bit more inspired to share publicly the many things I'm grateful for.
During the darkest and most challenging moments in my life, I kept a running list of things that I appreciated.
It could be as simple as a stranger opening the door for me, or watching my children sleep. Or more elaborate and grandiose as landing a new book deal or getting a new sponsor or brand ambassadorship.
So here are a few things I'm grateful for this season. I hope it will motivate you to make your own gratitude list to share on your blog, in the comments section below or on social media.
1.- Appreciative of my travels throughout the year
Having my own online business, Viva Fifty Media, and being a digital influencer has taken me to many places in 2015.
Social media conferences in Disneyworld, Orlando, Los Angeles, Washington D.C., Miami and wait … Turks and Caicos! A beautiful press trip to Riviera Maya.
And then there were those press trips I had to turn down because sometimes we just have to say no. It's not good to overdo anything, not even travel!
I love it, but every time I unpack my bags at home, I'm grateful to be back with my family.
2.- Thankful for my 50-plus body!
Actually I should throw in my spirit too. I never thought I would ever be able to do apparently impossible yoga poses such as Crow or, in the image, side Crow.
And at 52, I did it! Vinyasa yoga is helping me with menopause symptoms and it alleviated a hip injury from a half marathon I ran a couple of years ago. It's also a great stress reliever, it helps me focus and be more mindful.
What's not to like about that? Plus I don't think I've ever had stronger arms. Lifting dumbbells never helped my strength as much as bearing my own body weight.
Oh, and the reason I wear glasses during my practice is because I usually follow routines I find on Youtube, so I need to see the screen of my phone!
I usually practice yoga outdoors so I also wear my Transitions® lenses for that.
Also read: 4 Fall activities I enjoy outdoors
3.- Extremely grateful for a year ambassadorship with Transitions ® lenses
Because they've helped and continue to help me to really see life through a new lens.
As my vision is increasingly affected by age, and dry eyes due to menopause make it more and more difficult to wear contact lenses for extended periods of time, I appreciate my glasses.
And I love that I can wear my SEE eyewear with Signature and Vantage™ Transitions lenses.
I wear them for everything from practicing sports to going out to dinner. And of course for working at my computer most of the day.
There is nothing better for an influencer than being able to represent a brand that integrates seamlessly into your lifestyle and that people ask you about when you're on the go. For that I am thankful.
Why I'm grateful for Transitions ® lenses
Throughout the year I've enjoyed that Transitions lenses adapt from indoor to outdoor lighting seamlessly.
Their Chromea7™ technology allows the lenses to be more reactive to indirect sunlight, better capture reflected sunlight, and become even darker on hot days.
While they look much darker when exposed to the sun, I don't feel or see the difference but my eyes are protected.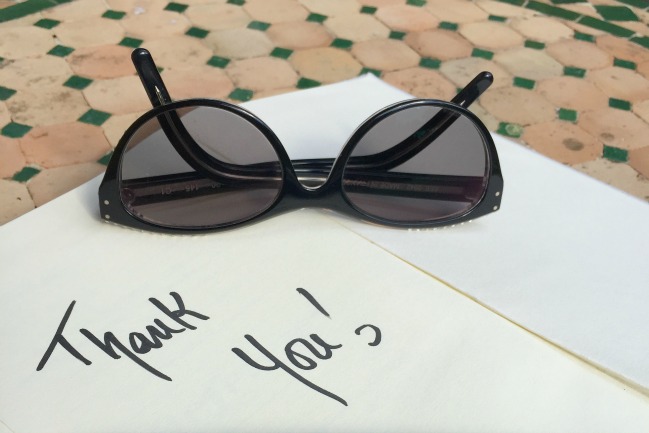 Transitions lenses filter just the right amount of light. And there are different types of Transitions everyday lenses (Transitions Signature lenses, Transitions XTRActive lenses & Transitions Vantage lenses) designed for various lifestyle requirements.
If you want to test them, sign up to receive free trial decals. If you order your free trial decals, or use Transitions lenses, I'd love to know why you like them.
Follow Transitions on social media on Facebook, Twitter, and Instagram and follow the hashtag #ThrougANewLens to be in the loop of their latest news.