While at LATISM 2015 Conference in Washington D.C. we attended several interesting panels and also spoke at one on social media marketing done right.
We recapped this one that we wanted to share it with you because no matter what our age, Latinos are increasingly on social media. More so than any other ethnic group, and that helps us in many ways.
Here are some takeaways from "The current state of the social Latino," moderated by Stacie de Armas, of Nielsen, and comprised of Eliana Murillo (Google), Sameer Deen (Univisión Digital) and Julie Diaz Asper (Social Lens Research).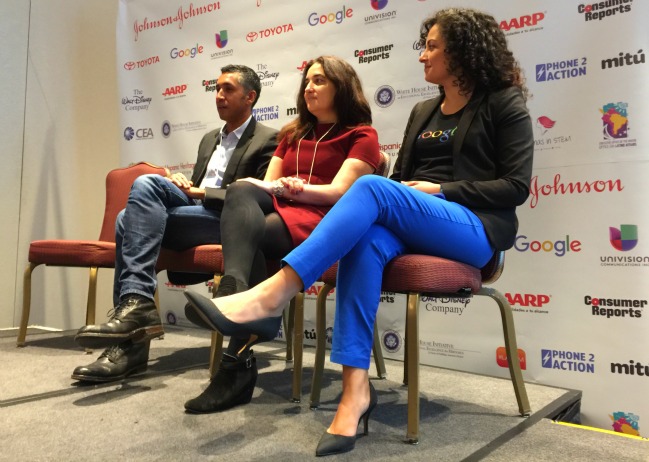 Stacie de Armas (Nielsen) on what Latino social users look like
"65% of Hispanics have households of 4 or more people. This speaks of the influence of millenials towards older people and viceversa. 
59% have some college experience or attended 4 plus years of college and 65% have a household income of over $30,000 a year.
43% of Hispanics expect the brands they buy to support social causes vs 34% non-Hispanic whites. Our cultural ethnic heritage is an important part of who we are.
The social component in Latinos is growing at a faster rate than in Anglos and African Americans. Cultural roots of connectivity and communal nature.
There is an increase in penetration with connective devices such as tablets and smartphones. Latinos are ahead of the digital curve. Oh, and older people are also watching Youtube.
My grandmother texts and she talks to text. She thinks it is easier. Technology is made available to all age groups including seniors."
Sameer Deen (Univision Digital) on how Univisión tries to reach Latinos
"We try to ensure that our apps and digital assets become multiplatform. We deliver in Spanish. We want to reach bilinguals and second generation Hispanics.
We are the number one multiplatform in Spanish in the U.S. Our entire reach is 200,000,000 across all platforms and social networks.
We create native content to each of the platforms. We want to create engaging formats that are specific to each of the platorms."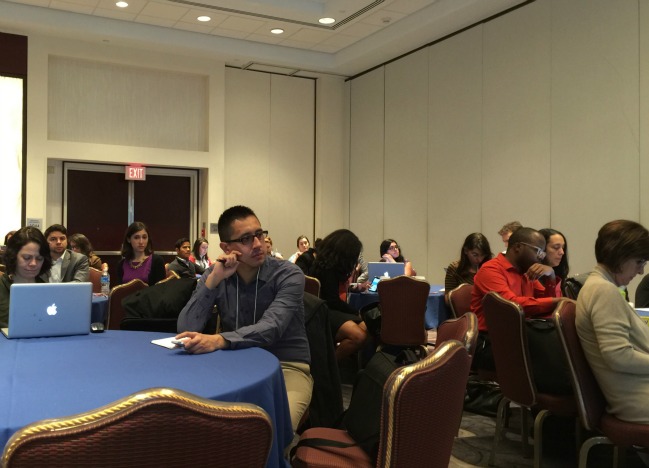 Eliana Murillo (Google) on how Google is improving user experience
"What's interesting in social is that we're seeing a shift towards niche communities. When you try to find something that is culturally relevant, the music, the food, that's another thing, the language also. Many are vloggers.
Content is going in the multi-platform direction. At Google we want to organize information and make it accessible to each niche.
On search we're indexing tweets. People are finding different ways to engage. So we are indexing these platforms too.
Older people are easily finding things they want to see, because we are making things easy for them to find. We´ve uploaded a whole set of Cantinflas videos and the older Latinos are loving them."
Julie Diaz Asper (Social Lens research) on how non-profits and social media
"One thing we're seeing a lot is that non profits are starting to be very aware of the context. They are realizing they are competing against cool kids doing rap songs and cat videos. They've had to up their game. 
Content creators are a creative group who can reach a loyal audience. These people understand the lives of the people a brand is trying to reach. They know how to create content for them.
Moms Rising, as an example, is a non-profit run by experts, not interns. With Elisa Batista and Migdalia Rivera, they´ve engaged influencers and bloggers across social media.
They are aware that if you are wanting people to take action you need to have them opt in via e mail lists, mobile apps and follows on social.
Moms Rising made their site mobile enabled. Website of non-profits need to be cleaned up. Call to actions need to be accessible and easy."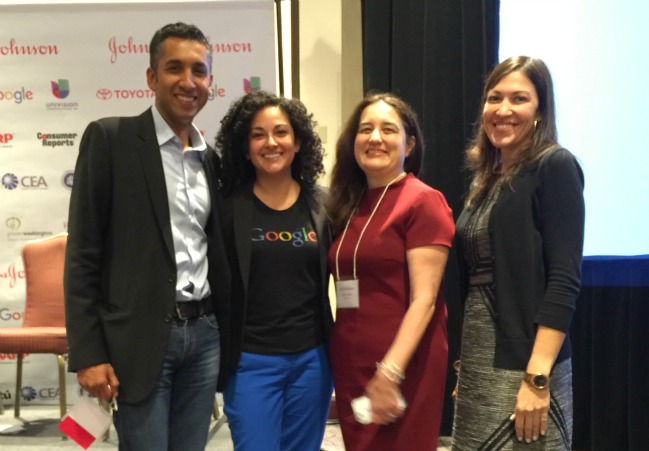 Eliana Murillo (Google) on why brands need to use social media influencers
"The authentic voice is an asset. They have a creative strategy and ethics. Brands need to figure out how they can find evangelists, not ambassadors who are going to wear a T shirt.
It's interesting to find people who have their own reach. Find out where their audiences are. They know their audiences well.
Brands are still trying to understand the user while content creators are getting feedback in real time.
Brands need to work with creators who have their own take on things and take creative licenses. They know their audience and their own voice. A lot of them are very creative in how they reach their followers.
At the end of the day it's about amplifying a message that results in action. And influencers find ways to bring products to life."