As a busy mom of three very active children, I often have to deal with scrapes, burns and itchy skin.
My two eldest, 15 and 13 spend lots of time at the skatepark and often return with scrapes and cuts on their knees, legs and arms. My eldest also plays basketball and runs track, experiencing chafing regularly.
My little girl, 12, has very sensitive skin and gets rashes when we spend time at the park or the beach.
I'm a runner and also practice yoga, so chafing is also an issue for me, as well as the occasional sunburn – although I do use sunscreen daily.
I'm no domestic goddess. I have burned my hands once too often with scalding water or by pulling something out of the stove without taking the necessary precautions.
My latest burn happened while using a curling iron! Mosquito and insect bites are something we deal with more often than we'd like in our family.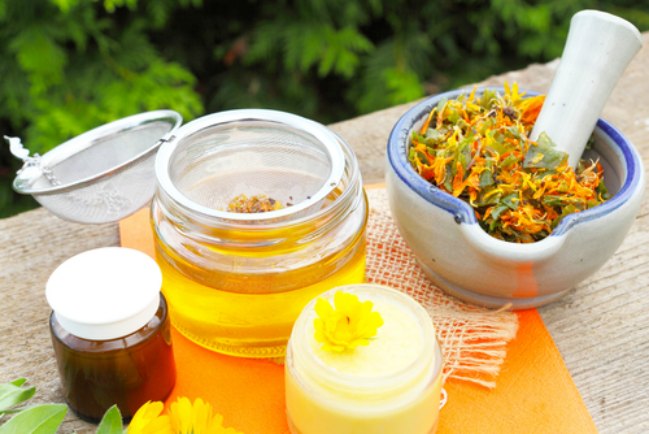 Also read: Skin-care ingredients, what to choose and what to avoid
And well, as I blow out more and more birthday candles, I work to stave off skin dryness by applying emollient creams all over my body, especially the face, neck, chest, hands and feet.
Calendula, a natural skin healer
I'm always looking for family-friendly products that can address our skin issues without harmful side effects. And for all of the above problems, I use Calendula, by Boiron.
I'd used the homeopathic brand in my 20's when I lived in Europe, so I was glad to find it easily available in the U.S when I moved here.
The reason I like Calendula so much is because it's a natural skin healer made from the Garden marigold (Calendula officinalis), a flower native to Southern Europe and cultivated widely throughout North America.
Calendula has healing power, aside from being a beautiful flower. With its bright yellow-orange blossoms, the Garden marigold has been used for centuries as a natural healing and soothing substance.
Calendula's wound-healing properties are due to the presence of essential oils, saponins, flavonoids and alkaloids, which have been shown to promote healing.
Homeopathic preparations of the flower have been used for generations to speed the healing process.
One of the most popular homeopathic medicines worldwide, this medicine cabinet staple should be stocked everywhere, including in first aid kits, travel bags, the kitchen and other accessible places around the house.
Boiron offers Calendula in a cream formula. This topical is paraben-free and has no artificial colors or perfumes. The moisturizing cream is ideal for dry or chafed skin.
It also comes in an ointment for cuts, scrapes and minor burns; in gel for razor burn, irritations and insect bites; and in a lotion for sunburn, dry skin and itchiness.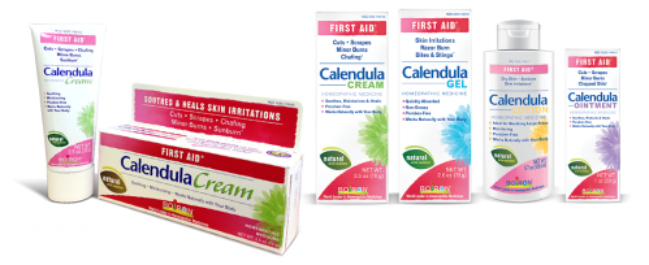 Some tips I use to make the best use of Calendula
I keep it handy in the kitchen and the bathroom for minor burns and for small scrapes the kids might get when playing outside.
When it's cold, I apply it around my youngest's lips and chin as it helps chapped skin.
My eldest throws it in her gym bag to prevent and treat chafing when she runs.
This is a moisturizing emollient that stays on the surface of the skin longer to provide prolonged action.
I keep the lotion on my night table and the beach bag. I use it for the entire body and also hands and feet.
It's also a great after-sun lotion both for the family and for me. The lotion is more fluid and so it's best for larger skin areas.
Ah, so this one can go on my face at night if I feel my skin is particularly dry. I also use it on my neck and decolletage.
It's great for minor burns, scrapes and chafing too, so it's similar to the ointment, except it is creamier and less sticky.
This one is my husband's favorite. He uses it for razor burn, but I snag it when I shave my legs.
And we all use it for insect bites, since we live in Florida and mosquitoes abound.
The gel is water-based and non-greasy so it's absorbed quickly and provides  cooling relief.
If you want to try for yourself, sign up for a discount on your favorite Calendula product and let us know how you liked it.
Check back in the next two months as we follow up with other skin-care tips using Calendula.
See how Calendula helps our family