As empowered women, we all have at least one amazing woman we look up to. One who is truly awesome in one or more ways.
Although I have professional and entrepreneurial mentors who have helped me along my career as a writer and a communicator, there is one woman who immediately comes to mind when I'm asked who I admire to the core.
That woman is my sister, born two years after I came into this world.
My sister, my hero
This year she will join the ranks of the over-50s, but to me, she is still that little girl who held my hand in preschool and begged her teacher to sit with me in my class, because she couldn't bear to be alone in hers.
A lot has happened since then, and my sister Laura has overcome many challenges that make her the perfect example of one of the Amazing Women Everywhere.
She kept on going despite the stumbles and falls, she somehow climbed out of the depths of despair and was even there for me when I had my own dark moments.
It was me holding her hand then, asking for guidance, which she gave with no judgment.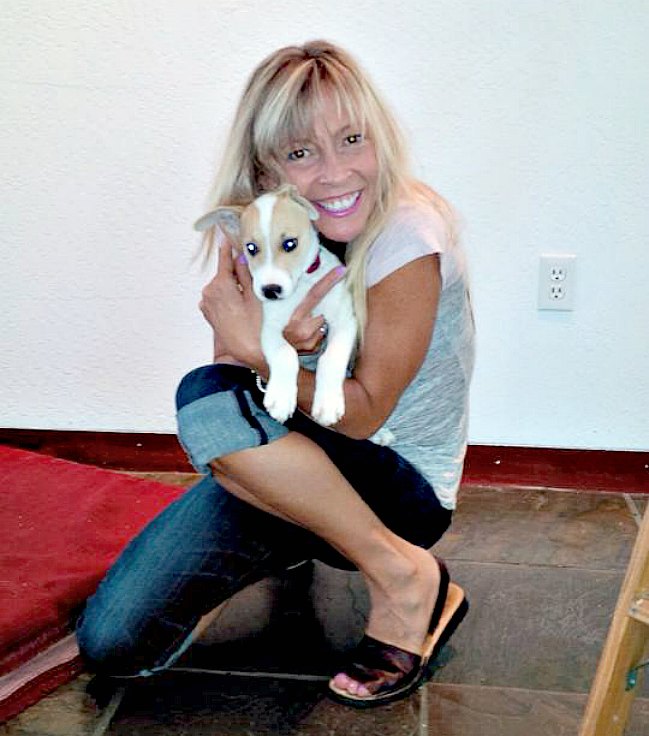 Laura is an exceptional language teacher, who manages to connect with her students of all ages, because she is passionate about what she does.
Recently she taught a guest class and her students, all tweens and teens, applauded her at the end.
I applaud her too. But not only for being a great teacher. I applaud her because being born with the addiction gene, she has managed to be clean and sober for over 20 years.
She is a survivor
When she was in her early twenties a doctor told me her liver was so shot she would probably not live very long. Well, she did.
Another doctor of hers, a psychiatrist, asked me what floor I lived on. I told him it was the penthouse.
He warned me to be ready in case she ever jumped off the ledge, such was her level of alcoholism and depression. It was not easy for either of us.
Eventually she did try to end her suffering. Laura is a suicide survivor.
She also has the scars of self-inflicted cigarette burns and razor cuts on her hands and arms. Hands I love, arms that have embraced my children and me.
At nearly 50, Laura is a champion of life, and a soothing presence in the lives of others.
Earlier this year she was at the deathbed of one of her best friends, her mentor, the person who helped her get clean and sober so many years ago.
While other so-called friends were too busy with life, Laura was there with him, with his wife and his young son, until his last breath.
She now has her own blog On Life & Hope where she reflects on the good, the bad and the hope of existence and encourages others to seek help when they feel there is no way out.
For these and more reasons, I submitted her picture and her story to the Amazing Women Everywhere photo mosaic, and I encourage you to submit your own hero.
If there is one such woman in  your life, honor her by telling the world why she inspires you.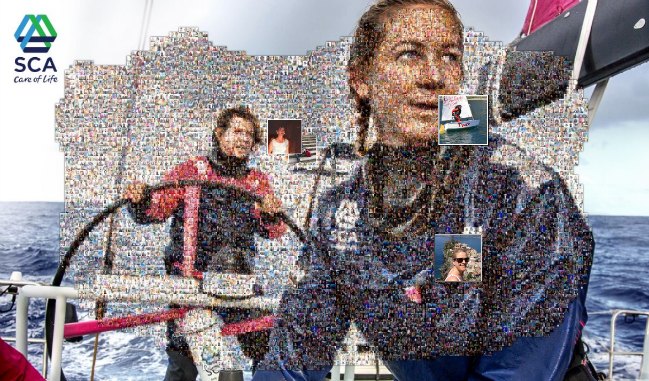 The story behind Amazing Women Everywhere
SCA believes that everyone should have the opportunity to live life to the fullest, and are committed to creating value for people and nature.
To champion these ideals, SCA launched Amazing Women Everywhere, to celebrate women who have a positive impact on others.
The women of SCA's all-female racing team, Team SCA, exemplify this spirit.
They have come from all walks of life and backgrounds to take on one of the world's most challenging endeavors, the Volvo Ocean Race. 
Visit AweMosaic to submit a photo of an amazing woman in your life.
For nine months, their journey of hard work and determination will inspire millions around the world.
SCA aims to gather thousands of stories from all over the world and inspire thousands more by illustrating that amazing women truly are everywhere. Follow along with Team SCA on Facebook!
What is Team SCA?
Team SCA is the first truly professional all-female team to compete in the Volvo Ocean Race and includes 13 women (ranging in age from 28-40) from all over the world – including three Americans, Sara Hastreiter (age 30, Wyoming), Sally Barkow (age 34, Wisconsin), and Sophie Ciszek (age 30, US/Australia).
Other amazing members of Team SCA include Dee Caffari (GBR), the only woman to have sailed solo both ways around the world (both east and west); two moms, Abby Ehler (GBR and AUS) and Carolijn Brouwer (NED), who both have young sons; and Elodie-Jane and Justine Mettraux, the first two sisters to sail this race.
Not only is this the first all-female team in the past decade, but it's also the first time there is a completely level playing field amongst teams.
Each team is competing using the same boat (The Volvo Ocean 65, or VO65), meaning all sails, all design elements are fixed and no changes could be made by any team.
The team trained on the boat in Lanzarote, Spain (the country I was born in) for roughly two years to prepare for the race.
Now in the sixth month of the round-the-world race, Team SCA is competing in leg 5 – sailing for an estimated 20 days between Auckland, New Zealand and Itajaí, Brazil.
The Volvo Ocean Race is the toughest offshore sailing race in the world. The history of the race goes back to 1973 and is considered the Everest of racing.
The race lasts for nine months, covering 39,379 nautical miles (almost two laps around the equator).
It started in Alicante, Spain in October 2014 and stops in nine countries around the world before it finishes in Gothenburg, Sweden in June 2015.
The race will make one stop in North America: Newport, RI, arriving between May 5-9, 2015
Watch the video for inspiration
This is a sponsored conversation written by me on behalf of SCA. The opinions and text are all mine.
Comments submitted may be displayed on other websites owned by the sponsoring brand.